For information on the use / right to any images on this website or similar images, please contact me at: fossilguy (at) fossilguy.com
---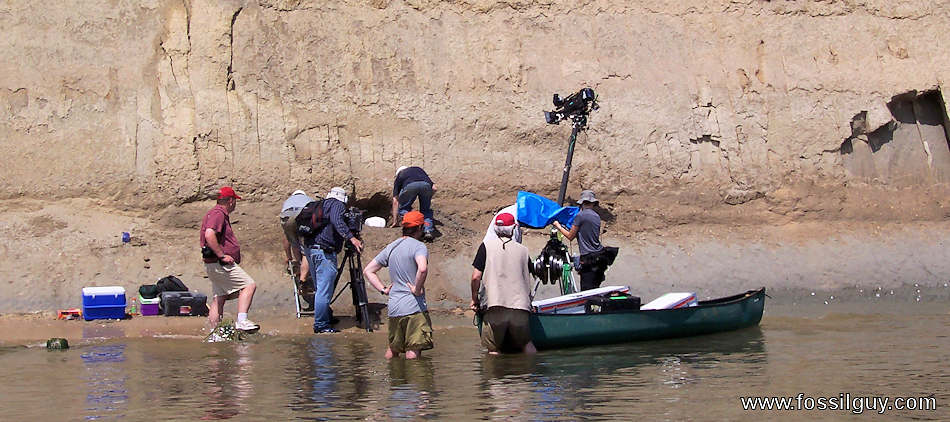 The Author with a Film Crew at the Calvert Cliffs
---
About the Author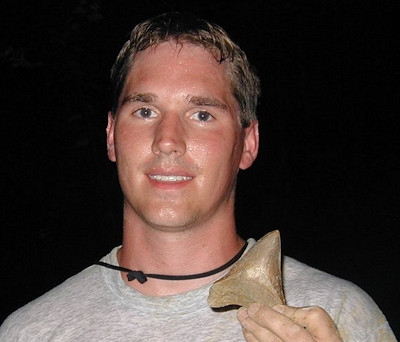 I am not a professional in Geology or Paleontology. I have a B.S. Degree in Physics and a Masters in Education. I teach Physics courses at a local High School. Therefore, I am just a very interested amateur who wants to invoke curiosity into the wonderful world of paleontology.

Although I am an amateur, I have extensive experience and consider my self an "expert" in the field of avocational paleontology:
Am presiding as the Avocational Liason to the Paleontological Society council for 2018 and 2019.
Been featured in magazines including "Organic Style", "Mid-Atlantic States", "Wonderful West Virginia" and "PropTalk".
Been on radio talk shows, including "North Jersey Talking" and "970 WLFA - Tampa Bay's News Radio".
Been quoted in or had my fossils and/or photos featured in over a dozen publications (books and media) including various School Science books and general paleontology books from large publishers including Harcourt Publishing to smaller publishers such as "Tracking Trilobites, Adventures in Paleontology" from Paul Gritis Books and "Spinosaurus (Exploring Dinosaurs)" from Library Binding.
Presented at the 2016 SE Geological Society of America (GSA) Conference and the 2017 NE GSA Conference.
Have Contributed articles to fossil clubs and museums, including the Fossil club of the Calvert Marine Museum, Maryland Geological Society, the Aurora Fossil Museum, and the Fossil Project.
Helped scientifically valuable specimens find their way into museums and also helped quarry specimens with the CMM. The highlight is a partial squalodon skull I discovered which is now at the Calvert Marine Museum.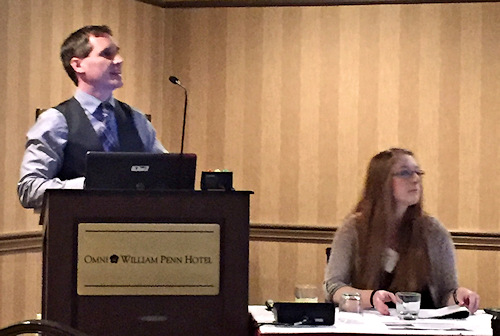 The author presenting at a 2017 GSA conference
The Fossil Project - Amateur Spotlight has a nice write-up on the Author.

J. Kowinsky
---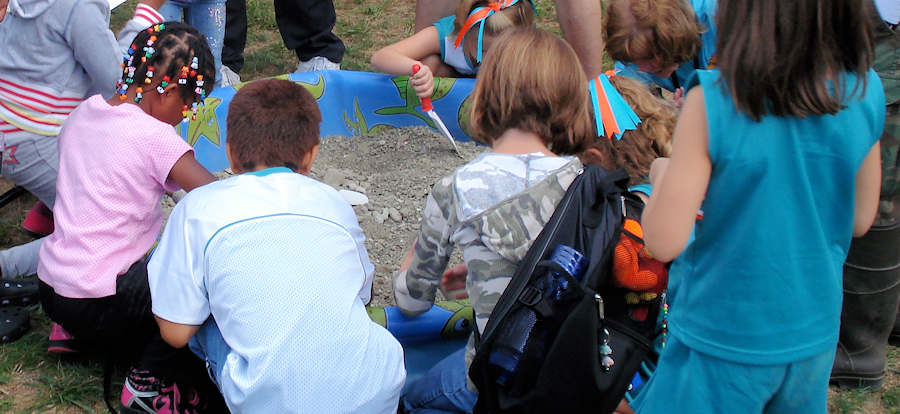 Providing a "Fossil Dig" for kids at a Community event
---
Disclaimer:

Collectors going to any of the sites mentioned on this web page should adhere to any laws, regulations, or rules pertaining to that site.

DO NOT collect / trespass on private property without first personally obtaining the owners written consent.

The owners/webmasters/editors of this site are not responsible for the actions of any visitors to this site.

Any information in this web site is believed to be accurate. However, the accuracy of any content on this web site cannot be guaranteed as there may be errors on this site.

Any content on this web site is subject to change without prior notice.

The mention or use of any product or service does not imply any endorsement of those products or services. Any product or service remains the responsibility of their owners.

The content of this site reflects the opinions of the editor, and in no way reflects the policies, ideas, or opinions of any other person or organization.

All images on this site are the property of the author unless noted otherwise. Images were photographed or scanned by the author of this site unless noted otherwise.

---
Privacy Policy
Privacy Policy for www.fossilguy.com and www.thefossilguy.com
This privacy policy is here for the sole purpose of the advertisements displayed on this website:

If you require any more information or have any questions about our privacy policy, please feel free to contact us by email at fossilguy (at) fossilguy.com

At www.fossilguy.com, the privacy of our visitors is of extreme importance to us. This privacy policy document outlines the types of personal information is received and collected by www.fossilguy.com and how it is used.

Log Files
Like many other Web sites, www.fossilguy.com makes use of log files. The information inside the log files includes internet protocol ( IP ) addresses, type of browser, Internet Service Provider ( ISP ), date/time stamp, referring/exit pages, and number of clicks to analyze trends, administer the site, track users movement around the site, and gather demographic information. IP addresses, and other such information are not linked to any information that is personally identifiable.

Cookies and Web Beacons
www.fossilguy.com does not use cookies.

DoubleClick DART Cookie
.:: Google, as a third party vendor, uses cookies to serve ads on www.fossilguy.com.
.:: Google's use of the DART cookie enables it to serve ads to your users based on their visit to www.fossilguy.com and other sites on the Internet.
.:: Users may opt out of the use of the DART cookie by visiting the Google ad and content network privacy policy at the following URL - http://www.google.com/privacy_ads.html
Some of our advertising partners may use cookies and web beacons on our site. Our advertising partners include:

Google Adsense
Sovrn Publishing
Amazon
These third-party ad servers or ad networks use technology to the advertisements and links that appear on www.fossilguy.com send directly to your browsers. They automatically receive your IP address when this occurs. Other technologies ( such as cookies, JavaScript, or Web Beacons ) may also be used by the third-party ad networks to measure the effectiveness of their advertisements and / or to personalize the advertising content that you see.