Fossils of New Jersey: The Cretaceous Big Brook Area
Location:
Monmouth County, New Jersey
~67-74 Million Years Old
Late Cretaceous
This is your place to travel to find Cretaceous Fossil Shark Teeth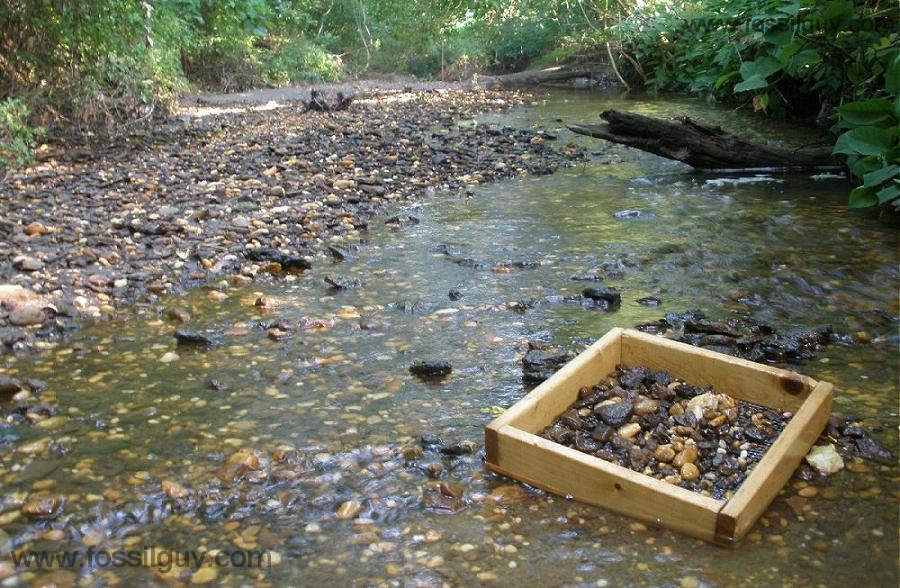 Fossil Hunting in the Cretaceous of New Jersey
A quiet morning while fossil hunting for Shark teeth in Ramanessin brook, New Jersey.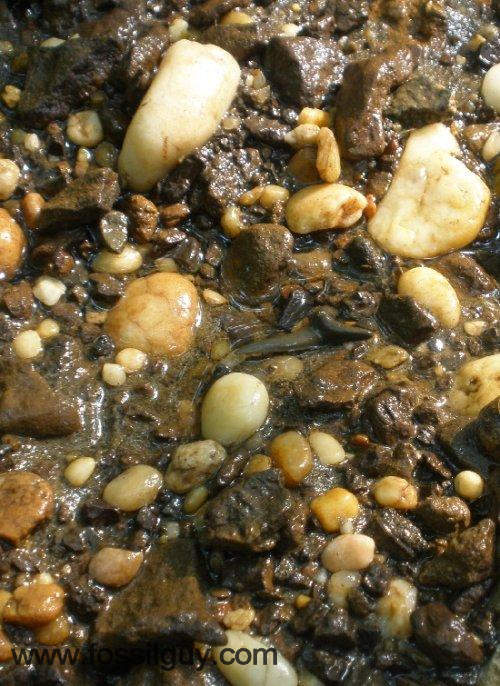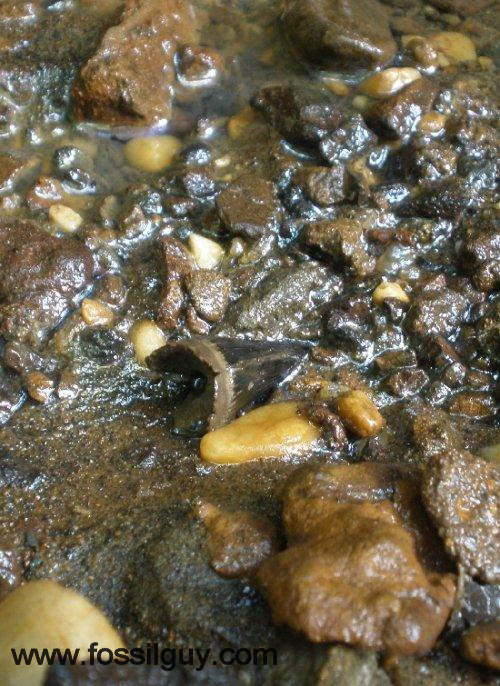 Left Image: A fossil Goblin shark tooth lying on a gravel bank along Big Brook.
Right Image: A fossil Mosasaur tooth lying on a gravel bank along Big Brook, New Jersey.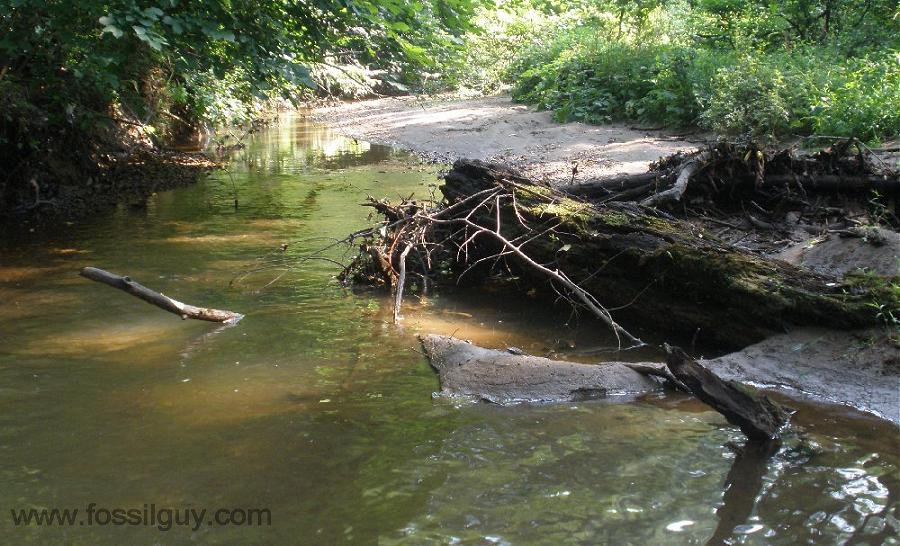 Searching for gravel bars for fossil shark and mosasaur teeth
While Fossil Hunting, Climbing over fallen trees is a common occurance in the brooks.
---
About the Big Brook Fossil Area - New Jersey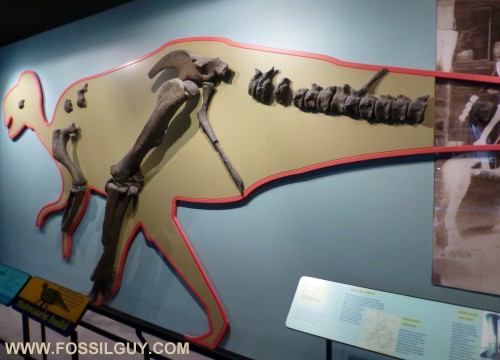 Hadrosaurus foulkii is the 1st dinosaur specimen from North America.
The 35 bones from this specimen are on display
at the Philadelphia Academy of Natural Sciences
Due to the everlasting popularity of dinosaurs, the Era of the dinosaurs, the Mesozoic, which encompasses the Triassic, Jurassic, and Cretaceous Periods, are well known to the public. When people think of the Era of the Dinosaurs, they may think of Paleontologists digging in African Deserts and regions in China. When thinking of the Cretaceous in North America, many people may think of the Western North American Bad Lands; where the famous 19th century "Bone Wars" occurred.

However, not many people know that America's East Coast has its share in Dinosaurs! Parts of New Jersey, Delaware, Eastern Pennsylvania, and Northern Maryland all contain fossil deposits from the age of dinosaurs. In fact, in 1838 North America's very first nearly complete dinosaur was discovered in New Jersey. It was later studied in 1858. The first Mosasaur fossil described from North America was also discovered here.

Today Amateurs can still go to New Jersey and find Dinosaur aged fossils. Anyone with an interest in fossils can enjoy a trip down to New Jersey to dig some up. One of the better known areas is in Monmouth County. It exposes Cretaceous age fossils. Throughout this county, Big Brook and surrounding brooks cut through the ground, digging though the layers of earth, they go through recent layers, cut into the Pleistocene, and finally carve away at ancient fossil bearing Cretaceous deposits.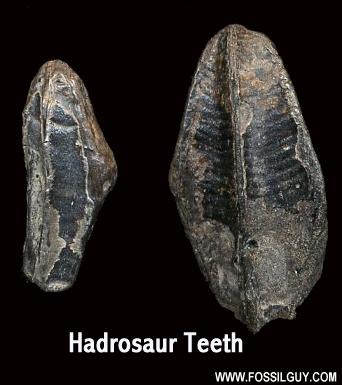 River Worn Hadrosaur Dinosaur Teeth
How Cretaceous Fossils Got Here
During the Cretaceous, our continents were nearly in their present positions. However, the Earth was much warmer. This resulted in high sea levels. As a result, Europe was composed of numerous islands, while most of the North American coastal plain was submerged. States such as Georgia and Florida were completely submerged. The high sea levels also caused North America to be split in two. A great interior seaway flowed through much of the great plain states, from Texas to North Dakota and through Northern Canada. This can be seen in the sketch below.
New Jersey was also submerged. Remains of prehistoric animals accumulated on the sea floor that is now New Jersey. These remains were buried by the nutrient rich sediments coming from shore, and are now part of fossil bearing layers of the Monmouth Group. These Cretaceous marine fossil layers are exposed by brooks that cut down through sediments in the Big Brook area. Numerous fossils of sharks can be found as well as invertebrates such as mollusks and Belemnites. Also, the great reptiles that ruled the seas in the Cretaceous can occasionally be found. These creatures include Mosasaurs, Pleisiosaurs, and large Crocodiles. To learn about Mosasaurs, go to the
Mosasaur Gallery
.
However, since this area of New Jersey was only miles from the coast, the remains of land animals occasionally washed out to sea. Although rare, fossils of land animals can be found. These fossil remains are often pieces of dinosaurs, such as Hadrosaur teeth and bone fragments.
Fossils in the Big Brook area have been washed out of their sediments by the water action. These fossils can simply be found in Big Brook and surrounding brooks by screening gravel bars and walking the creek beds.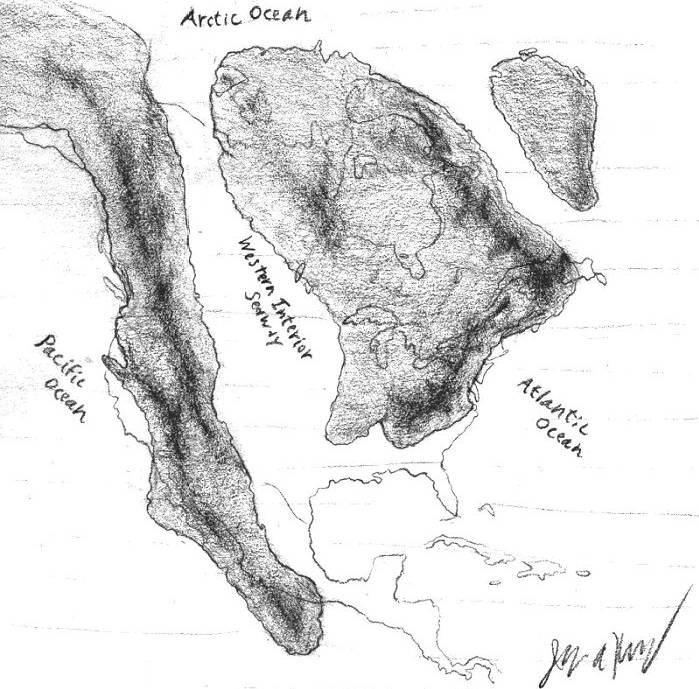 Rough sketch of North America during the Cretaceous
---
View a Sample of Cretaceous Fossils Found, Including Fossil Shark Teeth:
If you plan on collecting at Big Brook or surrounding brooks in New Jersey, or need New Jersey fossils identified, this is your place, click the image below to go to the Big Brook Fossils Identification Page!

---
Directions to the New Jersey Cretaceous Fossil Shark Teeth Sites
The Fossils can be found just past Freehold in New Jersey.
Please remember to adhere by the collecting regulations listed below, adhere to any prvate property laws. Stay in the creek, and
DO NOT DIG
1. Big Brook Preserve - Hillsdale Road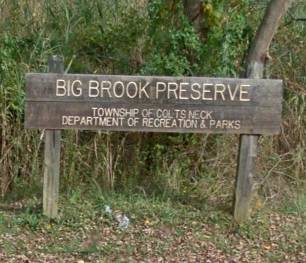 This is the official Big Brook Preserve. The address is: 88 Hillsdale Rd, Colts Neck, NJ 07722

It's a small pulloff on the side of the road. It's near the Winery (Four JGs Winery).

Once you park here, theres a small walk to Big Brook. Remember, when collecting fossils here, adhere to the regulations listed in the next section below.
2. Shark River Park
Finally, in the same area is Shark River in Shark River Park. This brook does not have Cretaceous fossils, but instead has a mix of Eocene and Miocene fossils.
The address is: 1101 Schoolhouse Road, Wall, NJ 07753

Fossil Collecting Regulations for Big Brook:
If you plan on fossil collecting at Big Brook or the surrounding brooks, please be aware of the rules from the Township of Colts Neck

1. You may only keep 5 fossils per day

2. Your trowel is restricted to a maximum blade of 6 inches (no shovels)

3. Sifting screens can be a maximum size of 18"

4. The collection of fossils within the preserve is limited to those fossils found within the actual stream water line. Fossil extraction is prohibited from the walls of stream bed above the stream water line.

5. If you are in a group of 15 or more, you must obtain a permit first.

Recommended Equipment
• Remember, according to the township regulations, your trowel blade cannot be over 6", and your screen cannot be over 18" in size. I recommend the shovel and sifter shown below, they satify the regulations and are lightweight.

• Waders or thick bottomed shoes - there is lots of broken glass in the stream beds.

• Bug spray - there are lots of ticks and mosquitos in the streams!

• Water - It gets hot in the summer, don't get dehydrated!


This Bosmere N480 Sieve, 1/4-Inch Mesh
is a 14.25-Inch diameter and 3-Inch deep sifter made of green powder coated steel. It's lightweight and ideal for shark tooth sifting at the brooks. It is also under regulation size so you won't get fined!

This is a small shovel to go with the small sifter: SOG Specialty Knives F08-N Entrenching Tool
. It is light weight, foldable, made of durable steel and carbon, and is under the regulation size!
---
Recommended Books for New Jersey Fossils and Paleontology:
Fossil Shark Teeth of the World
, A Collector's Guide
by Joe Cocke, 2002

A great book for identifying all those teeth. This book is laid out "as simple as possible." It's ease of use and small size makes it great to carry during collecting trips. This book shows teeth from around the globe, but all the New Jersey teeth can be found in it.
---
When Dinosaurs Roamed New Jersey

by William B. Gallagher, 1997

Thisis a great book to learn about New Jersey Paleontology and the geologic history of New Jersey. It is very accurate, as the author is a scholar in the field of paleontology. There is even a section that describes fossil hunting sites in New Jersey.
---
Website Links to other New Jersey Fossil Sites:
Fossils of New Jersey
This is a really nice site with great images and in depth information.
New Jersey's Premier Fossil Web Site
A good site to identify those New Jersey fossils. It has lots of images of Big Brook fossils.