Share The Calvert Cliffs Page: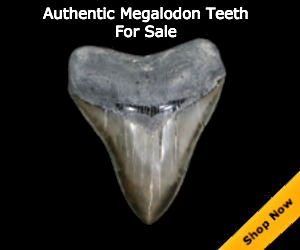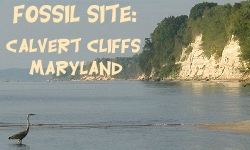 Calvert Cliffs Collecting Location Page:
Calvert CLiffs, MD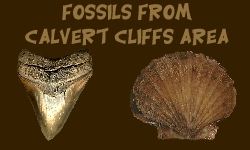 All types of fossils that can be found at the Calvert Cliffs of MD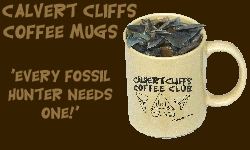 Calvert Cliffs Coffee Club Coffee Cups!
A unique gift for the fossil hunter.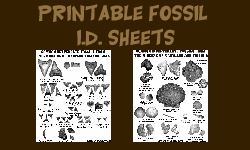 Printable Identification Fossil Sheets for Vertebrates and Invertebrates of the Calvert Cliffs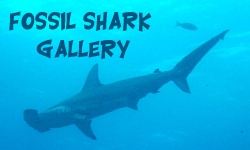 Fossil Shark Gallery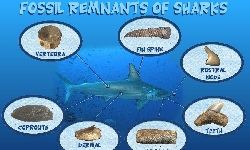 Parts of Sharks that Fossilize


---
Fossil Shark Teeth from the Chesapeake Bay, Maryland - Examples and Identification
Sharks are related to Skates and Rays, as they are all in the Chondrichthyes Class. Fish in this class have a skeleton made of cartilage instead of true bone. What this means for the fossil collector is bones from these animals seldom fossilize. Occasionally a vertebra may be found, however mostly the hard shark teeth and ray crushing plates are found.

For more information on Fossil Sharks, go to the Fossil Shark Gallery.

The Shark teeth found around the Calvert Cliffs area are Miocene in age and include: Shark Teeth, Shark Vertebrae, Megalodons
Click on the image to go to the specific type of shark fossil, or scroll down to browse.
Thresher Shark
Alopias cf. latidens

Whaler, Copper and Gray Sharks
Carcharinus sp.

Megatooth Sharks
Carcharocles Megalodon & Subauriculatus

Sand Tiger Sharks
Carcharias sp.

Tiger Shark
Galeocerdo aduncus


Tiger-Like Shark
Physogaleus contortus

Snaggletooth Shark
Hemipristis serra

Shortfin Mako Shark
Isurus desori

Longfin Mako Shark
Isurus retroflexus

Extinct White Shark
Cosmopolitodus hastalis


Lemon Shark
Negaprion eurybathrodono

Sevengill Cow Shark
Notorhynchus cepedianus

Sharpnose Shark
Rhizoprionodon fischeuri

Hammerhead Shark
Sphyrna zygaena

Angel Shark
Squatina subserrata "lerichei"



Shark Vertebrae


---




Alopias cf. latidens (Leriche, 1909)
(Thresher Shark)
Identification based on Kent (1994, pp.71-73).
These teeth are uncommon in this area.
Thresher sharks can get up to 11 feet in length, however almost half of its length is in its long tail. Modern Thresher sharks (A. vulpinus) are pelagic (open ocean sharks), and nocturnal. They usually eat small fish and squid. These fossil Thresher sharks probably had a similar behavior to their modern counterparts.

This is a slightly worn lateral tooth.

Formation:

Calvert, Plum Point member
Age:

Early - Middle Miocene ~ 18-15 m.y.
Location:

Plum pt, Calvert Co., MD
Size:

~9/16" (13mm)

These are a few smaller ones.




Formation:

Calvert
Age:

Middle Miocene ~ 18-15 m.y.
Location:

Largest one (anterior) has a 1/2" slant height (12mm)

Carcharinus
(Whaler Sharks)
The Whaler Sharks are a large group of sharks, with over 57 extant species. They are found virtually all over the globe. They feed on a variety of prey, from bony fish, other sharks and rays, and squid Whaler Sharks were also very common in the Miocene seas. Teeth from the Whaler Shark genus are among the most common teeth found at many places in the Chesapeake group. It can be difficult to distinguish between many of these species based on their fossil teeth alone.

This genus of shark still populates the Chesapeake bay today. The bay even acts as one of the most important nursery grounds on the east coast for the sandbar shark, Carcharhinus plumbeus.

Carcharhinus brachyurus (Gunther, 1870) aka egertoni (Agassiz, 1843)
(Bronze Whaler or Copper Shark)
Identification based on Kent (1994) & Purdy et al (2001).
I use to call these teeth C. egertoni, but I guess that name is synonymous with C. brachyurus. Whatever they are, here is their info:

This species of shark is still extant today.
The lowers are easily confused with lemon shark teeth (Negioprion sp.), however, C. brachyurus lowers have tiny serrations at the top of their teeth, whereas lemon sharks do not.



The first set are labial views, the second are lingual views.


Formation:

Calvert, Plum Point member
Age:

Early - Middle Miocene ~ 18-15 m.y.
Location:

Uppers are about 5/8" (16mm), lowers are a bit smaller"

Carcharhinus priscus (Agassiz, 1843)
(Gray Shark)
Identification based on Kent (1994, pp.80-82).
This genus of tooth is the most common found at many places along the Calvert Cliffs.

The top row show the lingual views, the bottom row show labial views.
C. Priscus teeth have finely serrated enameloid shoulders and crown.
Uppers and lowers are very difficult to distinguish, here they are shown in no particular order.

Formation:

Calvert, Plum Point member
Age:

Early - Middle Miocene ~ 18-15 m.y.
Location:

~3/8" (10mm)

Carcharias sp.
(Sand Tiger Shark)
Identification based on Kent (1994, pp.39-43).
Some Sand Tiger species can reach lengths of about 10 feet. Their fang like teeth are ideal for grasping fish. Their diet consists mostly of fish and sometimes crustaceans.

Carcharias teeth are very common at the cliffs, but they are usually too worn or too small to determine the species.
They are probably a mix of C. acutissima, and reticulata.



Formation:

Calvert, Plum Point member
Age:

Early - Middle Miocene ~ 18-15 m.y.
Location:


Carcharias cuspidata (Agassiz, 1843b)
(Sand Tiger Shark)
Identification based on Kent (1994, pp.80-82).


C. cuspidata is one of the more robust Carcharias teeth found at the cliffs.

Formation:

Calvert, Plum Point member
Age:

Early - Middle Miocene ~ 18-15 m.y.
Location:

1 1/8" slant height (39mm)

Galeocerdo aduncus (Agassiz, 1843)
(Tiger Shark)
Go to the Tiger Shark Gallery to learn more
Identification based on Kent (1994) & Purdy et al (2001).
This species lived from the Oligocene into the Miocene and probably evolved into the extant G. cuvier.
However, Purdy et al (2001) believe G. aduncus is not available as a scientific name. However, until a new name is assigned, I will continue to refer to it as G. aduncus.
This extinct species is also smaller than the extant (living) Tiger shark (G. cuvier).

Right two are lingual views .

Notice the coarse serrations on the enameloid shoulders.
Uppers and lowers are very difficult to tell apart, these are arranged in no particular order.

Formation:

Calvert, Plum Point member
Age:

Early - Middle Miocene ~ 18-15 m.y.
Location:

usually ~ 1/2-3/4" (13-19mm)

Physogaleus contortus (Gibbs, 1849)
(Tiger-like Shark)
Go to the Physogaleus Shark Gallery to learn more
Identification based on Kent (1994) & Purdy et al (2001).
The physogaleuis contorus Tiger-like Shark is very common along the U.S. East Coast deposits, but rarely found along the U.S. West Coast deposits. This species Lived from the upper Oligocene and became extinct in the Miocene.

There are a few big differences between these and G. aduncus. First, the crowns are twisted, looking pathological, as shown in the profile view.
Also, the enameloid shoulder has very fine serrations, unlike the coarse serrations of G. aduncus.
This slender tooth form probably means the contortus fed on bony fish, while the G. aduncus and extant G. cuvier fed on a wider variety of prey. This extinct genera is also much smaller than the extant (living) Tiger shark (G. cuvier).

The small upper teeth in the center are parasymphyseals. The lower right-most tooth is a posterior. The rightmost upper and lower teeth are lingual views.

The roots on lower contortus teeth are more robust than the roots on uppers. However, laterals and anterio-laterals are very difficult to tell apart.

Formation:

Calvert, Plum Point member
Age:

Early - Middle Miocene ~ 18-15 m.y.
Location:

~ 5/8 to 7/8" (16 - 22mm)

Hemipristis serra (Agassiz, 1843)
(Snaggeltooth Shark)
Go to the Snaggletooth Shark Gallery to learn more
Identification based on Kent (1994) & Purdy et al (2001).
This species lived from the late Oligocene into the early Pleistocene. They are commonly called Snaggeltooth Sharks due to the large serrations on their teeth. Species of Hemipristis are extant today, however, they are only found in tropical waters, and are much smaller than the fossil species. The fossil species are also found worldwide.

The center lower is a lingual view, the rest are labial views. The lowers rolled part way onto their sides, making profile views.

As you can see, uppers and lowers are very different. To show the difference, a snaggletooth jaw is shown on the Snaggletooth Shark Gallery Page.

Formation:

Calvert & Choptank
Age:

Miocene ~ 18-15 m.y.
Location:

Largest is 1 1/2" (38mm)

These are all lingual views. This is to show the size and shape variation in the Hemi's. The smaller ones are abundant. Larger ones are slightly more difficult to find.

Formation:

Calvert & Choptank
Age:

Miocene ~ 18-15 m.y.
Location:

Largest is 1 3/8" (35mm)

Here is a neat pathological hemi. It has a curved blade and a double tip. difficult to find.

Formation:

Calvert or Choptank
Age:

Miocene ~ 18-15 m.y.
Location:

Chesapeake Bay area
Size:

~1" (25 mm)
Date:


Isurus (Rafinesque, 1810)
(Mako Sharks)
Go to the Mako Shark Gallery to learn more
Identification based on Kent (1994) & Purdy et al (2001).
Mako sharks can grow up to 12 feet in length. Some fossil Makos probably were slightly larger than this.
Makos are generally pelagic, or open ocean sharks. Modern Makos eat a variety of prey, including other sharks, fish (including tuna and swordfish), and squid.

Some fossil Makos evolved into the present day Shortfin, and Longfin Mako sharks.
Others may have evolved into the modern Great White shark. The "Makos" that evolved into the Great Whites should be assigned into the genus Cosmopolitodus to distinguish them from other Makos (Isurus sp.).
However, Purdy et al (2001) believes Isurus could not have evolved into the Carcharodon genera. Among his evidence is a reference to Mitochondrial DNA sequences that estimate the Carcharodon origins in the Paleocene or early Eocene, which is much to early if Isurus evolved into Carcharodon.

Isurus desori (Sismonda, 1849)
(Shortfin Mako Shark)
Identification based on Kent (1994) & Purdy et al (2001).
This species lived from the late Oligocene into the Pliocene, and probably evolved into the extant I. oxyrhinchus the Shortfin Mako.

This beauty (a lower anterior) is as big as my lee creek mako finds!

Left is the lingual view, right is the profile view.


Formation:

Calvert, Plum Point member
Age:

Early - Middle Miocene ~ 18-15 m.y.
Location:

Willows, Calvert Co., MD
Size:

2" (51mm)
Date:

Spring 2002

These are two smaller shortfin makos.


Formation:

Calvert, Plum Point member
Age:

Early - Middle Miocene ~ 18-15 m.y.
Location:

right has a 1 1/2" slant (38mm)
Date:

Right was found in summer 2002

These are a couple smaller teeth.
The left two are labial views, the right two are lingual views.



Formation:

Choptank & Calvert
Age:

Early - Middle Miocene ~ 18-15 m.y.
Location:

Largest is 1 1/4" (31mm) slant height

Isurus retroflexus (Agassiz, 1843)
(Longfin Mako Shark)
Identification based on Kent (1994).
This species lived in the Miocene, and probably evolved into the extant I. paucus, the Longfin Mako.


This jet-black tooth is a rarer mako species found at the cliffs.

The first view is the lingual view, the second is the labial view.
In the labial view, there is a deep groove separating the platform from the rest of the tooth, this can be seen as the dark line running across the root.



Formation:

Calvert, Plum Point member
Age:

Early - Middle Miocene ~ 18-15 m.y.
Location:

~

Cosmopolitodus hastalis (Agassiz, 1843)
(exctinct White Shark)
Go to the White Shark Gallery to learn more
Identification based on Kent (1994) & Purdy et al (2001).
This was one of the larger Mako sharks. Some teeth can get to be over 3", which make for a very large shark (over 20 feet in length). It lived from the Oligocene into the Pliocene.
This is the species whose predecessors are thought by some to have evolved into the extant Great White (Carcharodon carcharias). If this is the case, it should be called Cosmopolitodus hastalis.
However, Purdy et al (2001) provides evidence against this, including Mitochondrial DNA sequences that estimate the Carcharodon origins in the Paleocene or early Eocene, which is much to early if Isurus evolved into Carcharodon.
Also, ther appear to be two forms of this shark, or two species, I hastalis and I xiphodon. The xiphodons have a broader blade than the hastalis. I make no distinction here between species. Check the Lee Creek page to see examples of both species.

This is nice lower mako tooth.

Click on the pic to see the trip it was found on.


Formation:

Calvert or Choptank
Age:

Early - Middle Miocene ~ 18-15 m.y.
Location:

Chesapeake Bay area
Size:

~ 2 1/16" (52mm) slant
Date:


This is a beautiful 2" lower mako tooth.

Click on the pic to see the trip it was found on.


Formation:

Calvert or Choptank
Age:

Early - Middle Miocene ~ 18-15 m.y.
Location:

Chesapeake Bay area
Size:

~ 2" (51mm) slant
Date:


This is a nice 2" upper mako that I found in a clay block.

Click on the pic to see the trip it was found on.


Formation:

Calvert
Age:

Early - Middle Miocene ~ 18-15 m.y.
Location:

Chesapeake Bay Area, VA
Size:

~ 2" (51mm) slant
Date:


This is a nice 2" lower mako that Amy found in a clay block.

Click on the pic to see the trip it was found on.


Formation:

Calvert
Age:

Early - Middle Miocene ~ 18-15 m.y.
Location:

~ 2" (51mm) slant
Date:


Here is a nice orange colored mako from Brownies Beach.

Click on the pic to see the trip it was found on.


Formation:

Calvert, Plum Pt. member
Age:

Early - Middle Miocene ~ 18-15 m.y.
Location:

~ 1 7/8" (47 mm) slant
Date:


This is a nice robust slightly worn mako. The left is the labial view, the right is the lingual view.
We found this one while snorkeling. View a pic of it when it was found


Formation:

Choptank
Age:

Middle Miocene ~ 18-15 m.y.
Location:

~ 1 13/16" (45mm) slant
Date:

Summer 2002

This is a nice 2" lower mako that Amy found in a clay block.

Click on the pic to see the trip it was found on.


Formation:

Calvert
Age:

Early - Middle Miocene ~ 18-15 m.y.
Location:

Chesapeake Bay area
Size:

~ 1 3/4" (44mm) slant
Date:


Here is a pristine mako. Found in a fresh fall, it never made it to the water to get worn.

Click on the pic to see the trip it was found on.


Formation:

Calvert, Plum Point member
Age:

Early - Middle Miocene ~ 18-15 m.y.
Location:

~ 1 11/16" (43mm) slant
Date:


This is an interesting yellow/orange mako. The left is the labial view, the right is the lingual view.


Formation:

Calvert, Plum Point member
Age:

Early - Middle Miocene ~ 18-15 m.y.
Location:

~ 1 5/8" (40mm) slant
Date:

Spring 2002

These are some smaller mako teeth. Most of them appear to be I desori.
Notice some juvenile makos have cusps.



Formation:

Calvert & Choptank
Age:

Middle Miocene ~ 18-12 m.y.
Location:

Largest is 1 1/8 (29mm) slant height

Negaprion eurybathrodono (Blake, 1862)
(Lemon Shark)
Identification based on Kent (1994).
This species of lemon shark only lived in the Miocene.

These teeth are very common in the Calvert Formation.
Lowers can be easily confused with Carcharhinus sp. lowers, however they have smooth to very week serrated enameloid shoulders, where Carcharhinus sp. have serrated enameloid shoulders.


Formation:

Calvert, Plum Point member
Age:

Early - Middle Miocene ~ 18-15 m.y.
Location:


Here are some slightly larger N eurybathrodono



Formation:

Calvert, Plum Point member
Age:

Early - Middle Miocene ~ 18-15 m.y.
Location:

~ 1" (25mm)

Notorhynchus cepedianus (Peron, 1807) aka primigenius (Agassiz, 1843)
(Sevengill Cow Shark)
Go to the Cow Shark Gallery to learn more
Identification based on Kent (1994) & Purdy et al (2001).
Purdy et al (2001) believe these teeth are identical to the extant N. cepedianus, and therefore N. primigenius is just synonymous to N. cepedianus.
Cow sharks are very primitive sharks, and look almost as weird as their teeth. Cow sharks lack the many dorsal fins on their backs that most sharks have. Instead, they only have a single dorsal fin toward their tail. They are also very wide and bulky.
This species is extant today, but rare. They are active in shallow waters and are very aggressive. They can get up to 10 feet in length. Their diet consists of mainly other sharks, rays, bony fish, and seals.


Notice the small cusps on mesial edge of the lateral, whereas Hexanchus (Sixgill Cow Shark) laterals have fine serrations.

Notorynchus teeth are MUCH more common than Hexanchus teeth.

Click on the pic to see the trip this was found on.


Formation:

Choptank, Zone 17?
Age:

Middle Miocene ~ 15 m.y.
Location:

This nice specimen is approximately 1" (25mm)
Date:


Usually these teeth are found with the roots mostly missing (as in the pic below).


Formation:

Calvert, Plum Point member
Age:

Early - Middle Miocene ~ 18-15 m.y.
Location:

Big broken lateral is about 1" (25mm)


Notorhynchus teeth are commonly found broken, such as the teeth in this pic.


Formation:

Calvert
Age:

Early - Middle Miocene ~ 18-15 m.y.
Location:


Rhizoprionodon fischeuri (Joleaud, 1912d)
(Sharpnose Shark)
Identification based on Kent (1994)
This is a small shark, roughly 5 feet long, with a long snout (hence the name). This species is very rare in the Calvert formation. This may be partly due to their tiny size. There is a large sexual dimorphism in lower teeth, as the male and female lowers look very different from one another.

These two teeth are male lowers. They may be associated teeth, since they were found in a large chunk of Zone 10 almost touching each other.

These teeth are very small, with one pronounced enameloid shoulder, and two large lingual protuberances surrounding the nutrient groove.
They also have no serrations on the crown or enameloid shoulders.


Formation:

Calvert, Plum Point member, Zone 10
Age:

Middle Miocene ~ 16-15 m.y.
Location:

roughly 1/4" (5mm)

Sphyrna zygaena
(Hammerhead Shark)
Go to the Hammerhead Shark Gallery to learn more
Hammer Head Sharks can get up to 11 feet in length. They feed on a variety of prey, including other sharks, bony fish, and crustaceans. The Common Hammerhead (Sphyrna zygaena), still populates the Chesapeake bay today, and is one of the largest sharks in the bay.

The two leftmost teeth are labial views, all others are lingual views.

These are much less common than grey shark teeth, and, if you're not careful, they can easily be confused with them.
However, notice the deep notch in the roots, also there are no serrations present on the teeth.


Formation:

Calvert
Age:

Early - Middle Miocene ~ 18-15 m.y.
Location:

usually between 1/2-3/4" (13-19mm)

Squatina subserrata "lerichei" (Munster, 1846)
(Angel Shark)
Identification based on Kent (1994) & Purdy et al (2001).
Angel sharks are very flat, looking more like a Ray than a Shark.
Some species can reach lengths up to 6 feet. Angel sharks bury themselves on the Ocean bottom, and wait for prey to swim by. They feed on fish, mollusks, crustaceans. Their mouths house numerous tiny teeth for grasping.
Because Squantina teeth are very small, they are difficult to find. All of my teeth were found by screening.
This fossil species lived from the late Oligocene to the Miocene.


These teeth are tiny and hard to spot, but are very easy to identify when found.



Formation:

Calvert, Plum Point member
Age:

Early - Middle Miocene ~ 18-15 m.y.
Location:

~ 1/4" (6.4mm)






Stress cracks running to the center of shark vertebrae are very common, and are caused from the heat and pressure on the vertebrae during the fossilization process.


Formation:

Calvert, Plum Point member
Age:

Early - Middle Miocene ~ 18-15 m.y.
Location:

largest one is ~1 1/16" (28mm)


Shark vertebrae these sizes are decent finds at the cliffs. The dark circles on the larger one are barnacle marks. The larger one was found by snorkeling.


Formation:

The small one is Calvert, Plum Point member. The larger one is from the Choptank formation.
Age:

Early - Middle Miocene ~ 18-15 m.y.
Location:

~1 1/2" & 1 3/4" (38 & 44mm)
Date:

Spring 2002

---



Find us on Google+