Share The Calvert Page: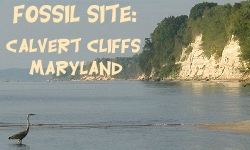 Calvert Cliffs Collecting Location Page:
Calvert CLiffs, MD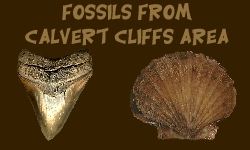 All types of fossils that can be found at the Calvert Cliffs of MD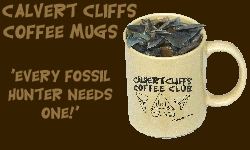 Calvert Cliffs Coffee Club Coffee Cups!
A unique gift for the fossil hunter.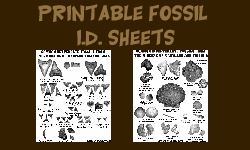 Printable Identification Fossil Sheets for Vertebrates and Invertebrates of the Calvert Cliffs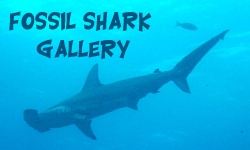 Fossil Shark Gallery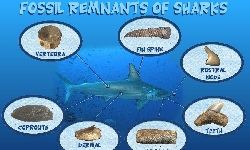 Parts of Sharks that Fossilize

New regulations are being proposed that will end nearly all amateur collecting of fossils on public land.
The Amateur and Professional Paleontology community is small. We all need to be heard.
This link shows you how you can CONSTRUCTIVELY comment on these proposed regulations to the BLM and BOR before the February 6th deadline.
---
Fossil Miocene Vertebrates from the Chesapeake Bay, Maryland - Examples and Identification
Besides the countless shark fossils found in the Miocene deposits of the Chesapeake bay, other vertebrates are also found. The Miocene seas were home to numerous Cetacea (whale and dolphin type animals), Seals, Turtles, Salt water Crocodiles, and even Manatees. Some of the cetacea include the bizarre Squalodon, who had a primitive form of echolocation, and still retained a land mammal dentition. Others include some of the first baleen whales, the great plankton feeders.

Besides for the marine vertebrates, fossilized remains of land animals are also sometimes found. These are from the short time periods when the sea levels regressed. Land animals would live on the land. When the waters would rise again, sometimes the remains of these land animals would fossilize. They are rarely found scattered in thin layers of the Calvert Cliffs.
Based on the fossil finds, this area was much warmer than today. Animals that one wouldn't think of are found here, from the common Peccaries, to Camels, Llamas, Rhinocerases, Mastodons, Wolves, and even animals like the strange Bear Dog lived here.

For Identification of ALL fossils, and not just vertebrates, found at the Calvert Cliffs, Click Here. Click on the following links for Fossil Sharks, and Fossil Invertebrates from the Calvert Cliffs.
Click on the image to go to the specific type of fossil, or scroll down to browse.
Vertebrate Fossils (Besides Sharks) Found in the Calvert & Choptank formations at the Calvert Cliffs of Maryland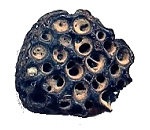 Sturgeon
Acipenser sp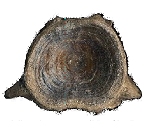 Tarpon
Megalops sp.

Reptile Fossils From Calvert Cliffs

Salt Water Crocodiles
"Thecachampsa" sp.



Sea Turtles
Syllomus aegyptiacus


Marine Mammals: Seals, Odontocete Cetaceans - Toothed Whales, Mysticeti - Baleen Whales


Seal
Phocidae sp.


Shark Toothed Whale
Squalodon sp.


Odontocetes
Toothed Whales,
Including Dolphin type animals


Baleen Whales
Balaenopteroidea Family


---





?Acipenser sp.
Sturgeon
Sturgeon dermal plate fragment
Identification based on Purdy et al (2001, p.161).

I believe this is a tiny fragment of a Sturgeon scute.
For an image of a better scute fragment, look at the scute on the Lee Creek collection page.


Formation:

Calvert, Plum Point member
Age:

Early - Middle Miocene ~ 18-15 m.y.
Location:

Randle Cliffs, Calvert Co., MD
Size: ~ 1/2" (13mm)

Megalops cf M. atlanticus
Tarpon
Go to the Tarpon Fossil Gallery page for more info about Fossil Tarpon and Identification

These are seven associated vertebra and a fragment of skull from a Tarpon.
The fourth vertebra was left in matrix for verification of the Calvert Zone.


Formation: Calvert: Zone 14
Age: Early - Middle Miocene ~ 18-15 m.y.
Location: Chesapeake Bay Area
Size: Each vert is ~ 1.5" in diameter (38mm)
Date: November, 2009 TRIP







Crocodilia order
(Crocodiles)




Thecachampsa antiqua (Leidy, 1852)
Crocodile tooth
Identification based on Myrick (2001, p.222)
According to Myrick (2001, p.222), since there is a large variation in tooth shape in Thecachampsa dentitions, and there are no important morphological differences between the skulls of crocodiles found in the Chesapeake Group and other tertiary deposits, all the crocodiles should be assigned to T. antiqua.



This is one of the best fossil crocodile teeth I've ever seen. Even though it has no root, It's beautiful. Looks like it came out of the mouth yesterday, even though it is Miocene in age.

Click on the pic to see the trip it was found on.




Formation:

Calvert
Age:

Middle Miocene ~ 15-12 m.y.
Location:

Chesapeake Bay Area
Size:

2 1/2" slant height (54mm)
Date:




This is another nice crocodile tooth. Although it has a large crack in it, it is large and has nice coloration.

Click on the pic to see the trip it was found on.




Formation:

Calvert
Age:

Middle Miocene ~ 15-12 m.y.
Location:

Chesapeake Bay Area
Size:

2 height (51mm)
Date:




This croc tooth is damaged. However, the damage reveals the internal struture of a crocodile tooth.




Formation:

Calvert
Age:

Middle Miocene ~ 15-12 m.y.
Location:

Chesapeake Bay Area
Size:

~ 1" (25mm) Date: September, 2010 TRIP




This is a very worn Croc tooth. The key to identifying it as a croc tooth is the conical cavity at the bottom of the tooth. A crocodile cavity is different than one from a sperm whale tooth.




Formation:

Calvert
Age:

Middle Miocene ~ 15-12 m.y.
Location:

Chesapeake Bay Area
Size:

~ 1" (25mm) Date: September, 2010 TRIP




This is the most worn Croc tooth I have ever seen, however, it is a very nice reddish brown color.




Formation:

Choptank
Age:

Middle Miocene ~ 15-12 m.y.
Location:

~ 7/8" (23mm)




Testudine order
(Turtles)




After being misidentified for over a year, I finally realized this is most of a turtle vertebrae. The first pic is the side that connects to the neural scute, and the last is a side view, where the rib would attach. I think determining its Genus would be nearly impossible due to the poor condition of the vert.


Formation:

Calvert, Plum Point member
Age:

Early - Middle Miocene ~ 18-15 m.y.
Location:

Randle Cliffs, Calvert Co., MD
Size: ~1 1/4" by 6/8" (31mm by 18mm)




Cheloniidae family
(Hard-shelled Seaturtles)




Syllomus aegyptiacus
Carapace of a Hard-shelled Sea Turtle

Click on the pic for more info/ better pics!

I found most of a turtle carapace (top of a turtle shell). It is in kinda bad shape, due to the waves beating it up.. It was found in a chunk of cliffies along the water.


Click on the image for up to date pics, and more information.


Formation:

Choptank (zone will be determined shortly)
Age:

Middle Miocene ~ 15-12 m.y.
Location:


---





Pinnipedia order
(Seals, Walrus, etc..)




Phocidae sp.
Seal Cervical Vertebra (C-3 to C-7?)
Identification based on Timmerman (1997, p.18).

This looks almost identical to a seals' 3 through 7th cervical (neck) vertebrae.

It was found near the base of a cliff partially in clay, with the spinous process shattered, lying around it. We did our best to piece it together.


Formation:

Calvert, Plum Point Member
Age:

Early - Middle Miocene ~ 18-15 m.y
Location:

~3 7/8" by 2" wide (98 by 51 mm)






Odontocete sub-order
Toothed Whales (Including Dolphins type animals)




Squalodon sp. tooth
A Squalodon, or"Shark-toothed whale" was a type of primitive toothed whale belonging to the extinct Squalodonotidea family and S. tiedemani. I don't know which species this is. For more information about Squalodons, please take a look at the Squalodon Gallery.




This is probably a worn incisor (tip of tooth, and bottom of root are missing). Squalodon teeth are very hard to find, and much rarer than shark teeth, as whales do not constantly loose their teeth like sharks do. Also, these are less common than the more modern looking Mysteceti, or baleen whales, found here.




Formation:

Calvert, Plum Point Member
Age:

Early - Middle Miocene ~ 18-15 m.y
Location:

~ 2 1/4" (57mm)




Kentriodontidae and Eurhinodelphidae family
(extinct Dolphin like animals, etc..)
There were perhaps a dozen or so genus of "dolphins" in this area in the Miocene. Some of the common genus includes the extinct Kentriodon and Eurhinodelphis genus. For more information about the Eurhinodelphis genus, look at the additional Eurhinodelphis information in the Gallery section.




Odontocete associated bones
from some kind of small Dolphin like animal
This is a clay block with associated "dolphin" bones in it.

These were found in a clay block in the surf. A few bones were sticking out. It contains a really nice atlas vertebra, some rib fragments, and parts of the brain case of the skull.
It is a really interesting fossil find.

Go to the November, 2013 TRIP trip to see it as found, and being prepped.


Formation: Choptank
Age: Early - Middle Miocene ~ 18-15 m.y.
Location: Chesapeake Bay Area
Date: November, 2013 TRIP


"Dolphin" Teeth
Dolphin teeth are much rarer than shark teeth, as dolphins do not continuously loose their teeth. Also, it is more difficult to spot dolphin teeth, as they tend to roll around in the waves. They are usually found by sifting in the pebble areas.

This is a larger than normal dolphin like tooth.

Click on the pic to see the trip it was found on


Formation:

Calvert
Age:

Early - Middle Miocene ~ 18-15 m.y
Location:

Chesapeake Bay Area
Size:

~ 1 1/2" (38mm)

This is a larger than normal dolphin like tooth.

Click on the pic to see the trip it was found on


Formation:

Calvert
Age:

Early - Middle Miocene ~ 18-15 m.y
Location:

Chesapeake Bay Area
Size:

~ 1 5/8" (31mm) Date: September, 2010 TRIP


These are some kind of primitive dolphin type teeth. There were numerous species, but I have no clue how to further identify them.

With that said, the teeth are most likely from the Kentriodon and/or the Eurhinodelphis genus. Both genus have small teeth such as these.


Formation:

Calvert, Plum Point Member
Age:

Early - Middle Miocene ~ 18-15 m.y
Location:

~ 5/8" (16mm)

Dolphin like animal Periotic ear bone
Ear bones are difficult to spot, as they look like pebbles. It takes a trained eye to spot these.

These are "dolphin" inner ear bones. They are often mistaken for rocks, especially if they are worn such as the ones in the image.
The inner ear bones (the tympanic bulla and periotic) are made from very dense bone, and therefore, often fossilize.
A dolphin bulla can be seen on the Lee Creek collection page.


Formation:

Calvert, Plum Point Member
Age:

Early - Middle Miocene ~ 18-15 m.y.
Location:

Willows, Calvert Co., MD
Size:

~ 1/2 to 1" (51mm)

"Dolphin" Cervical Vertebra
Identification based on Timmerman (1997, p.18).

This is a dolphin cervical vertebra. They are easily identifiable due to the placement of the processes (mostly missing here), and their thinness compared to other vertebrae.

If you notice, this particular vertebrae has the ephesis fused, which means it is from an adult. Since it is from an adult, and is relatively small, it probably came from a smaller dolphin like genus such as the Kentriodon genus.


Formation:

Calvert, Plum Point Member
Age:

Early - Middle Miocene ~ 18-15 m.y.
Location:

Willows, Calvert Co., MD
Size:

~ 2" (51mm)

These are two additional dolphin cervical vertebrae.
I'm not sure what genus these verts are from.


Formation:

Calvert, Plum Point Member
Age:

Early - Middle Miocene ~ 18-15 m.y.
Location:

~ larger one is 3.5" (87mm) including the remaining processes
Date: Summer, 2002

Complete "Dolphin" Upper Thoracic Vertebra
Identification based on Timmerman (1997).

Dolphin Thoracic Vertebra
Kentriodon sp. vertebra

This appears to be a thoracic vertebra of a small species of Kentriodon Dolphin. The processes are obviously missing.


Formation:

Calvert, Plum Point Member
Age:

Early - Middle Miocene ~ 18-15 m.y
Location:

Willows, Calvert Co., MD
Size:

~1 1/8" (28.5mm)

Dolphin Misc. Vertebra
Identification based on Timmerman (1997).

These three vertebrae are most likely from Dolphin like animals
The middle one is the typical condition they are in when found on the beaches.

The far right one is a caudal (tail) vertebra.


Formation:

Calvert, Plum Point Member
Age:

Early - Middle Miocene ~ 18-15 m.y.
Location:


Epiphyses from a Dolphin Vertebra
"Cookies"
Identification based on Timmerman (1997, p.4).

Epiphysis is a part of a bone (usually the end) that ossifies separately from the bone. The epiphyses also attached to the bone at a later date. So, in a juvenile, the epiphyses are usually not yet attached. When a juvenile dolphin or whale dies, the epiphyses often separate from the bone before fossilization. The detached epiphyses from the vertebrae of juveniles resemble cookies.
The far right vertebra in the "misc vertebra" picture has its epiphysis missing.


Formation:

Calvert, Plum Point Member
Age:

Early - Middle Miocene ~ 18-15 m.y.
Location:

~1 3/8" (34mm) diameter, 1/2" (13mm) thick

Dolphin Rib... most of one
Identification based on Timmerman (1997).

This is most of a dolphin rib. It appears to be a rib from the rear of rib cage, or a floating rib. It was dug out of a chunk of freshly fallen zone 10, however, before I found it, I smashed the hammer through the center of the rib, thus loosing about 1/2" of the middle of the rib. It is also curved more than this flat image shows.

Notice the small bite marks all over the rib, they are hard to see in this image.


Formation:

Calvert, Plum Point Member, Zone 10
Age:

Middle Miocene ~ 16-15 m.y.
Location:





Mysteceti sub-order
(Baleen Whales)




Balaenopteroidea Family
Early Baleen Whales
Baleen Whales are filter feeders that have no teeth. Instead they scoop up large amounts of water containing krill and small fish. The baleen filters out the food from the water. Today, Baleen whales are the largest animals on earth. These include the Blue Whales, Gray Whales, and Humpback Whales, amung many others.

The early Baleen Whales of the Chesapeake group were smaller than todays Baleen whales.

This is a broken baleen whale jaw found in the Choptank Formation. It is the lower left mandible. It was found shattered near the surf in a couple chunks of cliff that fell.
The ends are not present. Also, the posterior end, the end that attaches to the skull, is missing. This end has the defining characteristics to identify it to a genus level. As a result, this fossil cannot be identified past the family level.


Formation: Choptank
Age: Early - Middle Miocene ~ 18-15 m.y.
Location: Chesapeake Bay Area
Size: 28" (710 mm). The whole fossil would have been around 40".
Date: November, 2013 TRIP


Cetotherium
Fragment of a squamosal cranial element from a Cetotherium?
(ENGLISH TRANSLATION: Back piece of the skull from an early baleen whale?)

Click on the pic for more info!

According to some very qualified people at an MGS meeting, this is probably a fragment of the squamosal (rear piece of the skull) from possibly a baleen whale (Mysticeti).

It was found while snorkeling for fossils.

Click on the image for more pictures.


Formation:

Choptank
Age:

Middle Miocene ~ 15-12 m.y.
Location:

~ 7" x 7" x 4.5"





Small bone fragments, such as rib pieces, and chunks of cartilage are abundant at the cliffs.

These are most likely fragments from dolphins, whales, and seals


Formation:

Calvert, Plum Point Member
Age:

Early - Middle Miocene ~ 18-15 m.y.
Location:





---




The white line on the side view is a small gash, probably a scrape mark by a small shark tooth. Also, the puncture marks in the top view may also be from small shark teeth, as there are smaller punctures on the other side, which may be from the opposite row of teeth.
Also, look at the dolphin rib in the marine mammals section, it has small bite marks all over it.



Formation:

Calvert, Plum Point Member
Age:

Early - Middle Miocene ~ 18-15 m.y.
Location:

Randle Cliffs, Calvert Co., MD
Size: ~1.5" (31mm)

---



Find us on Google+