---
Fossil Trilobite Hunt in New York.
September 2003
---
---
During the 2nd weekend of September we took a trip to New York for a fossil Trilobite hunt. This was a change of pace from the recent Calvert Cliff fossil trips we have been taking. Instead of beach combing and diving, we would be using rock hammers and chisels to discover our finds.

I had been in contact with Roy of Times Scientific before hand. I havenít fossil collected with him all summer, so I thought it would be nice if we were all there at the same time. We were to all meet at the parking area around 8:30 on Saturday. Roy was actually there on Friday and had a full days collecting in before we arrived. In the lot, Roy showed us some of his better finds from the day before. He had some nice fossil specimens, including some complete prone trilobites. We were all hoping today would be just as productive.

After walking to the cliff exposures, we immediately headed toward the trilobite fossil bed we had worked with during our last trip. The erosion from Lake Erie and the weather had eroded new rock, and had exposed new trilobites for us. Even with Roy collecting on Friday, we immediately found some trilobites eroded partly out of the mudstone. I just canít imagine how many trilobites erode away before anyone can find them!

Roy ended up finding less than Friday, but he still had found a bunch of nice trilobites. Amy and I ended up with approximately a dozen enrolled specimens, and possibly 2 prone fossil specimens. The actual numbers will not be known until they are prepared with an air abrasive unit. Besides trilobites, we also found tons of horn corals, brachiopods, and crinoid pieces.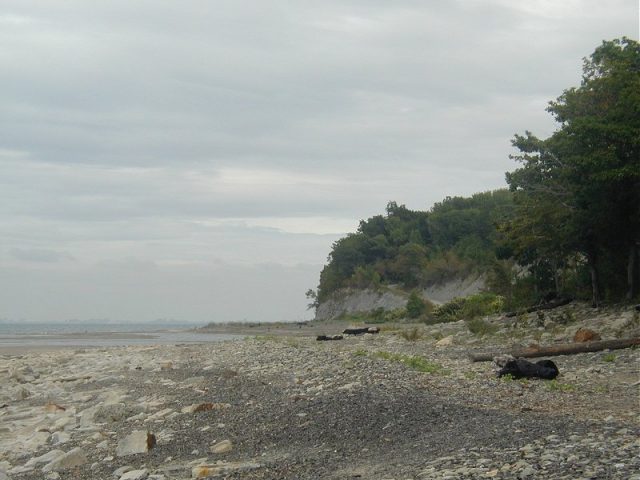 This pic shows the cliff exposures along Lake Erie.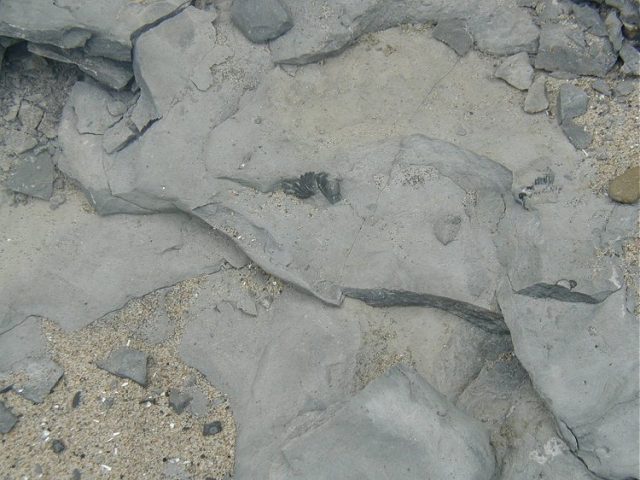 This was my first find of the day; an enrolled
phacops
. One can see part of the head and thorax. Based on how it is enrolled, it probably also has a pygidium.
This bug will stay in the rock until it gets home, where it can be properly prepared with an air abrasive unit. If I were to try and chisel this bug out, the black calcite will most likely chip, or a segment will crack.
If you look directly to the right of the enrolled trilo, near the edge of the image, you can see a badly eroded phacops. After close inspection, I discovered this bug use to be a complete partially enrolled specimen, however erosional forces have almost completely destroyed it.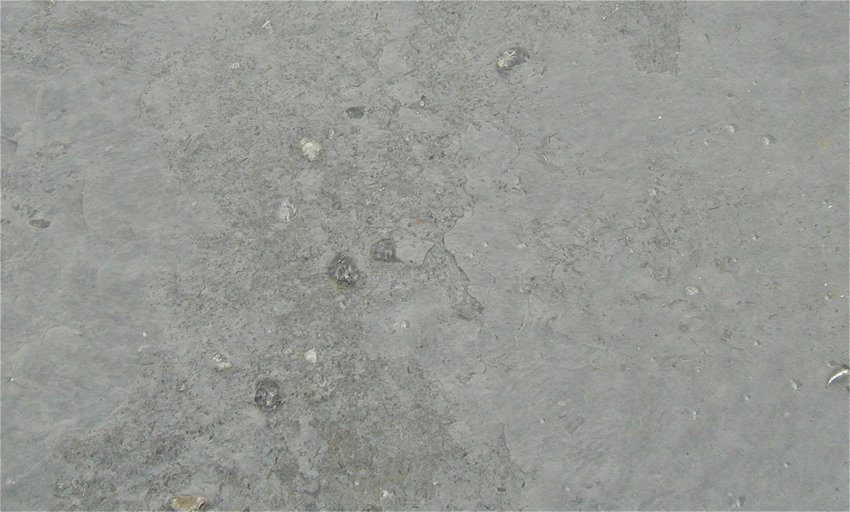 This image is actually looking at the bottom of lake Erie a few feet off the shore. We are looking through about 3 inches of water. If you look closely, you can see nice specimens of
athyris
brachiopods and Horn Corals eroding out of the matrix.
Here, Amy and Roy are packing up all the fossils we found. Amy is spraying our fossils with a fixative that will protect them during the trip home. Once home, the fixative is easily removed with the air abraisive unit during the preperation process.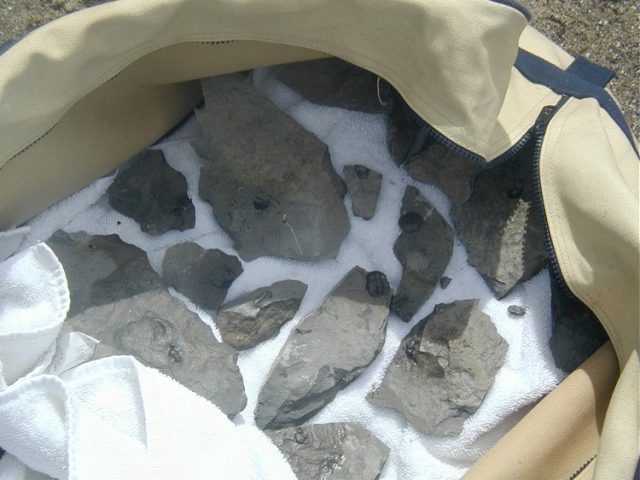 This image shows some of our finds. The bag is 3 layers high. On the top layer, one can see some possible complete enrolled
phacops
, some possible complete prone
phacops
, and what appears to be a complete enrolled
greenops
---
UPDATE 11/03:
After almost 2 months, I finally finished prepping some trilobites. I got through 2 layers of the 3 layer bag. Here's a sample of some found: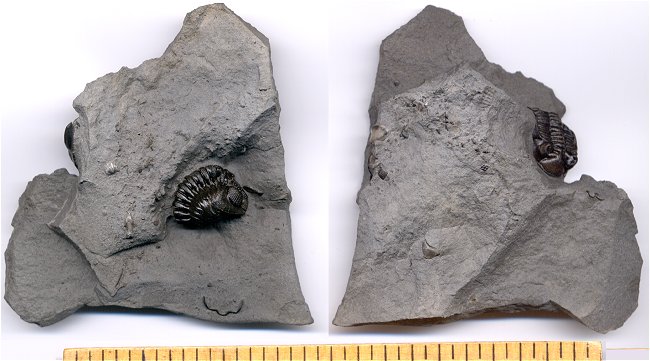 Here's a neat one. This enrolled
phacops
was my 1st find of the day, it's shown still in the rock at the top of the page in the 2nd picture. To my delight, while prepping it, I exposed a partially enrolled
greenops
on the other side.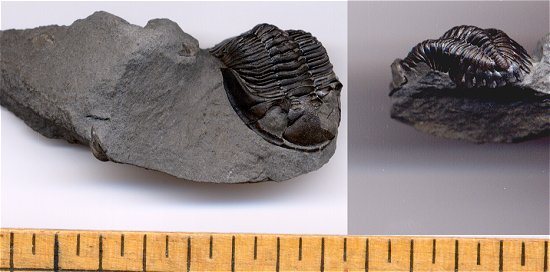 I was after
greenops
this trip. Although this ones head has some missing calcite, it's still pretty neat looking. It's partially enrolled, wrapped around the matrix.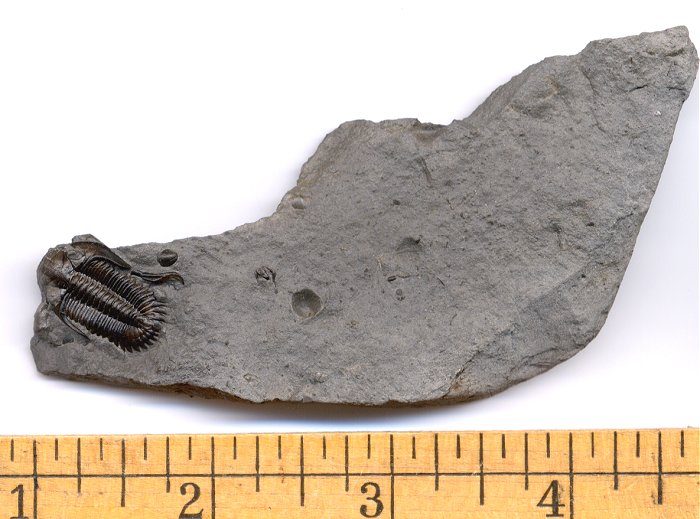 Here's another
greenops
. It's small, and missing a small amount of calcite on its head. However, the rest of it is beautifully preserved.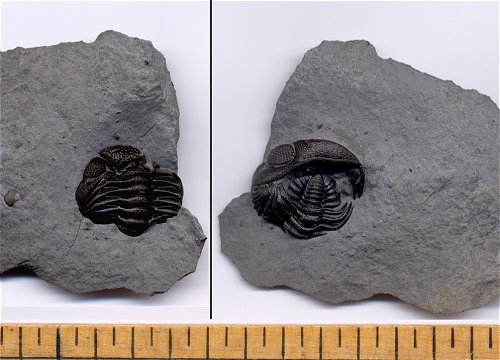 This enrolled
phacops
is sticking out both sides of the matrix. Amy likes how it looks in the matrix, so I'm leaving it in.
Of course, we found a bunch of matrix-free enrolled
phacops
. Here's a couple.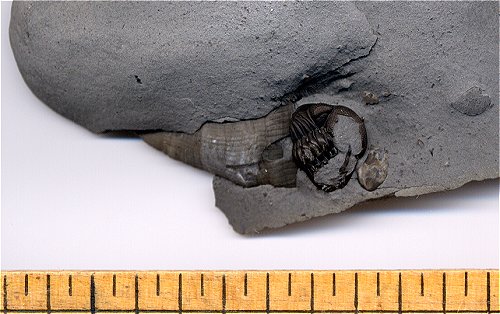 Although erosion got to this enrolled specimen before I did, I decided to keep it since it's right against a horn coral.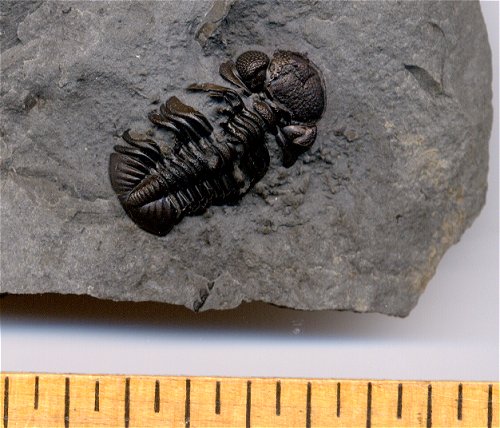 This prone
phacops
is almost definitely a molt, since the shell was so cracked up before fossilization.
---