---
Nothing
September 2003
---

We decided to take a day trip to the bay for two low tides and a CMMFC meeting.

For the first low tide, we planed on kayaking to a diving spot that I think has great potential. We were then going to collect with Paul on the second low tide after the meeting.

When we arrived, we saw the bay churning with white caps. I guess there simply wasn't enough time between all the recent storms they've had and our arrival. We decided to load the kayak with our scuba gear and head out anyway! With the extra 100+ pounds of gear, the kayak turned into a low rider. During our kayak trip, we carefully maneuvered the kayak in the waves so we wouldn't get swamped. It seemed more like a video game than a kayak trip.

As we approached the cliffs and the dive spot, we spotted Paul beach collecting. After pulling ashore, Paul (who didnít find anything) told us he was wandering who those 2 idiots out in that kayak with those big waves were. It probably didnít surprise him when he realized the two idiots were us. Anyhow, we quickly put on our gear and headed diving.

Needless to say, the visibility STUNK! Because of all the waves, there was a suspension of sand near the bottom of the water till about 50 yards out. We searched for a gravel area, and found nothing but sand. We went way out, and still couldnít find anything but sand! I guess all the storms and rain deposited a bunch of sand. After about 2 hours, we went back ashore disappointed, and headed off to the meeting.

For the second low tide, we headed out with Paul to a beach colecting spot. The water was calmer now, but still there was sand everywhere and the water level was high. Lucky Paul managed to find a ~3Ē meg tooth in decent shape, but that was it.

Thus ends our disappointing trip to the bay!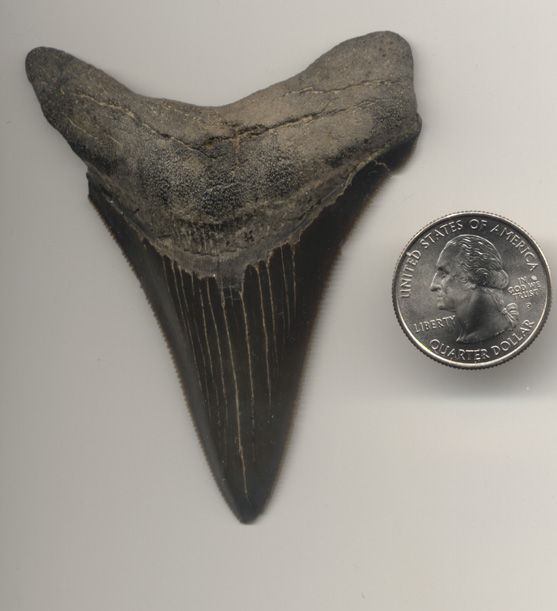 Here is the lingual side of Pauls find. It's about a 3 1/8" slant.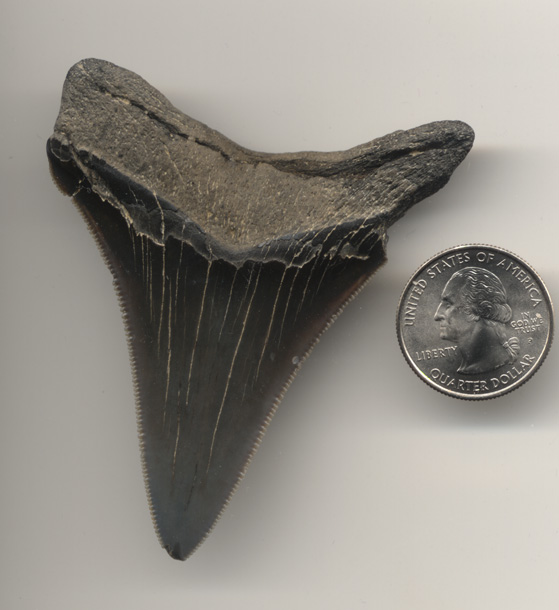 This is the labial side. Awesome serrations despite the chip.

---
Back to Trips Page
Back to Main Page