Share This Page: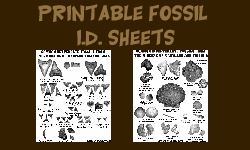 Printable Identification Fossil Sheets for Vertebrates and Invertebrates of the Calvert Cliffs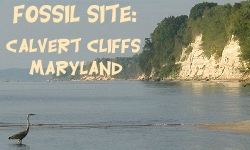 Fossil Hunting Location:
Calvert CLiffs, MD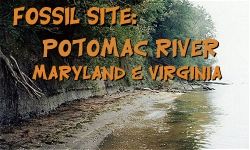 Shark Tooth Hunting Location:
Potomac River, MD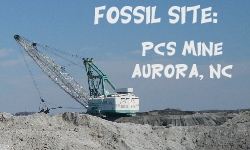 Shark Tooth Collecting Location:
PCS Mine, Aurora, NC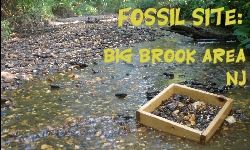 Shark Tooth Collecting Location:
Big Brook in NJ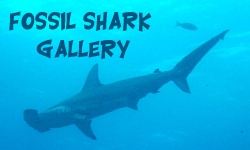 Fossil Shark Gallery
| | |
| --- | --- |
| | List of Fossil Hunting Sites |
---
Click on a location to view the fossil collecting site. Fossil hunting locations include where to find fossils, samples of fossils found, fossil identification, site images, directions, tips, and other recomendations. Take some fossil hunting trips with your family or friends!
Below is a list of locations where fossils are found:

#
Location

1

Ambridge, PA
Carboniferous - Plants

2

Calvert Cliffs of MD
Miocene - Shark Teeth

3

Potomac River, MD
Paleocene - Shark Teeth

4

Muddy Creek in VA (Closed)
Eocene - Shark Teeth

5

18 Mile Creek &
Penn Dixie Paleontological Center, NY
Devonian - Trilobites

6

Lost River, WV
Devonian - Trilobites

7

Mahantango Roadcuts & Pits (WV and PA)
Devonian - Trilobites

8

C&D Canal, DE
Cretaceous - Beleminites

9

Aurora, NC (Lee Creek)
Miocene/Pliocene - Shark Teeth

11

Mt. Orab, OH (Down)
Ordovician - Trilobites

12

Big Brook, NJ
Cretaceous - Shark Teeth

13

Fossil Park, OH
Devonian - Trilobites

14

Lowcountry of SC (Down)
Miocene/Pliocene - Shark Teeth

15

Venice Beach, FL (NEW)
Miocene - Pleistocene - Shark Teeth
---
Description of Fossil Hunting Locations:
Below are brief descriptions of some popular fossil hunting locations. For more information on each location, simply click on one of the images, it will take you to the main location page which is MUCH more detailed. The location pages include directions, fossil hunting tips, fossil identification, and much more!
More locations will be added soon.

Click on the image to go to the Calvert Cliffs Location Page

The Calvert Cliffs of Maryland contain one of the longest running, uninterrupted, Miocene exposures in the world. These cliffs run for approximately 24 miles along the Chesapeake Bay in Calvert County, Maryland. Fossils from these Miocene formations erode out of the cliffs and are easily found in the surf along the beaches.

One of the main fossil attractions at the Calvert Cliffs is the fossil shark teeth. These prehistoric remains of sharks are plentiful. Dozens of shark species can be found including the giant Megalodon shark! Besides for sharks, the cliffs have a diverse marine fauna, including many ancient cetaceans (whales and dolphins), and invertebrates, such as mollusks and other shells.

The Calvert Cliffs is a great spot to take your family fossil hunting. Most people find at least a few small fossil shark teeth along the Calvert beaches, and children love becoming paleontologists for the day!

Click on the image to go to the Big Brook Location Page

The Area of Central New Jersey has numerous creeks, or brooks, running through it. Many of these brooks, including the famous Big Brook, cut through Cretaceous Fossil bearing exposures. Fossils from these exposures erode out of the stream banks and accumulate in the stream beds.

Many sought after fossils include fossil Shark Teeth, such as the odd looking Crow Sharks and Goblin Sharks. Great Marine Reptile remains are also occasionally found. Many of these are Mosasaur fossils. The streams sometimes provide rare dinosaur fossils, such as Edmontosaurus teeth. Besides for the vertebrates, invertebrates are common, including shells and the interesting Belemnite fossils.

Click on the image to go to the Potomac River Location Page

Just south of D.C. are cliffs that run miles down the Potomac River. These cliffs are composed of very fossiliferous exposures contain many Neogene epochs. The most common epoch exposed is the Paleocene. The Paleocene fossils can be found mixed within the gravel banks along the shores of the Potomac. Fossils include prehistoric shark teeth, such as Otodus (The megalodon predecessor), Goblin sharks, Sand Tigers, and Pygmy White sharks (Paleocarcharodon). Fossil Crocodile material, usually teeth, are also found here. Common invertebrates include internal molds of Turitella gastropod shells.

The Potomac is a very scenic place to fossil hunt at. The remote shores are home to Osprey and Bald Eagles. If you are into kayaking, Mallows bay along the Potomac houses one of the world's largest ghost fleets.

Click on the image to go to the Western New York Location Page

New York is full of Fossils! Some of my favorite fossils from New York are from the Devonian exposures that are scattered throughout Western New York.

Although the Devonian exposures are too young to contain New York's state fossil, the Eurypterid, these Devonian fossil bearing formations contain the exquisite fossilized remains of a coral reef from when New York was near the equator.

The Devonian coral reef was much different than a coral reef today. The fauna was completely different. It contained Trilobites, Brachiopods, Tabulate Corals, Ammonites, and early fish. All of these can be found as fossils in Western New York, from the Lake Eerie cliffs to the Paleontological Park in Hamburg, NY.

The Paleontological outdoor center is an ideal and safe place to introduce children to fossils and fossil hunting!
Sylvania Fossils, Ohio

Devonian Reef Fossils are found here. These include Trilobites, Brachiopods, and Corals.

Click on the image to go to the Sylvania, Ohio Fossil Location Page

Ohio is well known for its Ordovician fossils such as the flexicalymene trilobites. However, North West Ohio, near Sylvania contains Devonian exposures that are similar to the ones found in Western New York. However, the fossils here are often slightly larger and the preservation is exquisite.

Prized fossils include Pyritized Eldredgeops (Phacops) Rana Trilobites (often found enrolled), and the plethora of finely preserved brachiopods, including the beautiful mucrospirifers. Often a single rock containing numerous specimens can be found.

Geologic clubs can sometimes enter the working mines in Ohio. However, there is a Fossil Park that everyone can fossil hunt at, even children!




Click on the image to go to the Mahantango Formation Location Page

The Mahantango is an incredibly large middle Devonian formation that runs from Pennsylvania down into West Virginia and virginia. It contains a diverse assemblage of fossils, similar to the Western New York fossils, and the Sylvania, Ohio fossils.

Although the preservation detail is impressive, the shale and siltstones are very fissile, and tend to fracture easily. However, with diligence, nice Eldredgeops (Phacops), Greenops, and even Dipleura trilobites can be found. There is also a plethora of beautifully preserved brachiopods, such as mucrospirifer.

Exposures pop up throughout Central PA and West Virginia. There are even two Parks in Pennsylvania that have the exposure present and allow fossil collecting. Go to the Mahantango page for more details.



| | |
| --- | --- |
| Click on the image to go to the Venice Beach Location Page | Florida is a fossil treasure trove! One particular spot is Venice Beach, the "Shark Tooth Capital of the World". Here, along the beaches and just off the beach are Miocene to Pleistocene fossils. The huge Megalodon sharks are also found here! |





Find us on:
Facebook, Google +, and Youtube.




---

Shop for Fossil Products on Amazon:
Books:
Fossil Gift Ideas: