Travel to Calvert Cliffs find Fossil Shark Teeth:
Including the Huge Megalodon Shark!
Location:
Calvert County, Maryland
~ 23 - 8 Million Years Old
Early to Middle Miocene
Chesapeake Group: Calvert, Choptank, and St. Mary's Formations

---
---

View of the Miocene Fossil Cliffs. This area along the Chesapeake bay is ideal for fossil hunting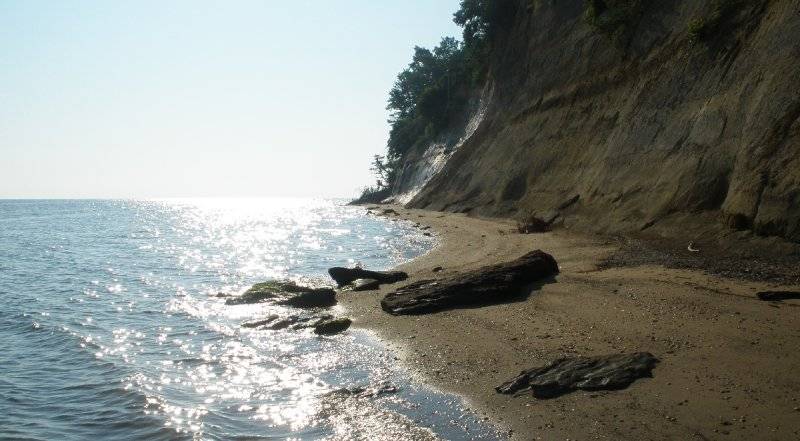 Another view of the Calvert Cliffs of Maryland.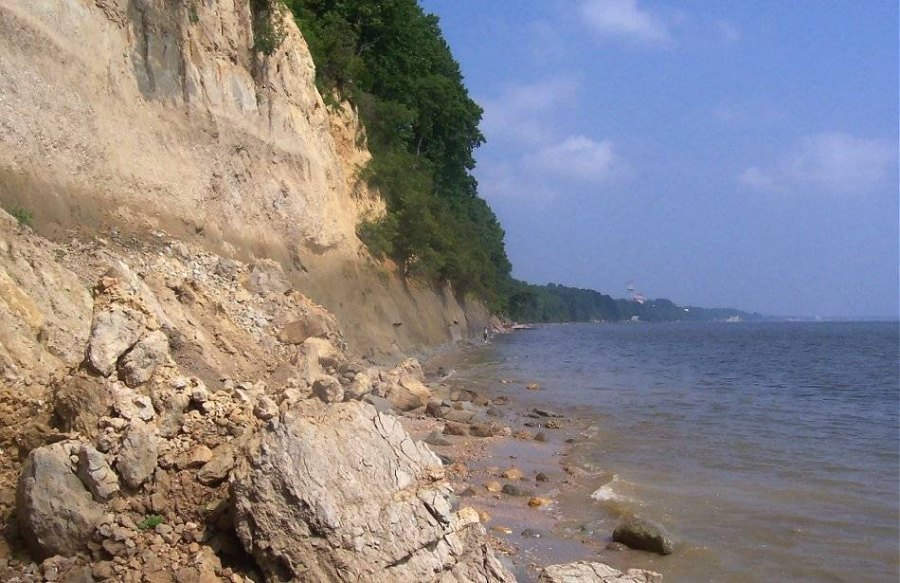 View of the Miocene Fossil Cliffs. This area along the Chesapeake bay is ideal for fossil hunting.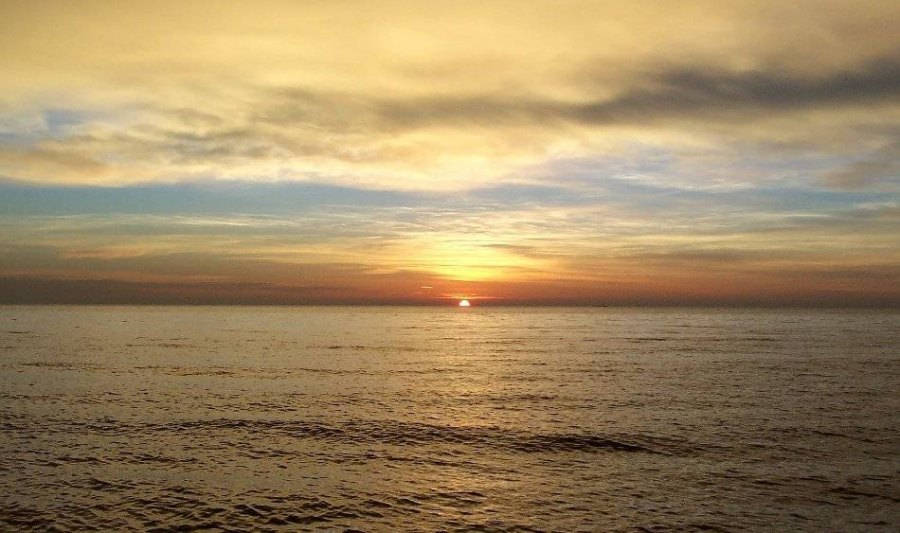 Sunrise along the Clavert Cliffs, Getting ready to fossil hunt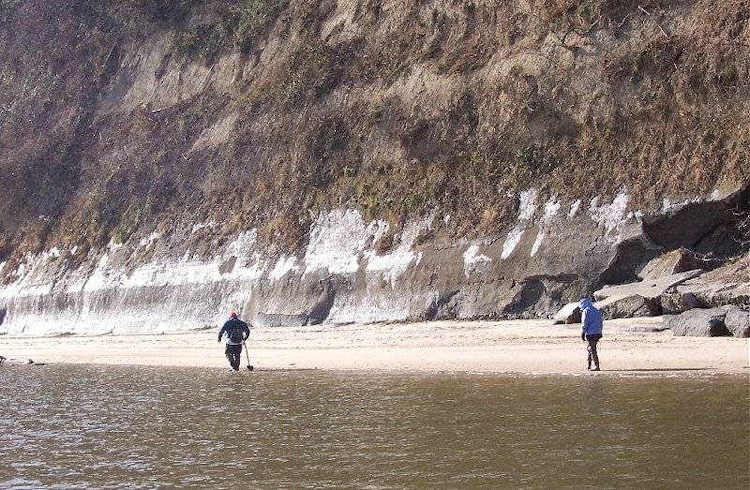 Winter Fossil Collecting at the Calvert Cliffs

Additional Images are at the bottom of this page
---
This is a short video from one of my fossil Shark tooth hunts along the Miocene Calvert formation
Another of my fossil Shark tooth hunts along the Miocene Calvert formation
---
About the Calvert Cliffs of Maryland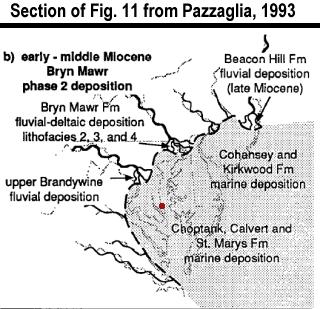 The Salisbury Embayment
during the middle Miocene.
The Red Dot is where the
Calvert Cliffs currently are.
The fossil bearing Calvert Cliffs of Maryland is part of a large collection of fossiliferous exposures, called the Chesapeake Group. The Chesapeake Group encompasses exposures around the Chesapeake bay, D.C., Maryland, and Virginia. These exposures were created by sediment accumulation in the Salisbury Embayment, an area encompassing the Delaware, Maryland, and Virginia coastal plains which is often covered by the ocean (Kent, 1994, p.111).

The Calvert Cliffs run for roughly 24 miles from near Chesapeake Beach to Drum Point on the western shore of the Chesapeake Bay in Maryland in Calvert County. These cliffs contain an amazing Miocene fauna. More than 600 species of fossil plants and animals have been found here (Glaser, 1979, p.56). Among these countless species, are a wide variety of marine animals such as porpoises, whales, seals, sea turtles, sea cows, and crocodiles. Also, parts of land mammals are occasionally found, the most common being the peccary; a pig like animal. However, more interesting creatures have been found, such as mastodons, wooly rhinos, and camels. Also, the cliffs boast an extremely diverse sea life, from countless genera of sharks and rays (including C. megalodon), to many kinds of fish. Most of these fossils are found as bone fragments, and isolated teeth.

Around this time in the early to middle Miocene, the Salisbury Embayment was a shallow sea. It is thought to have been used as a calving ground for many species of early dolphins and whales. Since there were so many marine mammals here, the largest of prehistoric sharks, the Megatooth sharks (including C. megalodon), spent a lot of time feeding here. The climate was warmer than it is now, so on the shore, a diversity of plants grew here, from Cyprus trees to Oak trees.

This is a great destination to travel to if you are looking for Fossil shark teeth!
---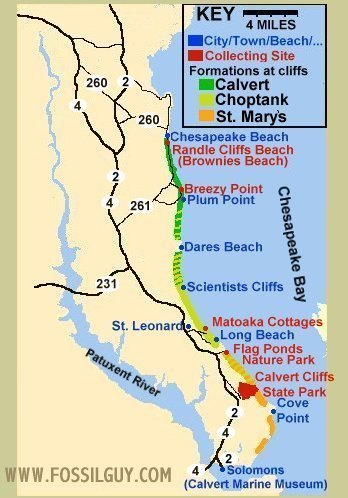 This is a rough map of Calvert County showing the Miocene Geologic Formaitons that run along the Calvert Cliffs

Each Formation is layered on top of the other, with the youngest on top. However, these Miocene deposits are slightly tilted, gradually dipping toward the ground as one moves south, approximately 10 feet per mile (Gernant,1970,p.6).

This results in the Calvert Formation going completely underground around Scientists Cliffs, and the Choptank Formation going underground near Cove Point. Basically, what this means is the further south one goes, the younger the deposits get (almost like a time machine), as shown on the map.

St. Mary's Formation is roughly 8 - 12 million years old.
Choptank Formation is roughly 12 - 18 million years old.
Calvert Formation is roughly 18 - 22 million years old.


Recommended Book for more Information:
Roadside Geology of Maryland, Delaware, and Washington, D.c. (Roadside Geology Series)

This book from the popular Rode Side Geology Series explains the complicated geologic past of Maryland from places you can drive by, or drive to. It takes us on a guided tour of the peidmont north, through road cuts, rivers, and streams, down to the complex chesapeake bay and the atlantic coastal plane. It contains photos, cross-sections, illustrations, and maps. This book is well organized and thoroughly covers the material without being overly technical. It's a great book from this great series!
---
Fossil Shark Tooth Collecting Sites along the Calvert Cliffs and Chesapeake Bay
Google Map of the Calvert Cliffs Area

The Calvert Cliffs area is a great place to take your family fossil hunting - Kids love finding the fossil shark teeth.

Although these are some of the best miocene exposures on earth, most of it is private property, so it's difficult to gain access to the Calvert Cliffs. Also, the parks do not let you enter the cliff areas.

Below is a list of available fossil collecting locations along the Calvert Cliffs of Maryland in no particualar order (linked to locations when available).

Also, remember the cliffs can be dangerous. Please adhear to the following guidelines:

Keep your distance from the cliffs, they fall all the time!!!

Do not dig in the cliffs! This is illegal on federal and state lands. If it is private property you must get permission.

Also, please check ahead to make sure the times the fossil collecting locations are open did not change

Finally, check the tides! If you arrive at high tide, the beach will probably be submerged.


1. Brownies Beach / Randle Cliff / Bay Front Park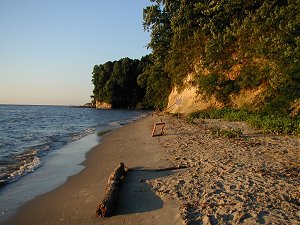 The name of this beach varies depending on whome you ask. The official name is Bayfront Park. I've always called it Brownies Beach, but the county turned it into a park years ago and started charging heafty entrance fee during the summers to keep non-residents out.
Open 6am - 9pm - If you are not a county resident there is a fee from Memorial Day to Labor Day.
Calvert Formation is exposed.
Most fossils here are smaller than usual, but it's a nice place to collect at.

Just ~ 1/4 to 1/2 mile south of Chesapeake Beach on rt. 261, there is small shoulder on the road with a little entrance to a paved parking lot, then a paved walkway to the beach.

The beach is very narrow and becomes submerged in high tide, so make sure you arrive at low tide.


FEE STRUCTURE FOR PARK: AS OF 2015
Town Residents: FREE
Calvert County Residents:
Under 2: FREE 3-11: $5 12-54: $7 Over 55 & Active Military: $5
Non Residents:
Under 2: FREE 3-11: $9 12-54: $16 Over 55 & Active Military: $9


This is a park toward the southern end of Calvert County. The park has scenic hiking trails, with one that leads to the beach. One can fosisl hunt at the beach, but cannot go near the cliff sections.
St. Marys Formation is exposed. A very nice park that allows collecting at a VERY tiny beach.
There is a 2 mile? scenic hike to get to the beach.
Small Park Enterance Fee.
Collecting under cliffs here is illegal
On Rt. 2/4, 5 miles N. of Solomons, you will see signs for it.

This is a park halfway up Calvert County. It again, contains nice hiking trails that lead to a large beach area. There are no cliff exposures present here, but fossils wash up via the currents.
There is no cliff access at this park. However, some fossils can be found washing in the surf.
Small fee
Open Memorial Day to Labor Day and Weekends in Winter
On route 2/4, 9 miles N. of Solomons, you will see signs for it.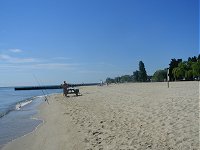 Small fossils wash up from the Calvert Formation, however the Beach is small, and no cliffs are present. Therefore, the teeth found are the TINY ones that wash up from other locations. However, it's a convenient place to camp at if you are collecting at the cliffs for a few days.
Small Entrance Fee
Open April 15 to October 15
On Rt. 261, a few miles south of Chesapeake Beach, turn onto Breezy Point Rd.

This is not at the Calvert Cliffs, but it has the same cliff formations present. They are called the Horsehead Cliffs.
Cliff access is prohibited, however, they have a nice "fossil beach" next to the cliffs where fossils can be found.
The park also offers a "Fossils, Fun and Fitness River Kayak Trip." This kayak trip is offered Wednesdays, Sundays, and some Saturdays. It takes you below the Horsehead cliffs to a beach with fossils.
Small Fee. Use the link above to see hours, fees, maps, directions, and more information.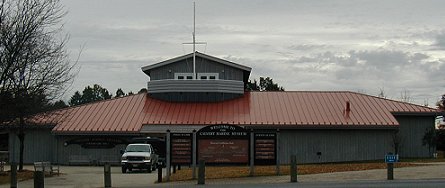 This is not a site, but they have scheduled fossil collecting tours. They also have a HUGE fossil exhibit from the cliffs that is worth a visit.

The museum is in Solomons. To get to Solomons, on Rt. 2-4 S, Bear right (onto Rt. 2) just before crossing the large bridge leading to St. Marys county.

Check their website, via the link above, to see their hours and fees.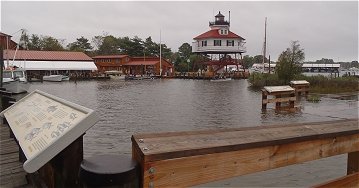 If you don't want to try going alone, you can always join a guided tour. Chesapeake Heritage and Paleonotlogy Tours offer small and private fossil hunting tours along the Chesapeake Bay. These tours are run by my friend Paul, he's a great guy and is incredibly knowledgeable about the Paleontology of the Cliffs!

---
View a Sample of Fossils Found at the Calvert Cliffs:
If you plan on collecting shark fossils or any other fossils at the cliffs, or need Calvert fossils identified, this is your place.
click the image below to go to the fossils that can be found at Calvert Cliffs.

---
Recommended Fossil Collecting Equipment:
The following is a list of recommended equipment to bring with you when fossil hunting at the Calvert Cliffs:
Shovel and Sifter with a 1/8" or 1/4" screen or Sand Sifter
Remember, it is illegal to dig in the cliffs. Plus they fall all the time, you want to stay away from them.

The small shovel is for screening. Go to the surf, where you see pebbles and small rocks, toss a shovel full in your sifter and see what fossils you get!

10" Shark Tooth Sifter: by Tri Star
This is a sifter designed specifically for shark tooth sifting! It's easier to use than your standard sifting rake. There are three sizes. I like the 10" size. The 7" Shark Tooth Sifter
is great for kids and the most popular. They are all lightweight and easy to use. These are great for beach combing along the Chesapeake Bay or sifting along rivers.
Another cool thing about these sifters is they are made by a family owned shop in Venice Florida called Tri Star Manufacturing.

Shark Tooth Seashell Floating Sieve Sifter
This is a sifter designed for shark tooth sifting. The nice thing about the sifter is that it floats! Floating sifters are a BIG help for sifting along coastal areas and rivers around the Chesapeake Bay! This one is 15" x 15" and has the recommended 1/4" mesh and a rope for easier handling. It's also made in the U.S.A.

Snappy Buddy
This is just fun! I know you can use a regular plastic jar or bag to place the fossils in that you find, but this one has a graphic of a megalodon jaw on it! For the cheap price, it's worth the upgrade! It also snaps on to any sifter or rake.
Waders
Waders are common sense for colder weather, however, toward the end of summer, if you want to not get stung by sea nettles, waders are still a good idea.

Note:Felt bottomed waders are illegal in Maryland. They help spread some kind of invasive algae. Use non-felt lined waders


Sunscreen/Water/Snacks
Anytime you are outdoors, you should have adequate amounts of water, insect repellent, some food, water resistant Sunscreen
, and a hat! There's often no shade along the beachs.
Cell Phone/Contact Person
If you're in a remote spot, make sure someone knows where you are or have a phone with reception.

You never know when you will be ambushed by a Megalodon and need to seek medical attention.
After a few mishaps with my cellphone fossil hunting in the rivers and bay, I now highly recommend a cheap waterproof case. I have this one and it's saved my phone quite a few times. It fits most phones including the Galaxie 7, the Edge, and the iphone 7, 6, and 6s: Universal Waterproof SmartPhone Case
It is also way cheaper than those otter boxes and does the job. I've been using mine for years with no problems!
Don't Overpack
I often see collectors who look like they are hiking the appalachian trail for 6 months. Don't overdo it. You want to have fun while collecting. You don't want to have to carry 30 pounds of MRE's, 2 tents, a kitchen table, 3 changes of clothes, a rubber ducky, etc...
Idealy, you want to pack light and come home heavy with shark teeth and other fossils.
---
Other Fossil Hunting Recommendations for the Calvert Cliffs:

Make sure you check the tides, winds, and weather for the bay before collecting.
If you show up at high tide, the collecting beach may be submerged!
Here is a page where you can find all of the Meteorological data.

Stay away from the base of the cliffs. Large chunks that could turn you into a pancake fall off quite often.

It is best to collect at low tide, so check the tide charts.

Walk along the shore slowly, the teeth are mixed in with shell fragments and small pebbles, making them hard to spot. If you are not careful, you will walk over many of the teeth.

Beware of the swarms of biting flies and stinging jellyfish in late summer!!!


---
Recommended Books for Fossils of the Calvert Cliffs:
Unfortunately, most of the good Calvert Cliffs fossil books are out of print.
Until a new book or a reprint comes out, you kind of have to check and see when a used book becomes available for a fair price... or photocopy one from a friend!
---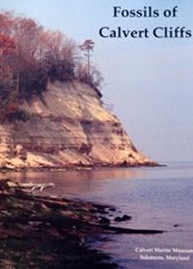 Fossils of Calvert Cliffs

by Wallace L. Ashby, Copyright 1986, Calvert Marine Museum Press., Solomons, MD

A highly recommended book for beginning collectors, and collectors new to the cliffs.
It's sometimes available on Amazon. If not, this book can be bought at the Calvert Marine Museum, or ordered online from the museum.
---
Fossil Shark Teeth of the World
, A Collector's Guide
by Joe Cocke, Copyright 2002

A great book for identifying all those teeth. This book is laid out "as simple as possible." It's ease of use and small size makes it great to carry during collecting trips. This book shows teeth from around the globe, but all the Calvert teeth can be found in it.
---
Fossil Sharks of the Chesapeake Bay Region

by Bretton W. Kent, Copyright 1994

This is a classic for identifying all those teeth at the Calvert Cliffs. It's a must for any beginner collector that fossil hunts in the Maryland/Virginia area.
Unfortunately, this book is out of print. There's used ones on amazon for super insane amounts of money, but SOMETIMES there is a used one available for a few bucks.
---
Megalodon: Hunting the Hunter

by Mark Renz, Copyright 2002

A Great book about megatoothed sharks. A nice read for anyone interested in megalodons. It has sections dedicated to megalodon evolution, extinction, pathologies, and locations of meg fossil-hunting grounds around the world.

Unfortunately, this book appears to be out of print. There are tons of used ones. Occasionally, one can find a cheap used copy.
---
Other Calvert Cliff Fossil Related Links:
Calvert Marine Museum
The local Museum with a numerous fossil displays from the cliffs. A must visit if you are going to collect at the Calvert Cliffs.
Phatfossils
A site made by 3 collectors who live in the bay area. They have some Phat fossils from the bay and other areas on the east coast.
iKatelin.com - Rock, Fossil, and Shell Collecting
Kids Katelin and Will share their Fossil Adventures to places like Brownies Beach and Matoaka Cottages along the Calvert Cliffs! They also have sections on rocks and sea shells! This is a link For Kids By Kids!
---
Outdoor and Nature Books About the Chesapeake Bay
The Calvert Cliffs are a wonderful place to collect at because they are along the Chesapeake Bay, the largest estuary in the United States. The countless miles of wetlands provide habitats for numerous birds including bald eagles and osprey. The waters are home to yummy blue crabs, rock fish, and oysters. The tranquility of these wetlands make it an ideal place for outdoor sports, such as hiking, kayaking, and biking.

I'm big on books, and below are my favorite books for exploring Americas largest estuary.


---
Life in the Chesapeake Bay

by Alice Jane Lippson

This is one of the most popular books oublished on America's largest estuary. It's been used by countless naturalists, boaters, fishermen, and conservationists. The beautifully illustrated book describes hundreds of plants, animals and thier habitats. It's an ideal field guide and reference work!
---
A Year across Maryland: A Week-by-Week Guide to Discovering Nature in the Chesapeake Region

by Bryan MacKay

This is a pretty cool book! It gives step by step instructions on how to see the Nature in the Chesapeake Bay area first hand. From the Monarch Butterfly Migration and Eagle nesting spots, to things like polychaete worm mating during the new moon in May! This book is set up to have a unique "Trip a Week" for an entire year. If you live near the Cheasapeake Bay Estuary, this book is a must!
---
Hiking, Cycling, and Canoeing in Maryland: A Family Guide

by Bryan MacKay

This book is by the same author of "A Year Across Maryland"
MacKay provides numerous walks, bicycle rides, and canoe trips. For each trip, he goes over the natural history and ecology of the site. It's like having your personal guide with you for each activity. It contains well made maps and drawings. If you are looking into exploring Marylands outdoors, this is a great stepping stone.
---
---
Additional Photos / Images of the Calvert Cliff Fossil Area
To purchase or use any of these photos, please contanct me. I have high res, unwatermarked versions of most of them.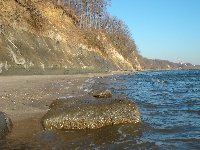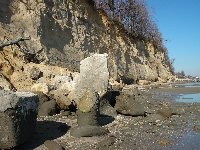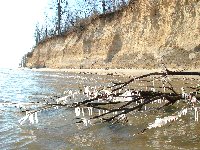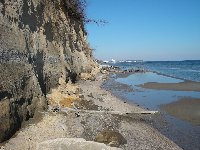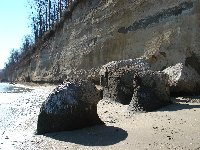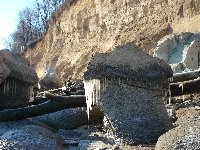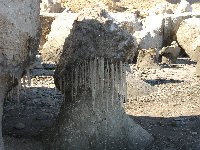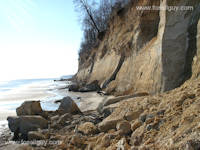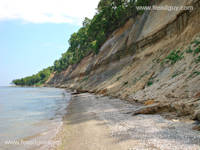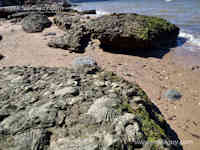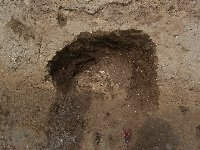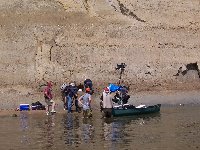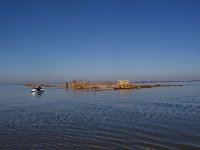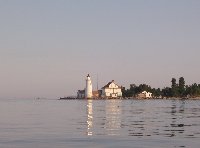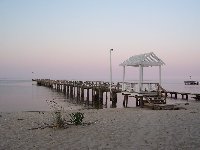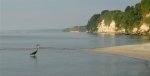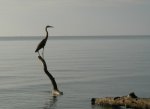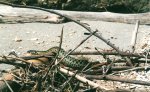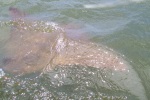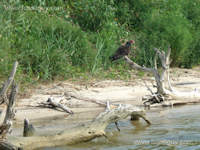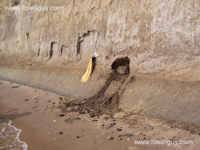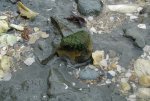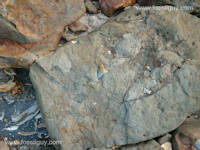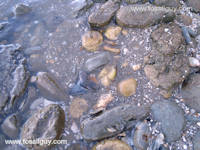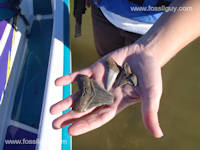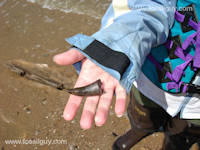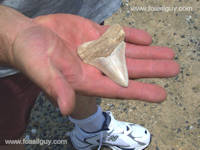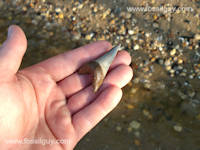 ---