---
To the Lowcountry!
August 2003


---

Aim and I took a vacation to the Lowcountry of South Carolina. Obviously, the vacation would not be complete without a fossil hunt or two... I had made prior arrangements with Ditchweezil to hunt at a few of his spots. Thank You!!!!!

The Plan was on Monday evening, we hit the Big Ditch... Unfortunately, Aim and I got stuck in MAJOR traffic leaving Charleston, and didn't arrive until darkness fell... To my dismay, it was too dark to hunt...

Fortunately, Ditchweezil was going to hunt on Wednesday at Superpit. We met at his house and headed off. After approaching the pit, we had to loose the vehicle and ride bikes the rest of the way. As fate would have it, a massive downpour began as we were unloading the bikes from the truck. The dirt hills we had to bike over soon turned into mud. What a muddy ride that was up and down those slick hills! I think this was a blessing though, as the rain would cause more fossils to become exposed.
Aim ended up not finding much, as she had trouble walking around in the mud. I had to dig her out once to save her boots! I on the on the other hand had some luck. I saw this little piece of root sticking from the matrix. It turned out to be my first decent find, a 4 1/16" meg! It's nearly perfect, except for some wear on the serrations, and a little fading on the bourelette. Also I found what I came for, a few decent angy's (you can't get those up north). Ditchweezil found a nice mako and a great white. It was a good day!

Later in the week, Ditchweezil and his dad invited us to dive with them. We went to a spot along Durham Creek, which is shallower than the cooper. They chose this spot so us yankee newbie river divers would get broken in without drowning!
Ditchweezil made a killing in the river, while everyone else's finds totaled ˝ of his finds! He ended up with 1 keeper meg, His dad ended up with a keeper angy, I ended up with a keeper mako, and Amy ended up with a very small 2" keeper meg. It was a very nice and productive dive, despite raining for half the dive.

All in all, it was a wonderful trip! I got my first South Carolina Meg and my first angy's!
Thank you Ditchweezil and the Papz!

---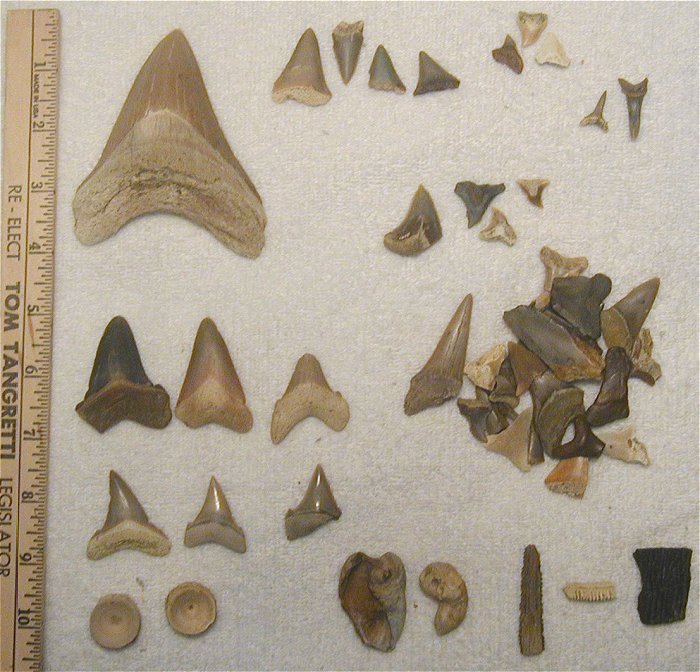 Heres our finds from the superpit. A few nice angy's and a killer meg! The 4 blades to the right of the meg are great white blades.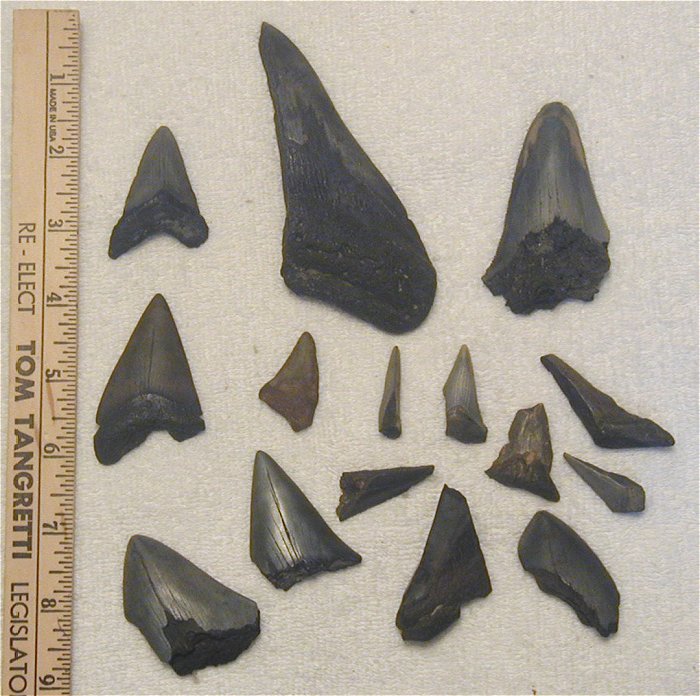 These are our diving finds. Actually, his dad gave amy some of the broken blades.



Here's Ditchweezil finds! Tons of stuff, mosly broken though...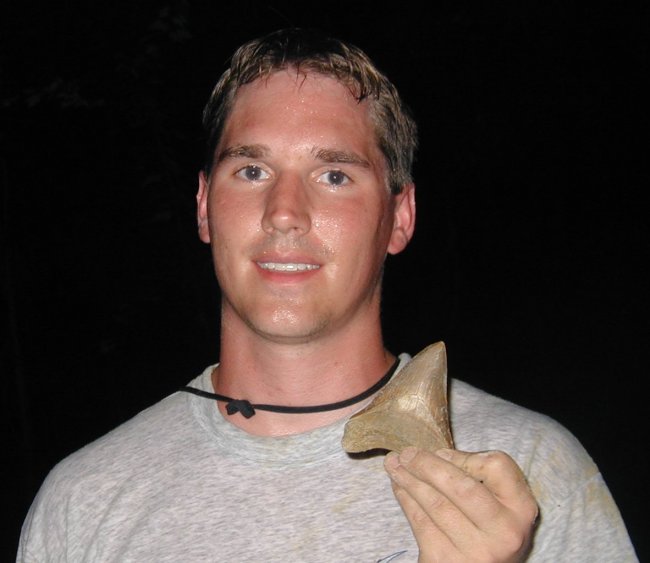 Finally, here's a pic of my meg from superpit a little after I found it. You can still see me glowing (actually that's just a sunburn and water from the rain :) ).


---
Back to Trips Page
Back to Main Page