The Purpose of this Fossil Website is to:
---
Answer questions about fossils: What are fossils? Where to find fossils?
Aid in fossil identification: Identification charts; Sample fossils from fossil hunting sites.
Provide information on prehistoric animals and paleontology topics.
Show you where and how to hunt for fossils: Fossil hunting sites and fossil trip reports.


Search This Website
(Search For Content or Images)
August 2015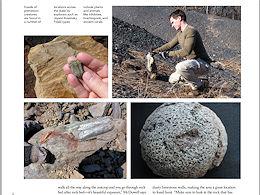 In July I was featured in a fossil article "Treasures in the Rock" by the Wonderful West Virginia magazine.
The article is now free to read online. Check it out (The link takes you to the PDF article on the Magazine website).

---
JULY 2015
Finally, I took a fossil hunting trip! This was to the East Coast Cretaceous Dinosaur site.
I ended up with a decent Tyrannosaurid tooth. Check it out!
---
JUNE 2015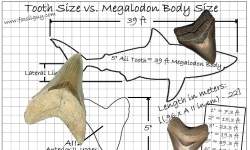 A very knowledgeable website visitor, Sam Cro, encouraged me to update my megalodon sizes on the website a while back. He kindly gave me a bunch of publications and information on the size of megalodons.
Finally, after reading through the publications and quizzing him, I have started the update. The main megalodon page is not updated yet, but I have the Megalodon body size vs tooth size page updated.

It is chalk full of new calculations, new sizes, and new charts to help you figure out how big the megalodon was that your tooth came from!
---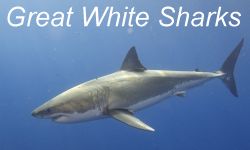 I started updating the Great White and Megalodon pages. The Great White page is finished, now I just have to edit the Megalodon page.

I'm adding new information based off of recent publications, clarifying older information, and adding more images!

The Great White page has updated information on Great White evolution and how mako sharks fit into the picture. I also clarified and changed some mako/white shark names based on new evidence, such as C. xiphodon.
---
January 2015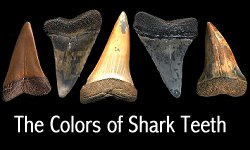 Why Are Shark Teeth Different Colors?
A new topic has been posted. Why are Shark Teeth Different Colors? This article briefly discusses processes that cause the different colors, patterns, etc. on fossils.
---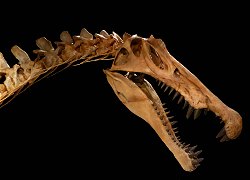 A Spinosaurus page has been added. Since the 2014 paper, there has been random blips of this creature all over the internet. Here's a complete guide to this aquatic dinosaur, fully cited!

Also, there were many more types of Spinosaurus dinosaurs than just the Cretaceous North African one. Here is an article on all of the other Spinosaurus dinosaurs, complete with images and citations.
---
The Fossil Gallery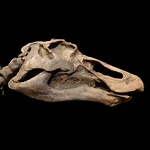 Here you can browse through a sample inventory of prehistoric animals and learn about each one.
When possible, the specific fossils are linked to additional information, articles, fossil collecting sites, and collecting trips.

And yes, for those of you looking for information on the megalodon shark and fossil megalodon shark teeth, the megalodon shark gallery is here.
---
Fossil Collecting and Fossil Sites around the Mid-Atlantic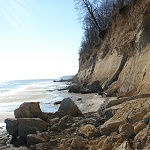 Take virtual fossil tours to collecting sites!
This section includes fossils hunting locations, fossils found at specific locations, collecting info, tips, site photos, etc...
If you want to know where to find fossils, or need help identifying a fossil, this is your place.
---
Fossil Collecting Trips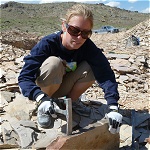 Read about our latest fossil collecting trips to various fossil locations and see what fossils we found.
This is a good section to check out if you are planning a fossil trip to one of the fossil collecting sites.
---
Printable Fossil Identification Sheets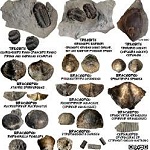 These are printable fossil identification sheets for a few fossil sites. The sheets are in PDF format for easy printing or downloading to a smart phone. Included are sheets for common shark fossil identifications and trilobite identifications for various places.

---
Fossil Articles and Topics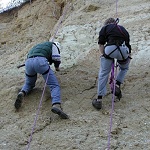 Articles and Topics on featured collecting sites, fossil digs, paleontology excavations, and Prehistoric Animals.
---
Links to other Fossil related websites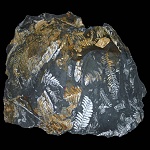 Links to other useful fossil and paleontology websites.
FOSSILGUY.COM has been up and running since March of 2000
---
Questions, Suggestions, Answers? Contanct / Email me at: fossilguy (at) fossilguy.com
Please don't send emails asking for the monetary value of a fossil, for that check out the fossils on Ebay.com, or other commercial web sites.

Also, I would like to thank everyone who has corrected any information and/or helped identify any fossil found on these pages, or provided images via email or in person. Thank you very much for making this web site a better place!
Disclaimer / Privacy Policy / About the Author