The Purpose of this Fossil Website is to:
Answer fossil related questions: What are fossils? Where to find fossils?
Fossil Identification: Identification charts and sample fossils from fossil sites.
Fossil Hunting: Where and how to hunt for fossils - fossil sites and fossil trip reports.
Paleontology Facts: Information on prehistoric animals and paleontology topics.

---
July 2017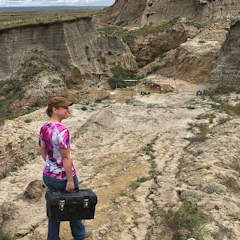 Dinosaur Hunt in the Hell Creek Formation:

This is a trip from June to South Dakota. We wen't on a Dinosaur hunt with Paleoadventures! Check out the trip, there's tons of dinosaur fossils and a nice video!
---
June 2017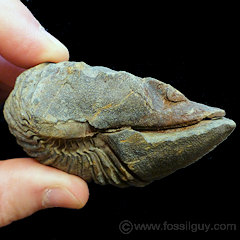 Mahantango Fossil Hunting Trip Report:

This is a trip from around May to a Mahantango outcrop in Central PA. The best find is a large enrolled Dipleura trilobite! Check out the trip report to see the fossils!
---
APRIL 2017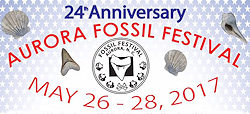 Aurora Fossil Festival

The Aurora Fossil Festival is quickly approaching!
Lots of activities are planned for Saturday, including live music, fossil auctions, and a paleontology lecture. Go to the Aurora site for a complete listing of events!
---
MARCH 2017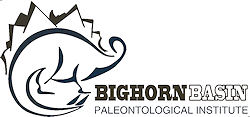 Bighorn Basin Paleontologcial institute

Ever dream of hunting dinosaurs? The Bighorn Basin Paleontological Institute offers an exciting opportunity to work alongside scientists in fossil-rich & rugged landscapes of southern Montana and northern Wyoming. If you are interested in an unforgettable adventure check out their website to find out how you can become an Expedition Crew Member!
---
JANUARY 2017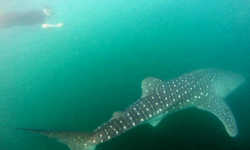 Swimming with Whale Sharks in the Sea of Cortez

I recently returned from a winter trip, where I decided to catch the winter Whale Shark Aggregation site on the Sea of Cortez. Here is a nice video and write-up!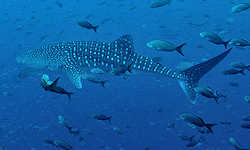 Whale Shark Facts and Information

If you want to learn more about Whale Sharks, this is your complete guide!
---
October 2016

Did you watch the Finding Fossils webinar?
Joyce Drakeford of the Friends of the Aurora Fossil Museum wrote a webinar review of Fossilguy's webinar, the first of our The Paleontological Society-sponsored webinar series.

---

The FOSSIL Project had thier second webinar on Sept. 29th. If you missed any, visit: Fossil Project Videos and go to the bottom of the page.

The next webinar will be on October 19th at 7 pm (eastern). Click here: FOSSIL Project Webinar Forum for instructions on logging into the FREE webinar.

---
---
The Fossil Gallery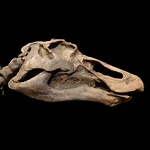 Here you can browse through a sample inventory of prehistoric animals and learn about each one.
When possible, the specific fossils are linked to additional information, articles, fossil collecting sites, and collecting trips.

And yes, for those of you looking for information on the megalodon shark and fossil megalodon shark teeth, the megalodon shark gallery is here.
---
Fossil Collecting and Fossil Sites around the Mid-Atlantic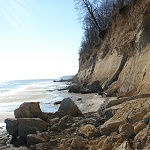 Take virtual fossil tours to collecting sites!
This section includes fossils hunting locations, fossils found at specific locations, collecting info, tips, site photos, etc...
If you want to know where to find fossils, or need help identifying a fossil, this is your place.
---
Fossil Collecting Trips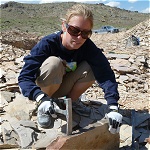 Read about our latest fossil collecting trips to various fossil locations and see what fossils we found.
This is a good section to check out if you are planning a fossil trip to one of the fossil collecting sites.
---
Printable Fossil Identification Sheets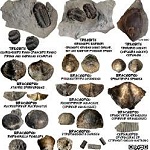 These are printable fossil identification sheets for a few fossil sites. The sheets are in PDF format for easy printing or downloading to a smart phone. Included are sheets for common shark fossil identifications and trilobite identifications for various places.

---
Fossil Articles and Topics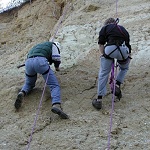 Articles and Topics on featured collecting sites, fossil digs, paleontology excavations, and Prehistoric Animals.
---
Links to other Fossil related websites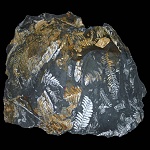 Links to other useful fossil and paleontology websites.
FOSSILGUY.COM has been up and running since August of 2000
---
Questions, Suggestions, Answers? Contanct / Email me at: fossilguy (at) fossilguy.com
Please don't send emails asking for the monetary value of a fossil, for that check out the fossils on Ebay.com, or other commercial web sites.

Also, I would like to thank everyone who has corrected any information and/or helped identify any fossil found on these pages, or provided images via email or in person. Thank you very much for making this web site a better place!
Disclaimer / Privacy Policy / About the Author