The Purpose of this Fossil Website is to:
Answer questions about fossils: What are fossils? Where to find fossils?
Aid in fossil identification: Identification charts; Sample fossils from fossil hunting sites.
Provide information on prehistoric animals and paleontology topics.
Show you where and how to hunt for fossils: Fossil hunting sites and fossil trip reports.
---
Search This Website
(Search For Content or Images)
MAY 2016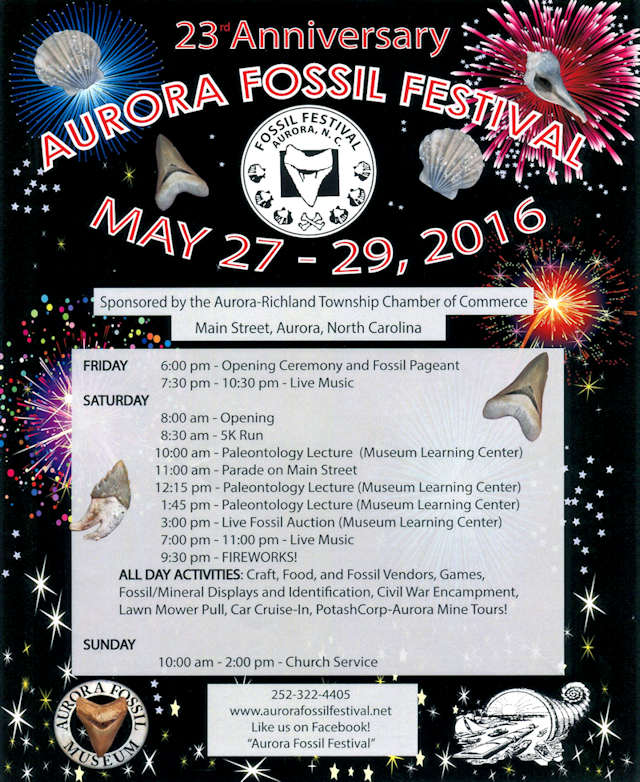 23rd Aurora Fossil Festival

The 23rd Anniversary Aurora Fossil Festival will be held over Memorial Day Weekend from Friday evening, May 27th to Sunday morning May, 29th 2016!

This year the festival includes a 5K Run, Three Paleontology Lectures, a Fossil Auction, Fireworks, Craft and Food Vendors, Fossil Displays, and much more!

Click on the image or link to go to the Aurora Fossil Museum website for more information!
---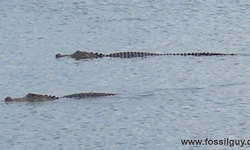 Geological Society Presentation and Fossil Hunt in South Carolina

At the end of March, the Fossil Project asked me to speak at the South East Geological Society of America meeting in South Carolina. This was the first time I made a professional presentation in the field of Paleontology. It was a wonderful experience. While there, I couldn't resist fossil hunting in the Lowcountry of South Carolina. Check out the trip report!
---
MARCH 2016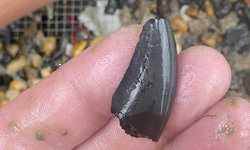 Eastern vs Western Dinosaur Preservation

New Article: Eastern vs Western North America Dinosaur Preservation. If you've ever wondered why there is a VAST difference between the two, this article explains why.
---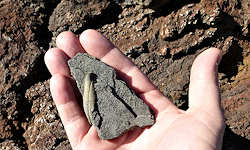 Olive Fossils of Santorini: Where Mythology and Paleontology Collide

As an avid Mythology buff and having traveled to Greece a few times, it's nice to have some of the oldest olive fossils in the Mediterranean. These fossils date back to the prehistoric times when the the myth of the Olive tree was born. These fossils are truly an example of where Mythology and Paleontology collide. These fossils are the Myth. Check it out!
---
FEBRUARY 2016
Fossil Hunting Near Pittsburgh

The old Ambridge page has been revamped and updated with more information. Included are new identification pages for Carboniferous plant fossils and Carboniferous marine fossils found in the area.
---
DECEMBER 2015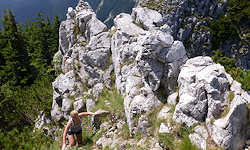 Cave Bears: Paleolithic Treasures of the Carpathians

When I visited Romania this past summer I spent some time in Transylvania; the heart of the Carpathians. Hiking the wild forests and limestone ridges of the Carpathians, far from civilization, felt like a trip through time into the Upper Paleolithic. Hidden in many of the caves in the Carpathians are Paleolithic treasures: Cave Bear fossils!
---
November 2015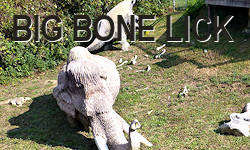 I was tooling around Lexington and Louisville "Loo-a-vul" a while back. Although the horses and bourbon kept me too busy for fossil hunting, I managed to stop at one of the most historically important paleontology spots in the country; Big Bone Lick. Big Bone Lick is the cradle of American paleontology. People like Thomas Jefferson and William Clark (Lewis and Clark) studied Ice Age fossils from this place and put America on the global paleontology map. Check out the fossil site here: Big Bone Lick, KY
---
October 2015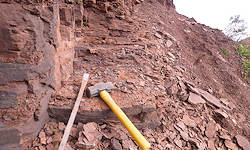 I recently returned from a trip to the famous 'Red Hill' site in central PA. This place blurs the line between fish and tetrapods. It contains some of the worlds first tetrapods and also has a few bizzare lobe-finned fish. Lobe-finned fish have little arms and legs, but they are encased in a fleshy fin. Anyhow, check out the fossil hunting trip to this unique Devonian spot!
---
August 2015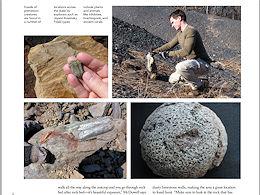 In July I was featured in a fossil article "Treasures in the Rock" by the Wonderful West Virginia magazine.
The article is now free to read online. Check it out (The link takes you to the PDF article on the Magazine website).

---
The Fossil Gallery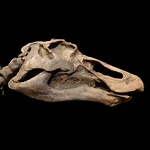 Here you can browse through a sample inventory of prehistoric animals and learn about each one.
When possible, the specific fossils are linked to additional information, articles, fossil collecting sites, and collecting trips.

And yes, for those of you looking for information on the megalodon shark and fossil megalodon shark teeth, the megalodon shark gallery is here.
---
Fossil Collecting and Fossil Sites around the Mid-Atlantic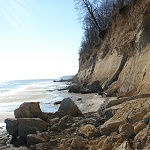 Take virtual fossil tours to collecting sites!
This section includes fossils hunting locations, fossils found at specific locations, collecting info, tips, site photos, etc...
If you want to know where to find fossils, or need help identifying a fossil, this is your place.
---
Fossil Collecting Trips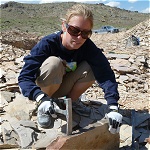 Read about our latest fossil collecting trips to various fossil locations and see what fossils we found.
This is a good section to check out if you are planning a fossil trip to one of the fossil collecting sites.
---
Printable Fossil Identification Sheets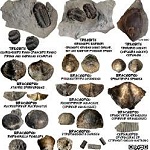 These are printable fossil identification sheets for a few fossil sites. The sheets are in PDF format for easy printing or downloading to a smart phone. Included are sheets for common shark fossil identifications and trilobite identifications for various places.

---
Fossil Articles and Topics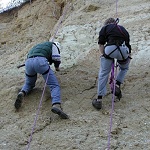 Articles and Topics on featured collecting sites, fossil digs, paleontology excavations, and Prehistoric Animals.
---
Links to other Fossil related websites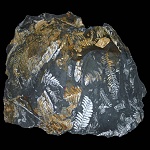 Links to other useful fossil and paleontology websites.
FOSSILGUY.COM has been up and running since March of 2000
---
Questions, Suggestions, Answers? Contanct / Email me at: fossilguy (at) fossilguy.com
Please don't send emails asking for the monetary value of a fossil, for that check out the fossils on Ebay.com, or other commercial web sites.

Also, I would like to thank everyone who has corrected any information and/or helped identify any fossil found on these pages, or provided images via email or in person. Thank you very much for making this web site a better place!
Disclaimer / Privacy Policy / About the Author