---
Lighthouse Trip
December 2005
---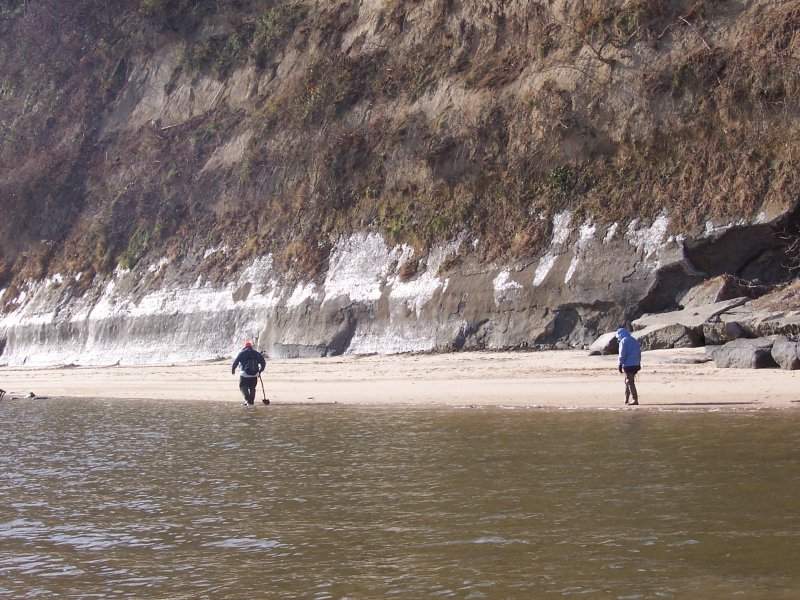 Paul, Amy, and I Collecting along the frozen cliffs in December, 2005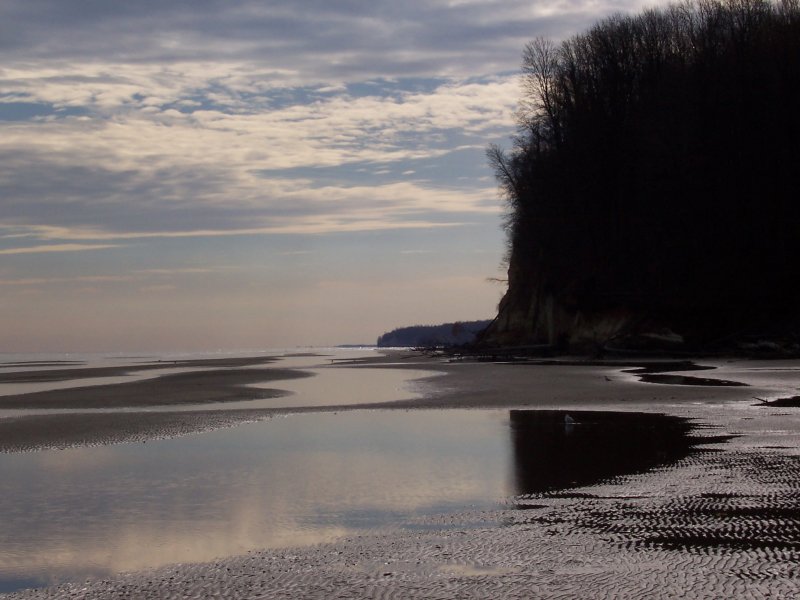 A blowout tide. Normally the low tide hits against the bluff.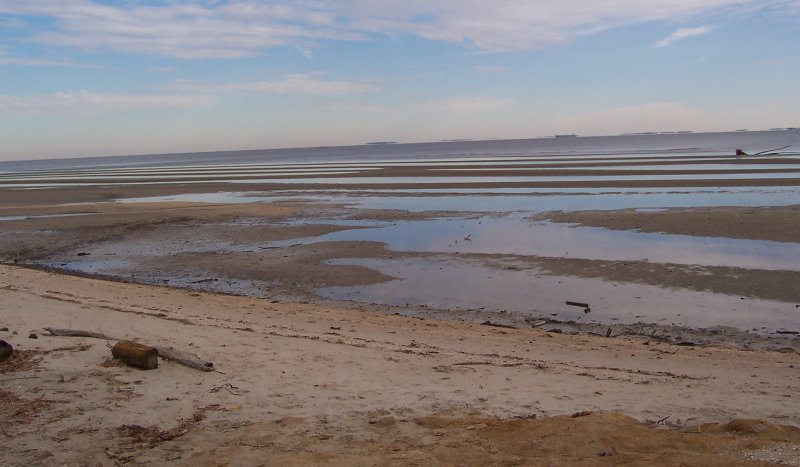 Another picture of the blowout tide, here you can see the normal tide marks on the beach.



---

We had plans to visit Point Lookout lighthouse over the weekend with some friends. It is, of course, just miles from the Calvert Cliffs of MD. How could one resist being right next to those famous Miocene exposures and not collect? So, off to the lighthouse and collecting grounds we went. The plan on Saturday and Sunday morning was to collect along some cliff exposures during the low tides, and in the afternoon/evening go to the lighthouse.

Friday night, I checked over the tide, bay wind, and weather data for the bay. The tides were low, the wind was in our favor making for a potential blowout tide, and the temps were a little on the low side. On Saturday morning the temperature forecast was correct. The temps were brisk and the sun was hidden above a layer of overcast clouds, making it a bone-chilling day at the bay. However, that did not impede our progress. Thoughts of a blowout low tide danced through my head. I could envision fossils of all sorts, which would normally be hidden under the water of a normal tide, just exposed right there amongst the rocks and formation clays for our collecting enjoyment. What could be there, lying in wait, an articulated cetacean specimen? As we arrived at the beach, we all agreed, none of us had ever seen such a lower tide. It was a fine blowout tide, the winds were blowing in just the correct direction with just the correct speed. Unfortunately, instead of rocks and formation exposed, there was sand for 100ís of yards out into the bay. All fossils would be just a foot or so beneath the sand that had washed in. By the end of the first day, we all had a handful of small fossils, none of which were noteworthy.

On Sunday the winds changed direction; what was once an ultra-low blowout tide turned into a relatively high tide. We were hoping this would wash up more fossil material, but this was not so. Again, we left with very little finds.

Although our finds were limited, I did get a large (for my collection) porpoise tooth, and a few hemiís that may aid in my hemi dentition Iím trying to make. Anyhow, the trip was for the lighthouse, not fossil collecting, so I canít complain. Heck, I never complain!


---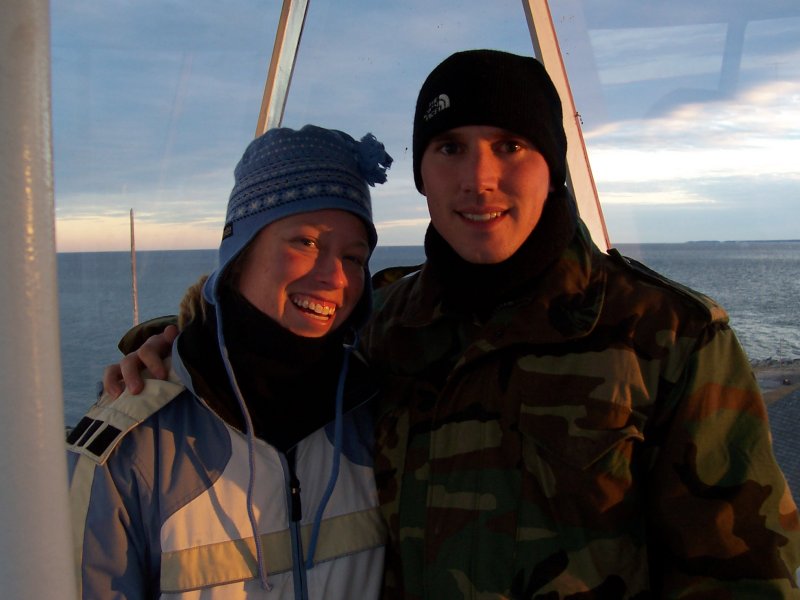 Amy and I in the beacon room of the lighthouse.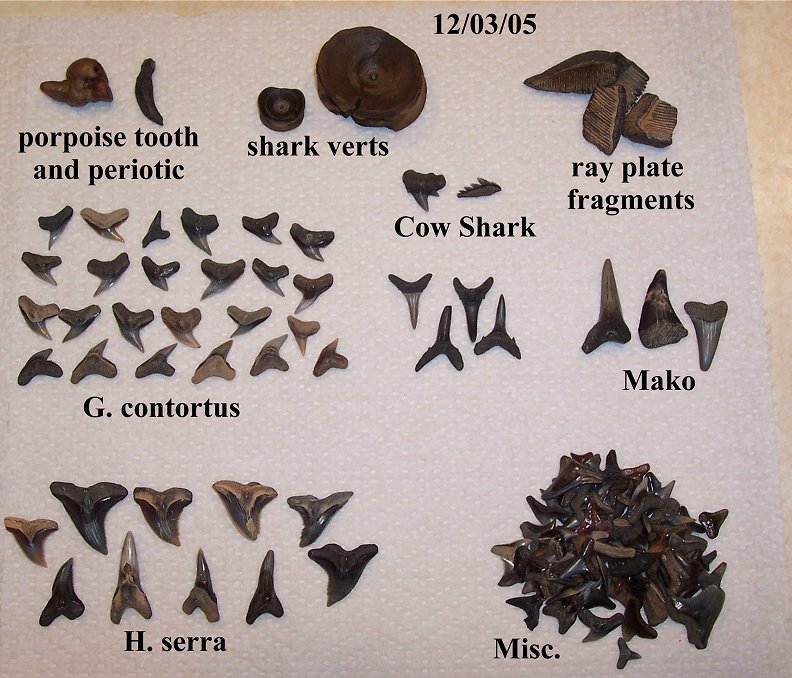 Our finds of the trip.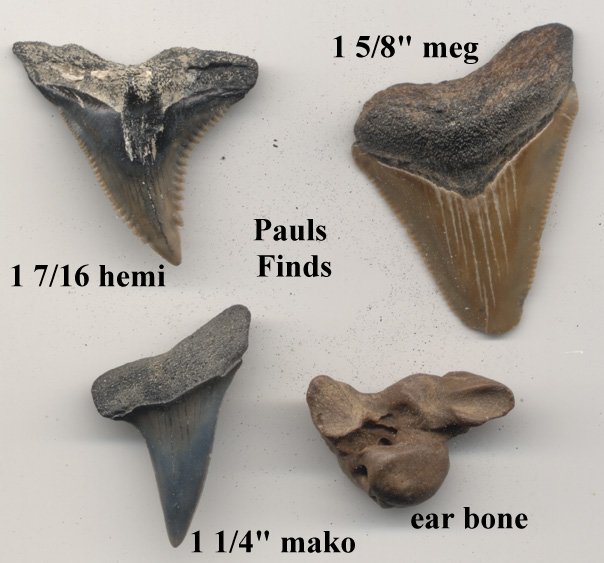 Pauls finds of the trip.



---
Back to Trips Page
Back to Main Page