---
Cliff Hopping
June 20-21, 2006
---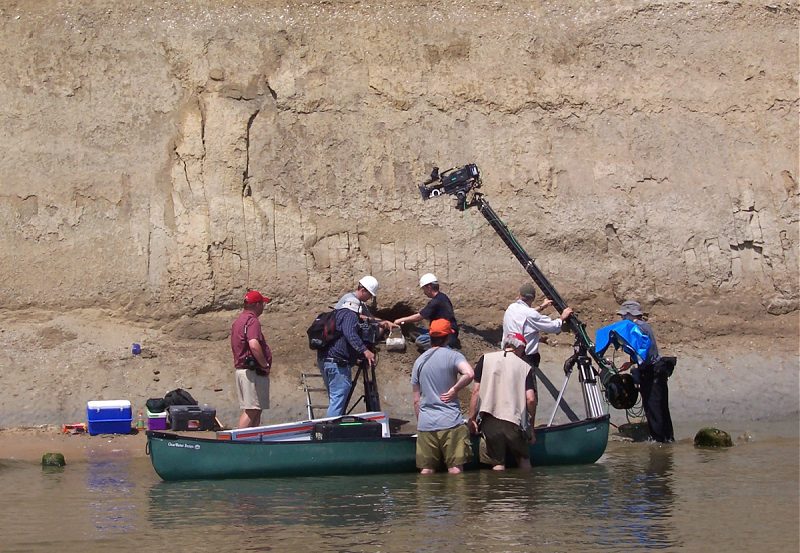 A film crew along the cliffs
---


Wouldn't it be fun to hop from remote exposure to remote exposure in just minutes? I thought it would be. This trip I decided to test out the Jet Ski, and see how well it would work for fossil hunting.

A few days before my planned trip, I was talking with Paul at Red Hill. He asked if I was heading to the bay next week . I said, "Yes I am!" and told him my plans. He said to move my plans ahead a day. The Calvert Marine Museum was quarrying out two skulls that week, and wanted to know if I wanted to help. Also, a film crew for the Discovery channel was going to film one of the excavations. I said sure! So, our plan of attack was to help quarry the skulls on Tuesday, then exposure hop on Wednesday with the Jet Ski.

On Tuesday we quarried out one of the skulls. Unfortunately, the skull we quarried was mangled and mashed. I thought it was hardly worth the time for someone to prep it. The other skull appears to be beautiful; it's a small Eurhinodelphis with a complete maxilla. It should prep out beautifully. We then watched the film crew meticulously film the excavation.

After the excavation was complete, we left and decided to take the Jet Ski out for the second low tide. To a boat ramp we went. We got it into the water, hopped on and started it up, hit the throttle and off we didn't go! After a few minutes of fussing around, I realized we just sucked a ton of the bays endangered sea grass into the jet intake (oops). After clearing it out, and walking it out past the sea grass (I don't want to hurt any more endangered grass), off we went at 55 MPH! He hit remote exposure after remote exposure. We found a very promising remote exposure, where the landowner, who came out to visit us found a perfect ~5" meg just laying on the beach about 100 feet from me!!! I have vowed to always return to that spot! It was the best meg I have ever seen, even better than the pristine Lee Creek megs, it must have just fallen from the cliff. By the end of the day, neither of us had found too much, but we did find a few good secret spots and a possible secret dive site for future trips.

On Wednesday, we again took out the Jet Ski, this time launching at a different boat ramp. This time we hit some promising cliff exposures that we have both collected at before. Neither one of us was finding much. However, after giving up at one spot, and deciding to leave to go to another exposure, I showed Paul a mangled fossil to see if he knew what it was. He looked at it, and walked away from the waves so he didn't drop it, and presto! Right at our feet was a white 3" megalodon! Paul spotted it 1/1000 of a second before me and swooped it up! This megalodon must have just fallen from the cliff, as it wasn't even wet. That would be the best find of the trip. I can't wait to get back and zoom to the secret spot that I have vowed to stake out, and just wait for another 5" perfect meg fall out of the cliffs!

---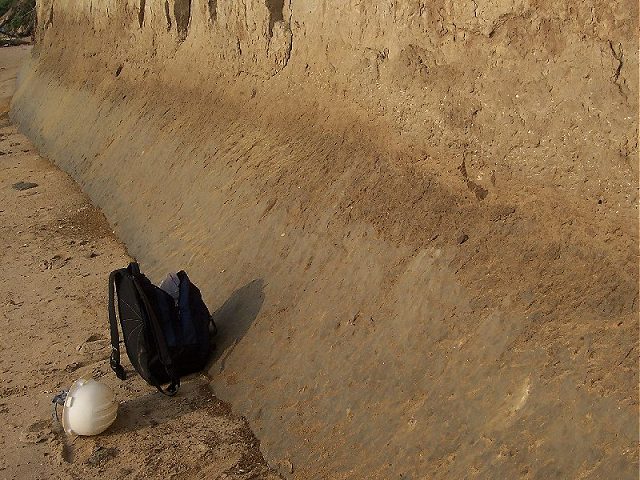 Here is the skull Paul and I quarried. Can you find it?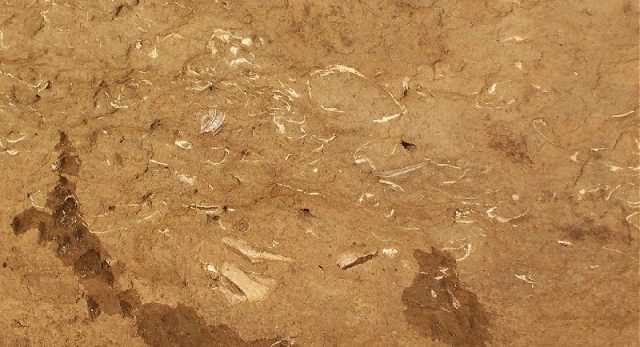 A closer view. One can't see much... possibly part of the frontal or the back of the maxilla, or even the parietal. It's difficult to tell.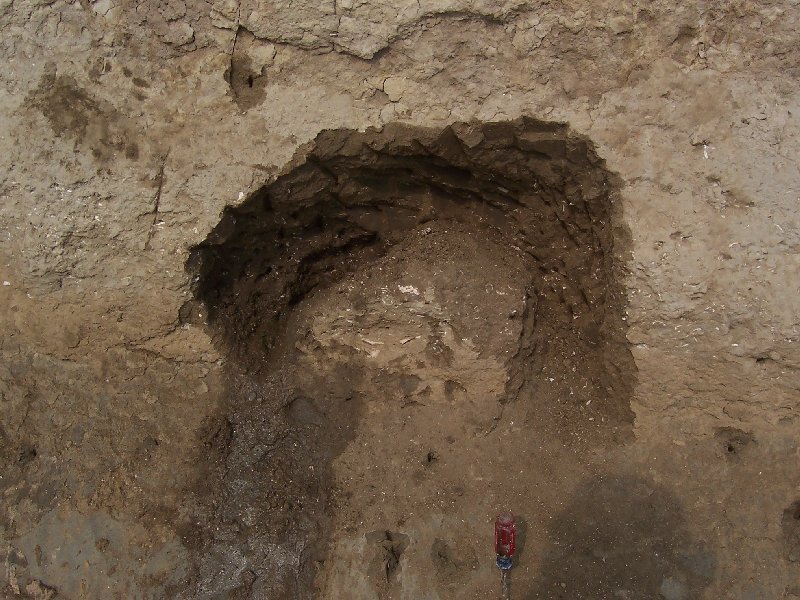 Digging a hole around the skull so we can plaster it.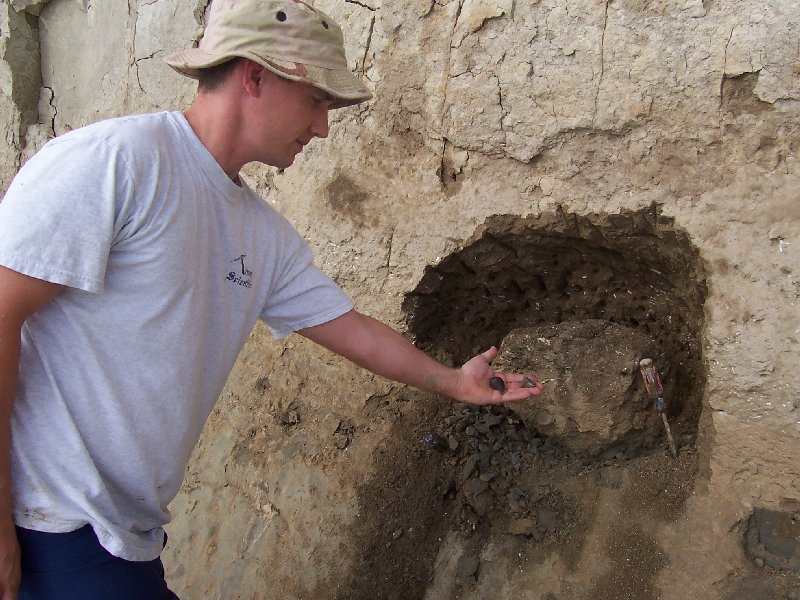 While excavating the skull, we found a nice Hemepristis tooth and some fish element.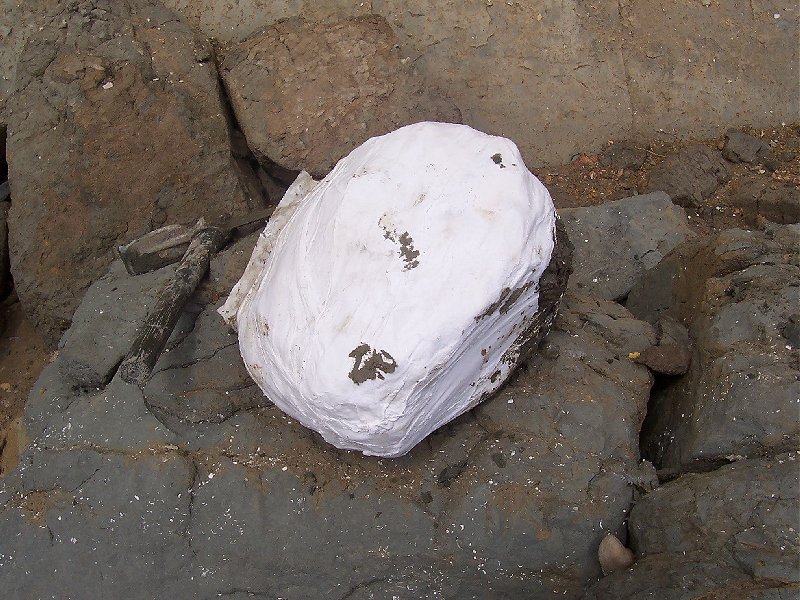 Here is the jacketed skull out of the cliffs. It is pretty mangled. I'm not sure how much of the skull will be in there.



---

This is the ~3" white meg that Paul found. A very nice find!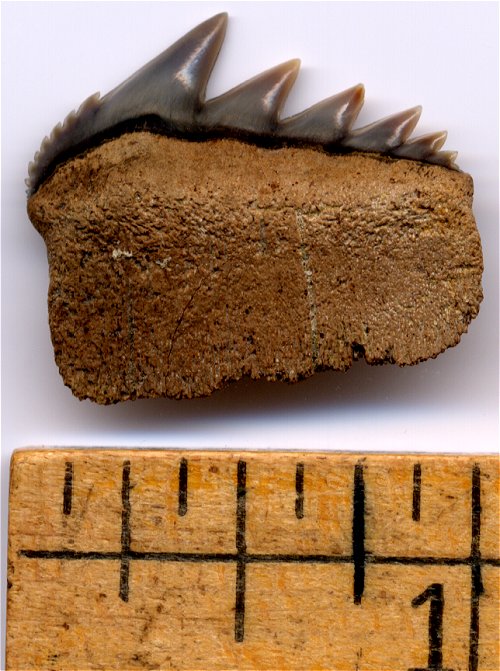 This is my best find of the trip, a near perfect cow shark. It came right out of the matrix.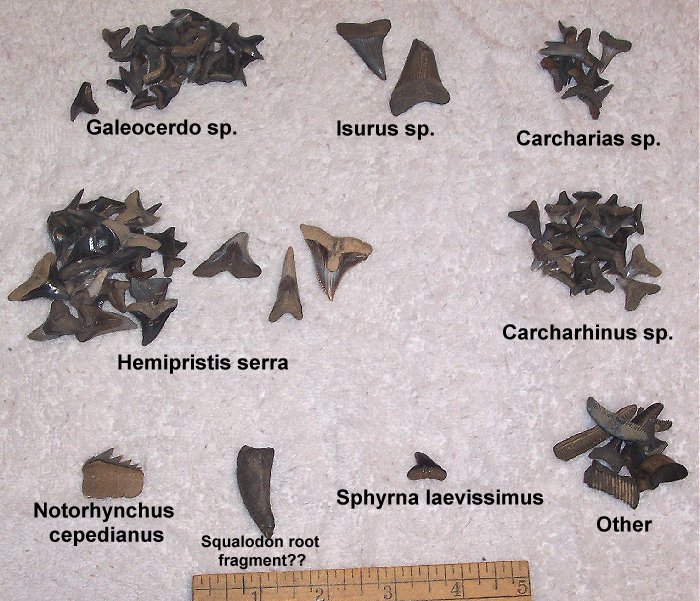 Here are some of the other fossils found. Nothing too exciting.




---
Back to Trips Page
Back to Main Page