Share This Page: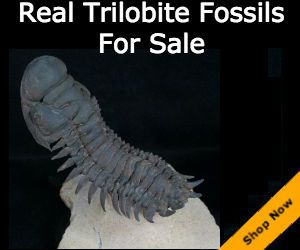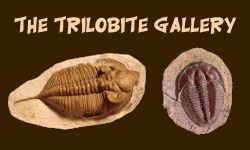 The Trilobite Gallery
See and Learn about Different Trilobites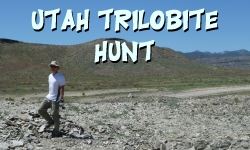 Utah Trilobite Hunt
Fossil Hunting Trip Report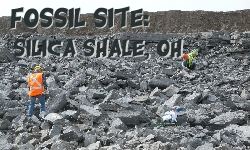 Trilobite Collecting Site: North West Ohio is a Great place to find Trilobites!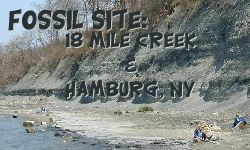 Trilobite Collecting Site: Western New York has its Share of Trilobites!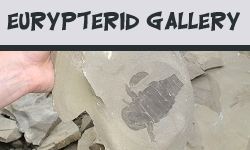 The Eurypterid Gallery:
Learn about New York's most famous Silurian Fossils!

---
The Remains of Swatara Gap, Central PA

Martinsburg Formation
Ordovician
November 2004
---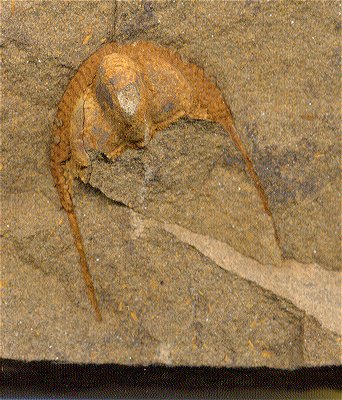 "A Cryptolithus cephalon from the remains of Swarta gap. Notice the long genal spines"
---



An avid collector notified me of the woe some situation at the Swatara Gap site in Lebanon county, PA. PennDOT is widening part of I-81 where the site is (was) situated. As a result, the famous road cut has been removed. Fortunately, PennDOT delivered some of this material to a nearby park so fossil collectors could still look through it. This limited supply of material is being depleted at a fast rate. The avid collector, Bill, suggested that I visit this site before it is gone. Taking him up on the offer, we decided to meet him on Sunday at the Swatara Gap remains at 9:00 (the 7th).

We left for the gap that morning expecting it to take about 3.5 hours. About half way there I realized it would take about 4 hours. Unfortunately near our 4th hour of driving, we took a wrong turn in a construction area, and ended up going in a huge circle to get back on track. By hour 4.5 we were pulling into the remains of the Swatara Gap. As we parked, I noticed a few people collecting. This got my hopes up, thinking Bill did not give up on us yet. I quickly headed to the fossil laden mounds and asked if anyone was Bill. To my dismay Bill was not there. These were scouts for the upcoming DVPS trip. Later on that day, I met someone who said Bill was there earlier waiting for some fossil people… :(

Although depressed about standing up a fellow fossil collector, we proceeded to collect for some odd hours. Most rocks had fragments of Cryptolithus. By the end of the day, we found 2 complete lace-collar trilobites, or Cryptolithus trilobites, a bunch of nice lace-collar cephalons, a flexicalymene missing a head, some brachiopods, and a little straight shelled nautiloid. We also saw someone find 2 starfish on 1 slab, which was a very nice find. I'm glad I made the trip!

For information on the Cryptolithus from Swatara Gap, go to the Cryptolithus Trilobite Page.
---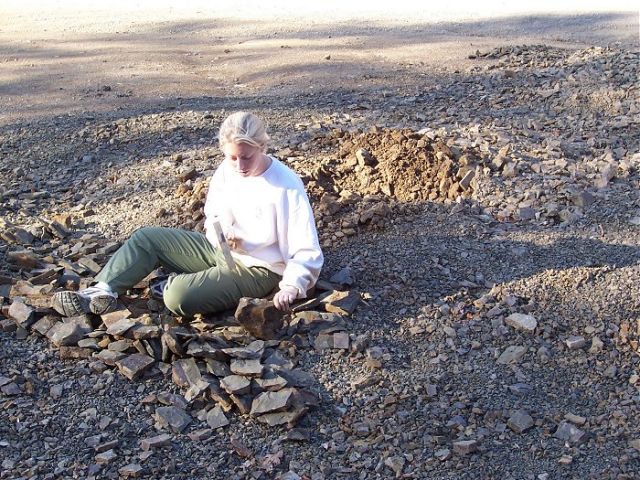 Amy is splitting away at the rock, waiting to find burried secrets 100's of millions of years old.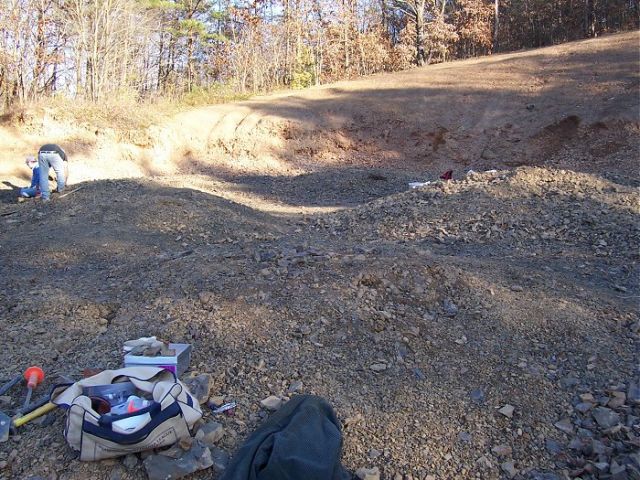 Heres a pic of whats left of the Swatara Gap debris. As one can see, nothing much is left.




---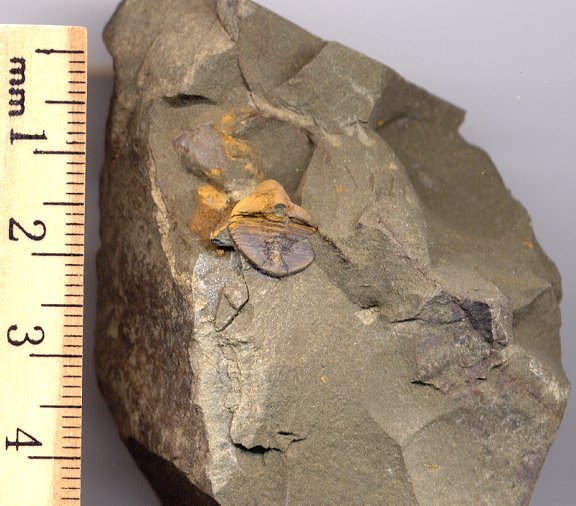 This is one of the complete Cryptolithus I found. The cephalon (head) is partially tilted, so the "lace collar" part of the cephalon is not visible at this angle in the image.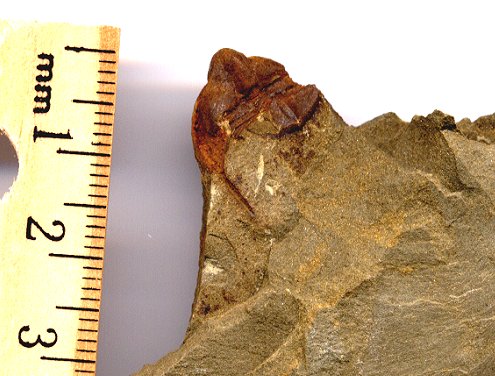 Here is the other complete Cryptolithus trilobite. I didn't konw this was complete until a month later when I was going through some "waste" rock to throw out. On this specimen, the cephalon and thorax are attached, however the pyidium is partially seperated. Ay any rate, all 3 parts are still there, so it's complete!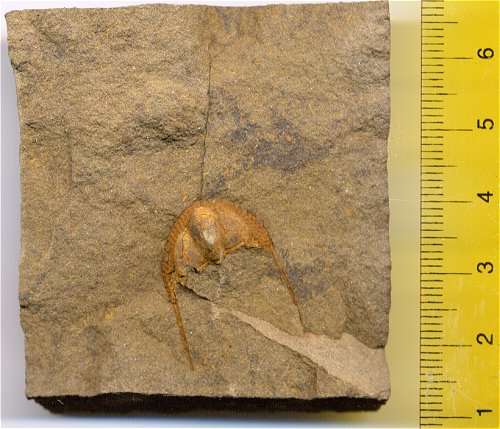 This is a nice cephalon showing the extended genal spines. A close up of this cephalon is at the top of this page.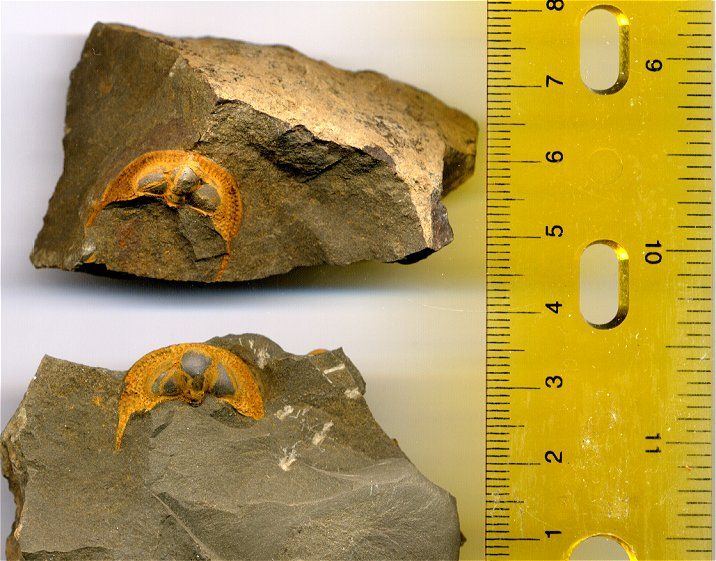 Here are two more heads. A spine on the bottom one is awaiting the air scribe to uncover it.
These are also called "Lace-Collar" Trilobites. As you can see, the lateral border on their cephalons look like lace.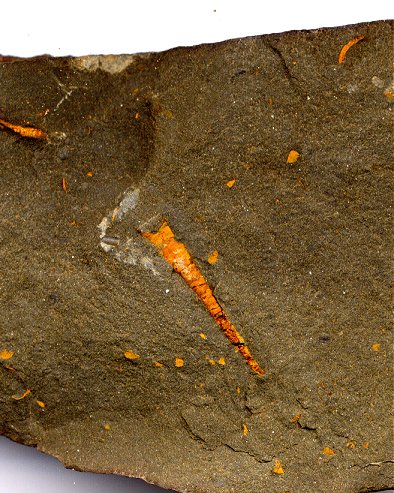 This is a small straight shelled nautiloid.



---