---
Canadian Quarry and 18-mile Creek Hunt.
May 2004
---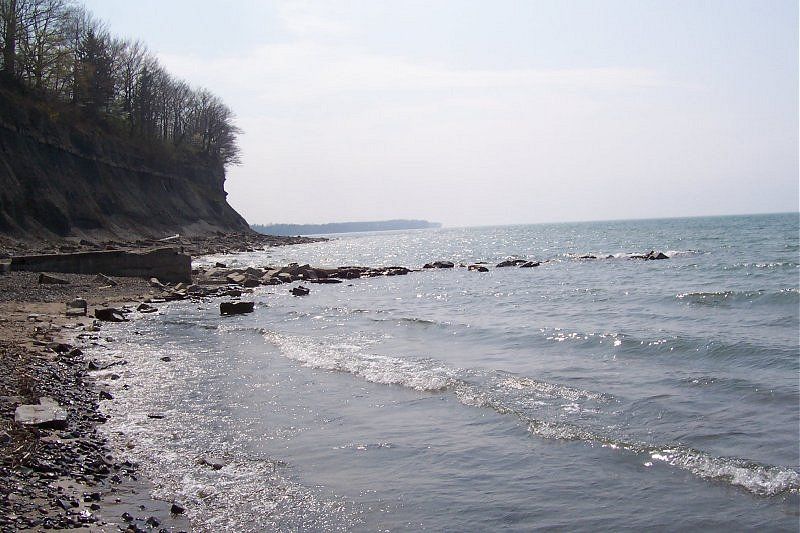 The International fossil hunter!
On April 30 – May 1st, I took a trip to Canada and New York with the Times Scientific group. The reason for this trip, for me, was to find a Eurypterid, or Sea Scorpion. These fossil are difficult to find and there are not many places one can look for them. Roy from times loves those trilobites from west New York, and was set on finding some.

On Friday, I was armed with directions, collecting tips, and reservations for the quarry. All psyched up, we crossed the border into Eurypterid heaven. Once there, a seasoned Eurypterid collector showed us the ropes, and lent us a shovel (which no one thought to bring) to clear the overburden.

A few hours into the dig, we all realized, perhaps no one will find a complete Eurypterid this trip. Sadly, when we left, our suspicions were confirmed; only pieces were found. Everyone found lots of heads, and body segments, but no whole ones… Maybe next time!

On Saturday, we got up early to hit 18-mile creek fossil area. On the walk to the fossil collecting area, we all stepped on or over a mass trilobite mortality plate. Luckily, after everyone else walked on or over it, Wrong Way Rob looked down and spied a trilo, then two, then three, then four, then five, then… He spent most the day attempting to take the plate out of the surrounding matrix. By days end, the plate was broke in a few major pieces, but had a total of over 10 complete decent sized bugs on it. I believe he may get it professionally prepped. Everyone else did fairly well. We all found whole enrolled trilobite fossils, and some of us found some nice prone trilobites. Toward the end of the day, some of us scouted out other sections along 18-mile creek with little success.
---
Pictures of the fossil hunting trip

View of the Canadian Quarry

Roy with a mischievous looking grin

Clearing the overburden

Mug shots at the 18-mile Creek parking area




Mug shots at the 18-mile Creek parking area

Lake Erie Shore

A section of 18-mile creek near a railroad bridge.

Roy is lost




Looking for a rare species of aquatic trilobites. The scientific name is "SCUBAbites"
---
Pictures of the Trilobite and Eurypterid Fossils Found

Only Eurypterid (Sea Scorpion) pieces were found

The Deathplate as Wrong Way Rob found it

A rather large phacops that Roy found
Trilobites: Before and after preparation with the air abrasive unit.

Partially enrolled phacops - before prep

Partially enrolled phacops - after prep

Enrolled greenops on side + phacops - before prep

Enrolled greenops on side + phacops - after prep




Partially enrolled phacops - before prep

Partially enrolled phacops - after prep




Another partially enrolled phacops - before prep

Another partially enrolled phacops - after prep




Enrolled phacops with molds - before prep

Enrolled phacops with molds - after prep



alt="fossil trilobite new york"
Enrolled phacops on its side - before prep

Enrolled phacops on its side - after prep




A bunch of matrix free enrolled phacops