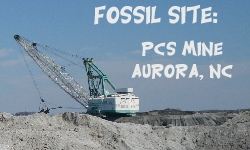 Aurora Collecting Location Page:
PCS Mine, NC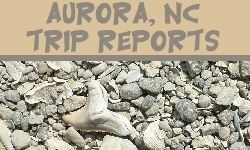 View Collecting Trip Reports from the Aurora, NC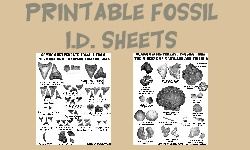 Printable Identification Fossil Sheets for Vertebrates and Invertebrates of Aurora, NC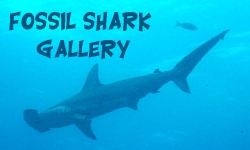 Fossil Shark Gallery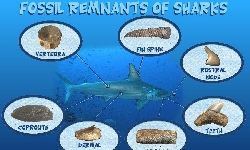 Parts of Sharks that Fossilize

Aurora. NC: Megs in Matrix, Aurora, NC
September 2005
---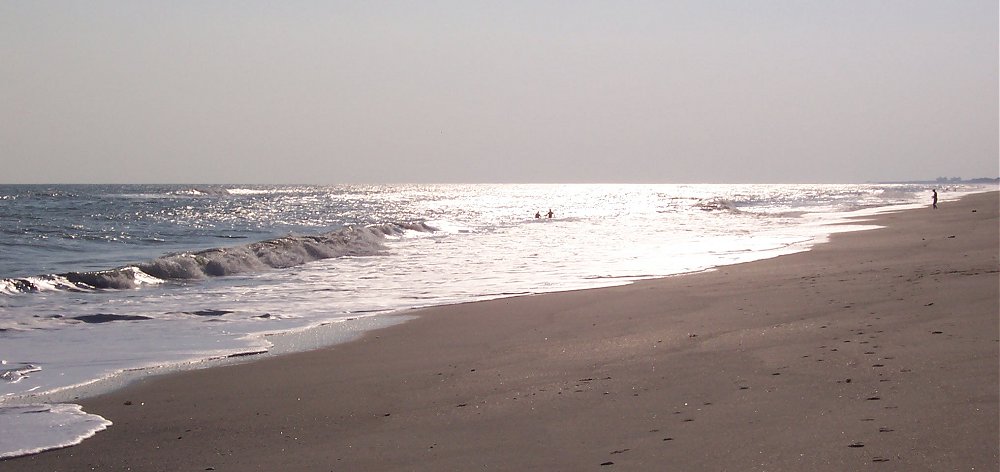 "Aurora??? No, Emerald Isle"
Before hitting Aurora, we hit the beach to help us forget about the ending of summer



---



Megs in Matrix
Leaves are beginning to change color. The temperatures are starting to drop. Days are getting shorter. The atmosphere caused by the loss of summer is just depressing all around. To ease the slowly approaching winter, this year, we decided to take a spontaneous fall beach trip while on our annual fall Aurora fossil trip. Taking some vacation time, we left the fall like conditions, and forgot about the autumnal equinox that had just occurred and headed south to 90+ degree Emerald Isle. There is nothing better than soaking up the sun and playing in the surf to ward off the fall.

After our little excursion, it was off to business! Fossil business that is! The collecting area is quite large this year, with some nice Yorktown near the end of the area. Once there, we noticed the wrath of hurricane Ophelia. There was quite a bit of flooding and large runoff channels cutting through the collecting area. Also, nature was reclaiming the pit in the form of large patches of weeds. Not just weeds one may see in their lawn; these are massive weeds, taller than the average person. All of this jumbled together in one big collecting area made for maze like conditions. Hopefully in the coming days, the water will evaporate making it easier to navigate for collectors.

Once at the mine entrance, and after a false start at finding the correct entrance to the collecting area, all of the collectors eagerly headed in. Amy and I went right, then climbed up and down some hills to the rear of the mine to find the new Yorktown formation. Once down a few hills, we encountered lots of water and had to return to nearly the entrance. We then headed further right, and headed back down the hills. This time we were able to get past the water traps. Unfortunately we had to navigate through a massive overgrown hill with vegetation over our heads. After way too much backtracking and weed whacking, we finally made it to the new Yorktown section.

Once there we found two 2" makos, a few smaller ones, and a few G. contortus teeth all within minutes. A little further up, some Pungo was mixed in with the Yorktown, there I found a small meg in the matrix and a little while later a 3" meg in a big chunk of Pungo limestone matrix. After about a half hour of chiseling, I got it down to a 50 lb block of matrix with the tooth in it. With a decisively heavy rock that needed carried back to the bus, waaaayyy on the other side of the pit, and already feeling exhausted and dehydrated, I decided to stop collecting and carry it back to the bus, then head back in to continue to collect. Needless to say, it did not go too well. It took over an hour to get it back!!! Way too hot and tired to head waaaayyy back to the new Yorktown section, we decided to scour the Pungo near the entrance instead. As we started to collect the sky fell; a deluge occurred. The floodwaters from above began to inundate us. Hoping the deluge would expose something new in the scoured Pungo area, our spirits were high and we continued to collect. Unfortunately, minutes later, a crack of thunder echoed across the pit, successfully ending our collecting day around 2:15.

As we stood waiting for the bus to arrive in the torrential downpour, we realized, despite the backtracking and chiseling, we made out well. I was hoping the meg I found in the large chunk of Pungo limestone would be complete. When I returned home, I carefully chiseled away at it, slowly exposing more and more enamel and root, until a perfect 3" tooth was revealed. What a good trip it was! Thanks PCS for allowing us to collect!
---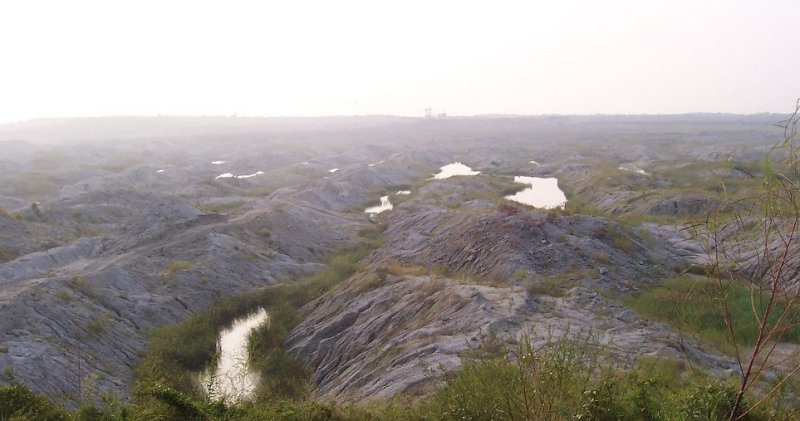 The 2005 Collecting Area. It's the same place in the Pit as last season, but the area has been extended to enclose some nice piles of Yorktown formation.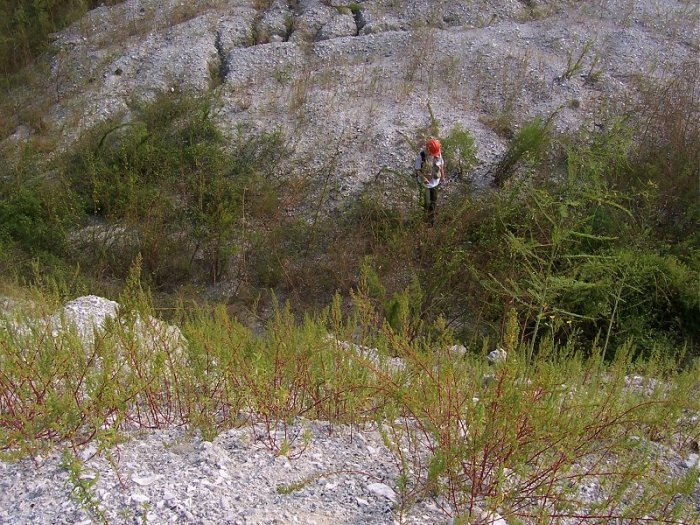 Amy about to climb a hill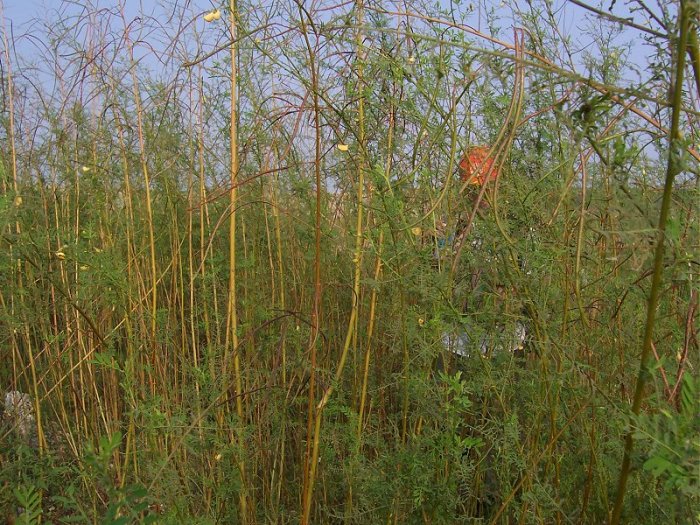 Amy doing some weed whacking, trying to make it to Yorktown exposures.




Amy navigating a water hazard. Hopefully the mine will dry out somewhat as the collecting season progresses.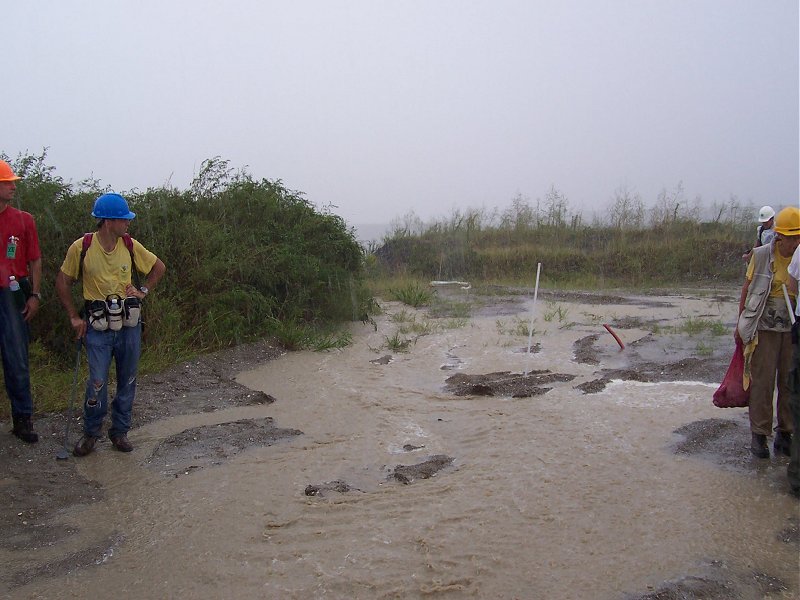 Around 2:00 a torrential downpour began, then a crack of thunder rang, which ended the collecting day a little early.





---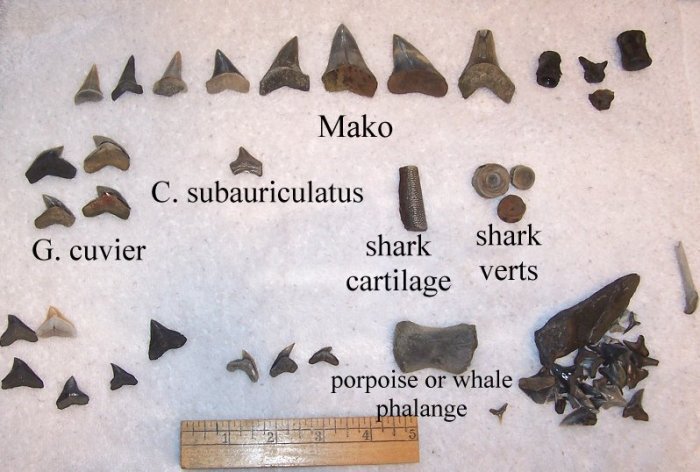 Here are some of the finds from the day. A few nice makos, a TINY meg, shark cartilage. Not shown here are 2 megs (actually subauriculatus) in Pungo matrix, and lots of whale bone.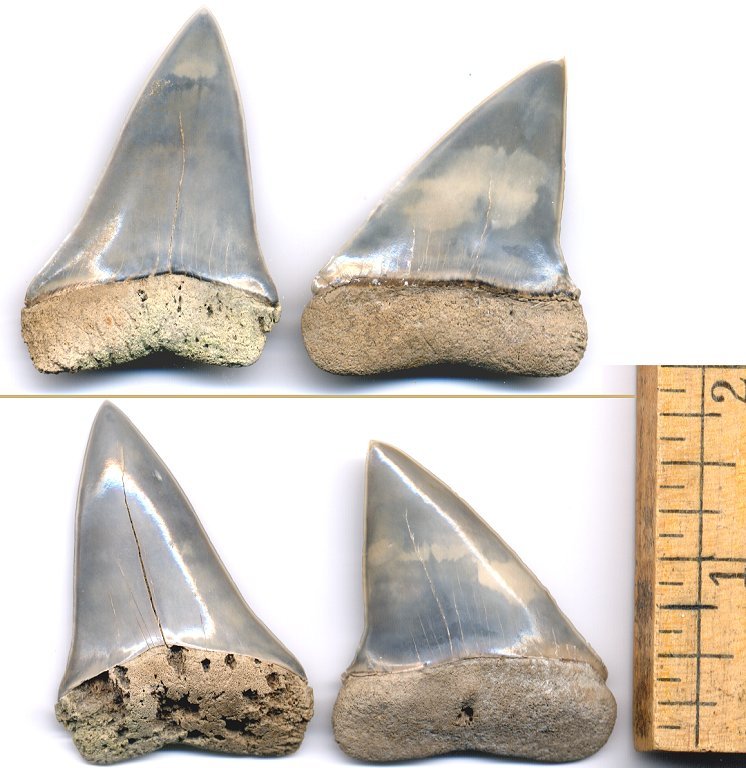 This is a closeup of two of the larger makos we found, both are approximately 2" in slant.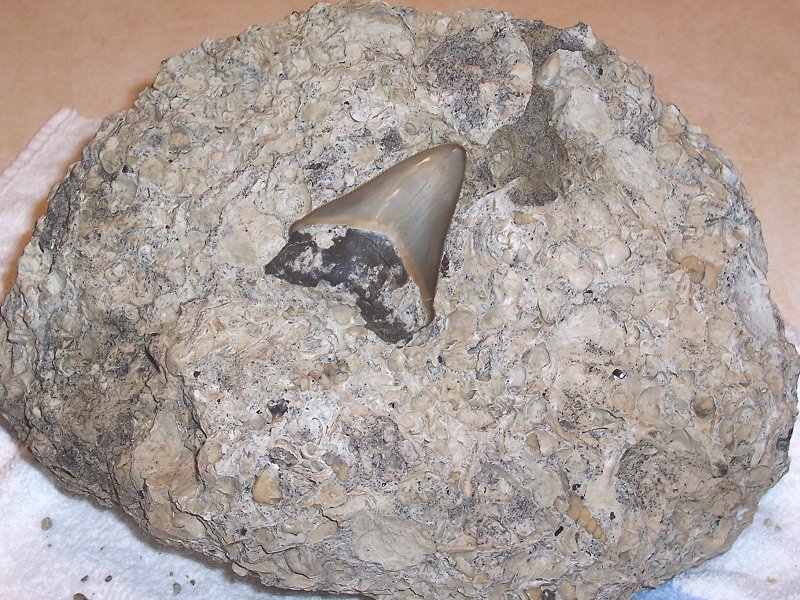 Here is my best find. A 3" C. subauriculatus in a chunk of Pungo Limestone. The bourlette is missing and there is a small amount of feeding damage to the tip, but it makes for a nice display piece. I am still prepping the rooth out. Click on the image to view it as found, and in various stages of preparation.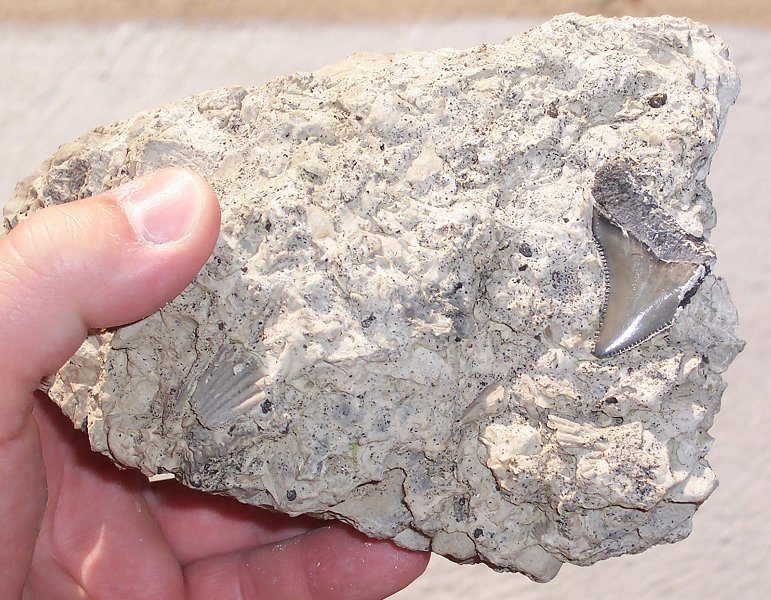 This little tooth was found in the same area as the larger one in matrix. Fortunately, it was easier to chisel it from a large limestone block. Unfortunately it was broke when found.




---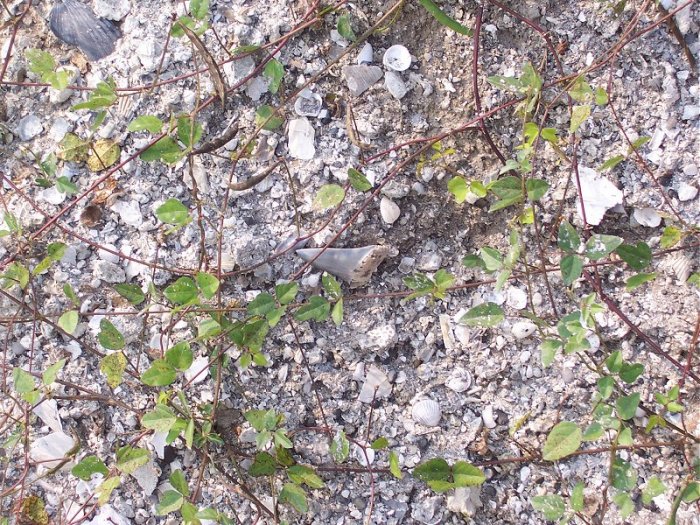 Here is a nice 2" mako eroding out of a hillside.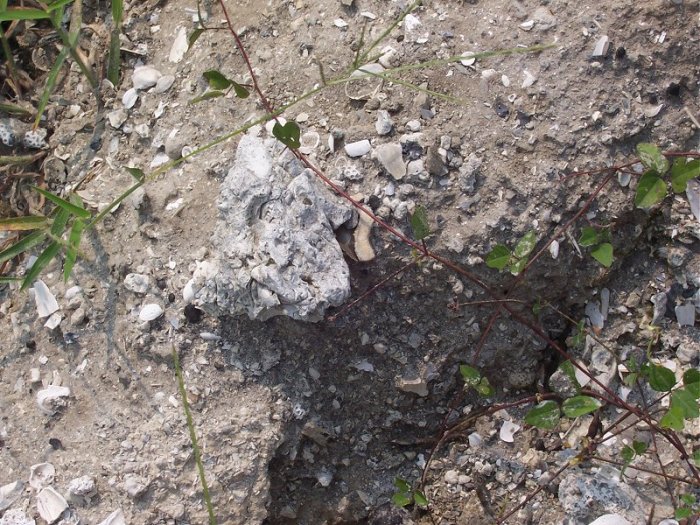 A Yorktown G. cuvier trying to hide under a piece of Pungo limestone (Can one say 'mixed formations'). Fortunately for me, he did not hide well enough.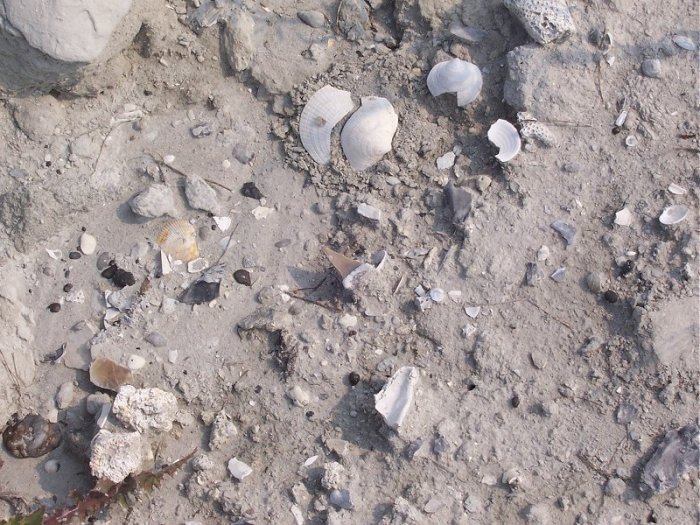 Here is a nice little mako. Notice the footprint that nearly ended this little guys life. He was only a mere inch from being stepped on... Look where you're walking!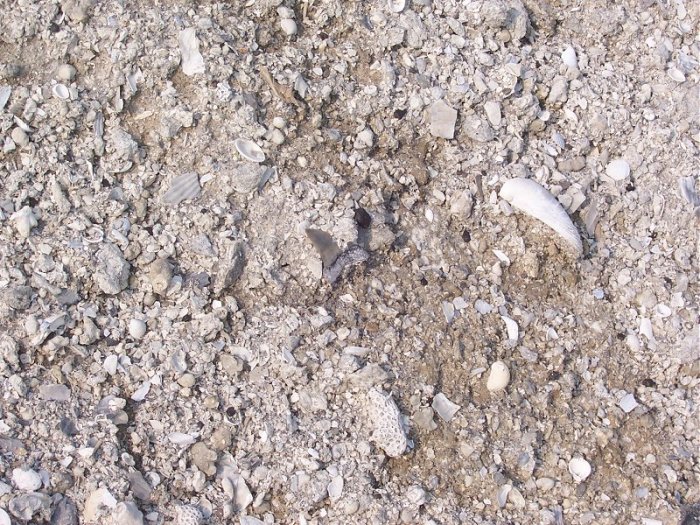 Yet another Pungo mako laying around.


---