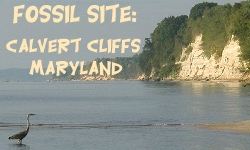 Calvert Cliffs Collecting Location Page:
Calvert CLiffs, MD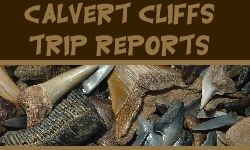 View Collecting Trip Reports from the Calvert Cliffs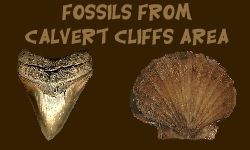 Fossils that can be found at the Calvert Cliffs of MD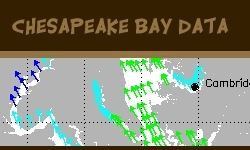 Chesapeake Bay Data: Tides, Winds, Weather, Sea Nettles, etc...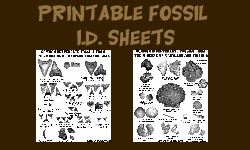 Printable Identification Fossil Sheets for Vertebrates and Invertebrates of the Calvert Cliffs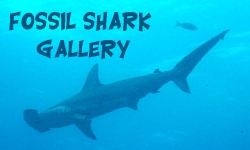 Fossil Shark Gallery
---
Potomac River and Calvert Cliffs Fossil Hunting Trip
June, 2007
---
Exposures of the Calvert and Choptank Formations
---
I decided to kick it at the Chesapeake Bay area for my first summer fossil hunting trip. We met up with Paleoscan and Larry Decina of the DVPS. Larry came down in hopes of collecting at Belvedere Beach along the Potomac River. For those who don't know of the beach, Belvedere Beach was a VERY productive Paleocene site in the past, but is now next to impossible to get to.

On our first day, we took the fossilski out and dropped Amy and Paleoscan off at a secret transitional tooth site. Larry and I then took the fossilski and headed to Belvedere Beach. Unfortunately I misread the map and thought Belvedere was only 10 or so miles from our boat ramp. So, after 10 or so miles on the water and not seeing the beach, I pulled out the GPS, looked up the coordinates and noticed were still about 20 miles away!!!! Eventually we made it only to discover the beach had really changed. New riprap had been added which changed the current dynamics. The beach was tiny and none of the fossil layer was eroding. After spending a half hour or so in disappointment, we hopped on the fossilski and darted back to the boat ramp, sucking fumes and sputtering as we pulled in.
After getting Larry ashore, I headed back out to pick up Amy and Paleoscan, all the time hoping they would do better. Amy found almost nothing, while Paleoscan managed to find a nice transitional otodus fossil tooth (Woohoo!). The Transitional fossil tooth looks like an Otodus tooth, but has partial serrations. Over time, Otodus became serrated, and eventually evolved into the Megalodon. Similar transitional teeth can be found in parts of Russia.

After an extended fossil hunting day, we retired to Paleoscans beach cabin. At the cabin, we shot off fireworks and feasted on a rather large pork shoulder that was brilliantly smoked in a "big green egg" for 20 odd hours. The "big green egg" is a pretty cool contraption. If you haven't seen one, they are usually featured in the "Sky Mall" magazines on various airlines.

Day two of our hunt was a little easier. We boated to some Miocene Fossil exposures along the Calvert Cliffs in the Bay area. With the potential this spot holds, we didn't do so well. I managed to find a decent mako shark tooth. Other nice looking makos and worn megs were also found. No large fossil shark teeth were found though.
---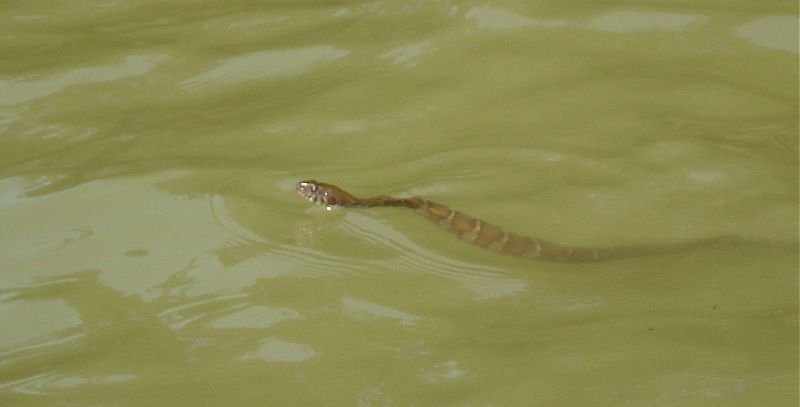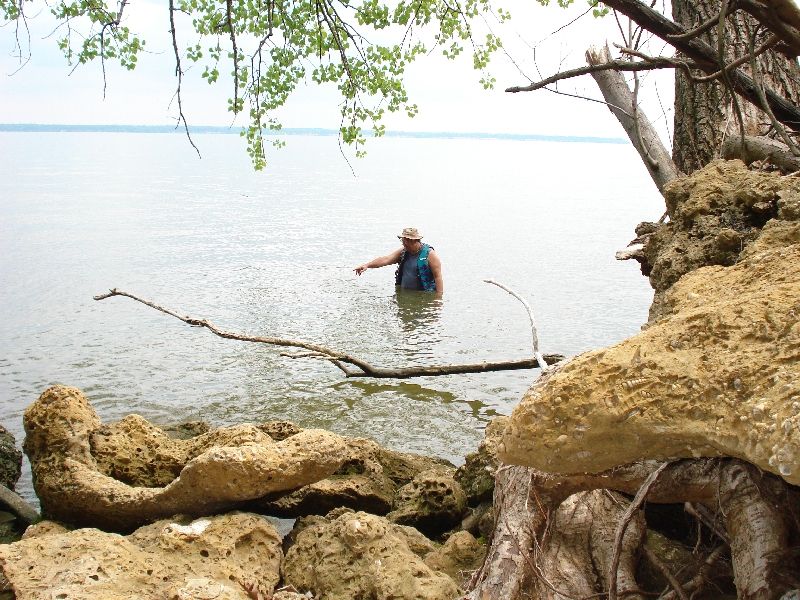 Here, we see Larry at Belvedere beach attempting to find land to collect on.


---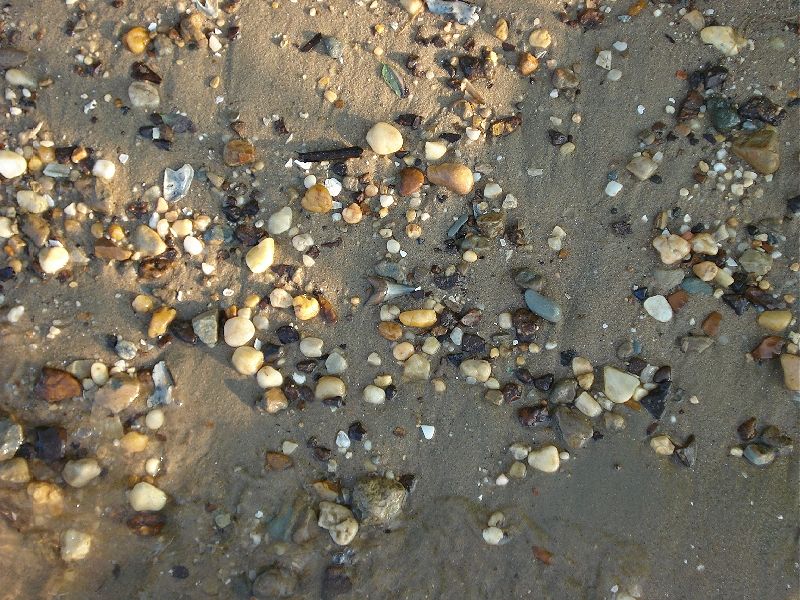 One of the better finds of the trip, a mako slightly over 2".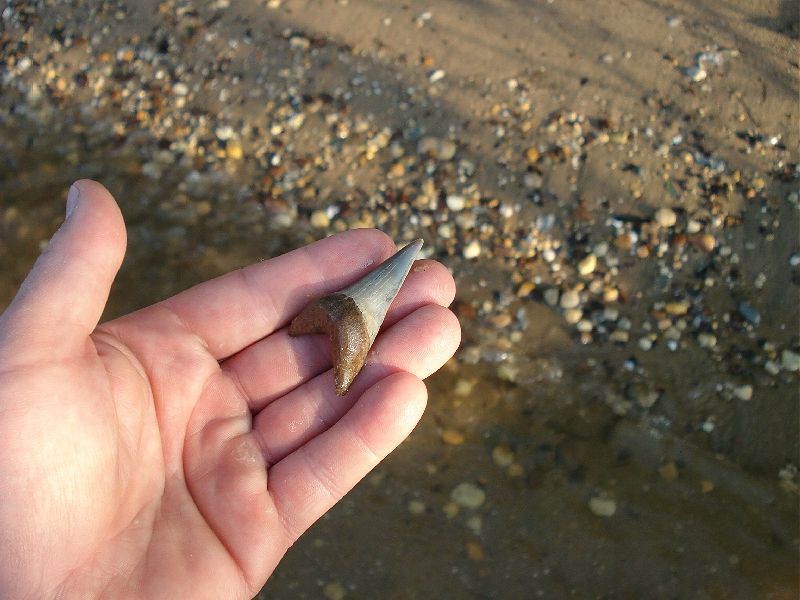 Here is a close-up of the mako.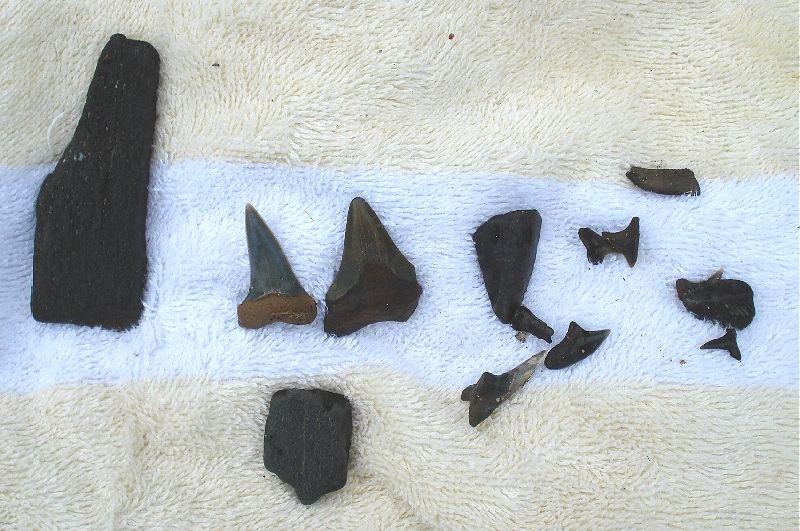 These are a few of Larry's finds. Among them lies a decent mako.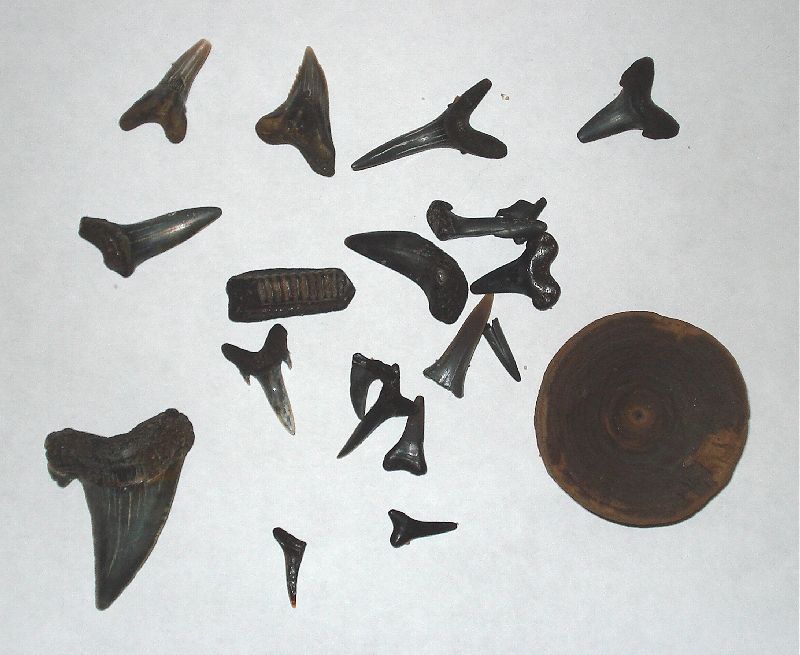 These are some of Paleoscans fossil finds. Notice the "otodus" looking tooth. It is actually a transitional. It has small serrations running halfway up the blade.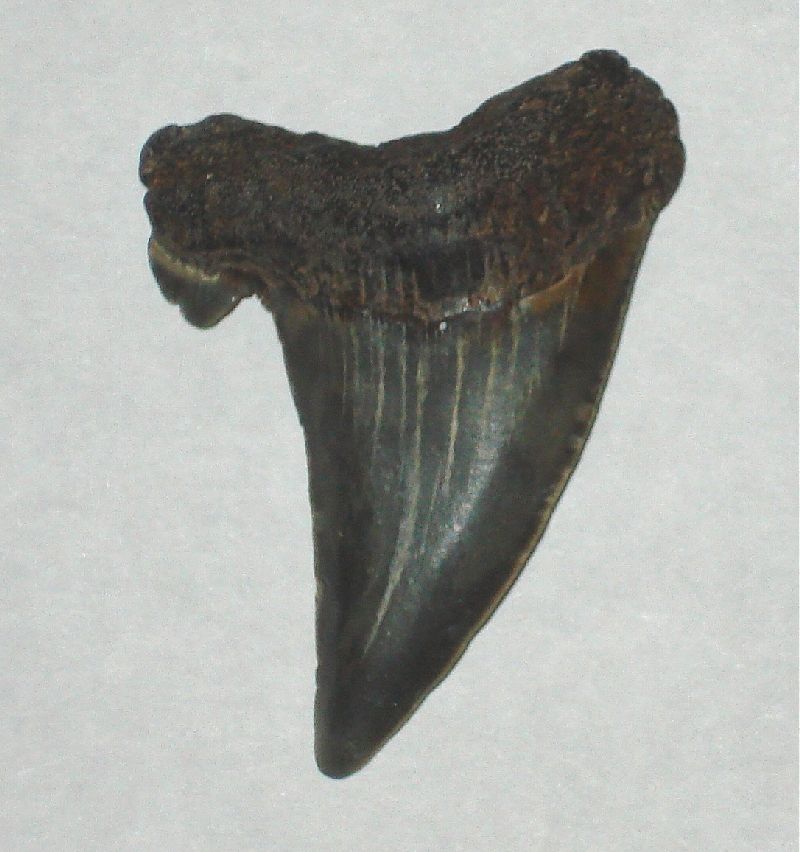 This is a close-up of the transitional tooth. The picture is too blurry to see the serrations, but trust me, they are there! Apparently this is the stage in an otodus (if you want to call it that), when it just started to aquire serrations on its way to a megaolodon tooth. Similar teeth can be found in an area in Russia.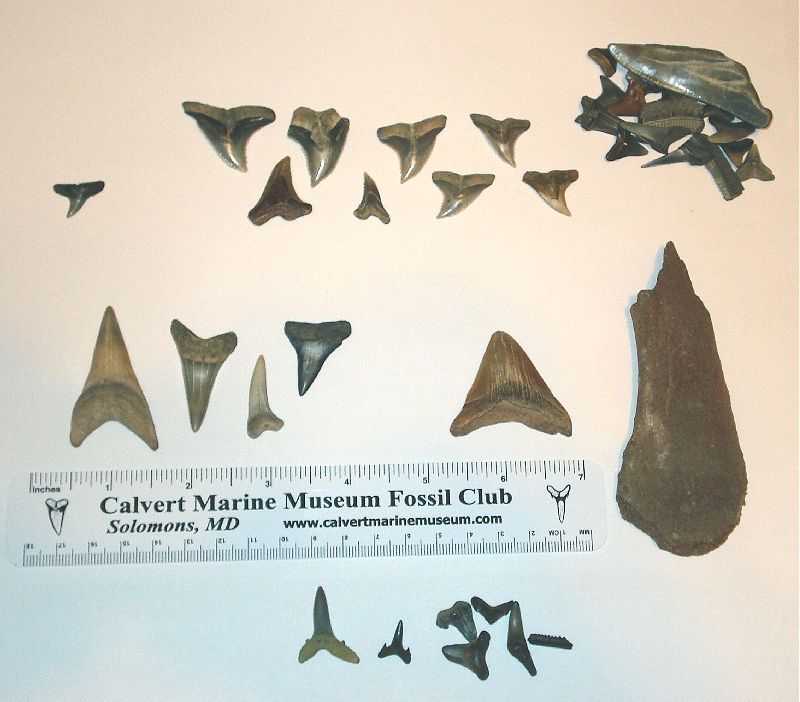 Here are my fossil finds. The fossils below the ruler are Paleocene from the Belvedere beach area.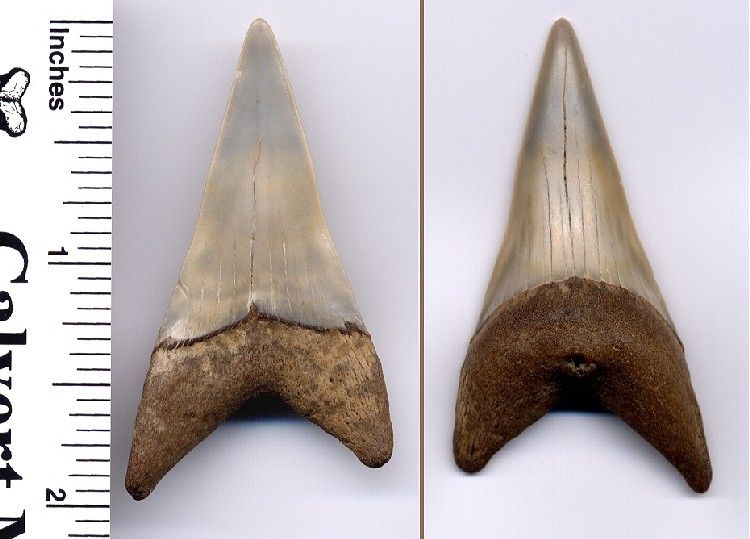 This is a close-up of the largest mako shark tooth of the trip.



---