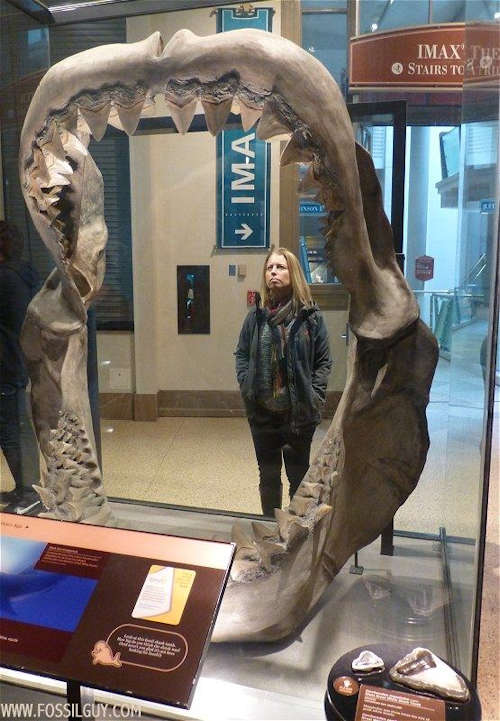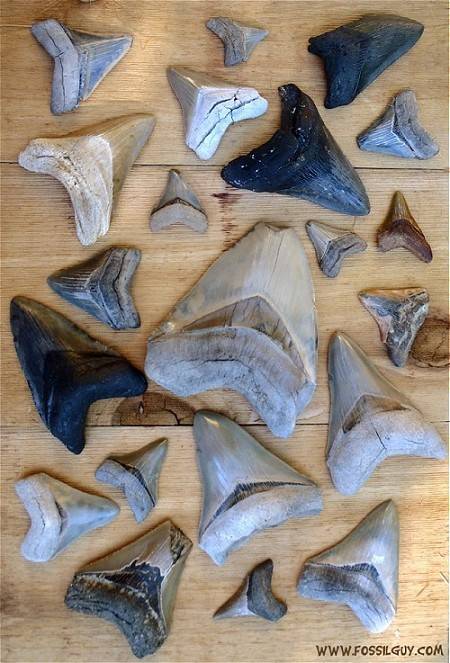 Left Image: Standing behind a reconstructed Megalodon Jaw with fossil teeth at the Smithsonian Museum of Natural History in D.C.
Right Image: Assortment of Carcharocles Megalodon Fossil Shark Teeth Found Over the Years.
Megalodon: The Megatooth Sharks
CARCHAROCLES (Jordan & Hannibal, 1923)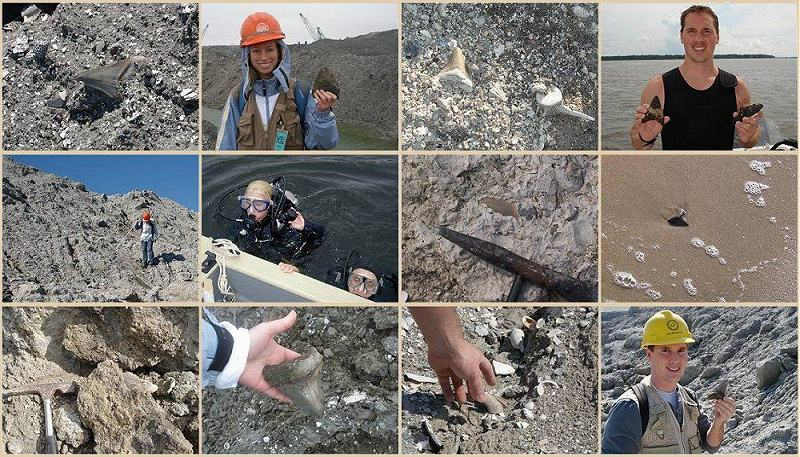 Searching for Megalodon Shark Teeth at varous Fossil Hunting Locations
Fast Facts about the Megalodon Shark
Name: Carcharocles Megalodon in Greek is: Carcharocles: "Famed for Jaggedness" and Megalodon: "Big Tooth"

Discovery: People have been finding Fossil Shark teeth, including the large Megalodon teeth, throughout history:
Pliny the Elder, around 70 AD, beleived shark teeth were triangular objects dropped from the sky during lunar eclipses.
In the middle ages, Europeans thought they were "tongue stones" or petrified tongues of dragons and snakes. They were worn as pendants and used in medicine.
Native Americans used shark teeth as necklaces and even tools such as scrapers.
The actual name "Megalodon" was named by Louis Agassiz in 1843.

Location: Nearly Global:
Megalodon lived globally in the warm oceans of the Miocene and Pliocene. Fossils of C. megalodon have been found on every continent except Antarctica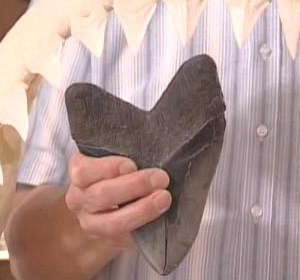 This is one of the largest megalodon teeth.
It has a 7 1/4" (184 mm) slant height.
It was found by Vito Bertucci in South Carolina.
It's in the collection of Gordon Hubbell.
Age: Middle-Miocene to Pliocene (approximately 16 to 2.6 million years ago)
Megalodon evolved from Carcharocles Subauriculatus sometime in the Miocene, and became extinct at the end of the Pliocene 2.6 million years ago.
It is not alive today, and has been dead for millions of years.

Tooth Size: Over 7 inches
It has the largest teeth of any shark. Although the largest tooth from megalodon is a a little over 7 inches, A more common size for megalodon teeth is between 3 and 5 inches.

Body Size: up to 60 feet and 65 tons
The more reliable body size estimates go up to around 60 feet. It's possible that slightly larger ones existed. The average size of a megalodon was around 33 feet.
megalodons were a little larger than the modern day Whale Shark, and over twice as large as a Great White shark. Sorry, it was not an 80 to 100 foot beast!

Diet: Anything!
It was the a most massive shark to ever live. Evidence shows it ate Whales as it's diet.

---
Megalodon Shark Facts and Information: The Details
Origins of the Megalodon shark - Megalodon History and Evolution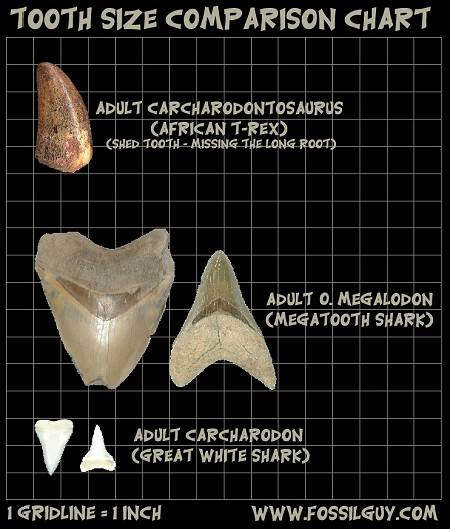 Megalodon Shark Teeth Size vs Great White Tooth vs
T. Rex
Tooth
With teeth that could reach over 7 inches, and a body more massive than a T-Rex, Megatooth sharks, particularly Carcharocles Megalodon, are undoubtedly the most infamous of all prehistoric sharks. This shark could eat Jaws in one bite!

By now, most paleontologists believe the Megatooth shark lineage dates back to the giant mackerel shark of the Paleocene, Otodus obliquus. Otodus was the top predator of the Paleocene oceans. Throughout the Eocene Otodus teeth became more and more serrated. The Eocene Tologaysor (say that 3 times in a row) formation in Kazakhstan shows this transition nicely. Each zone of the formation has Otodus teeth that are slightly more serrated over geologic time until they start looking like an early Carcharocles tooth.

Once the Otodus teeth became mostly serrated, paleontologists renamed the serrated Otodus genus to the Carcharocles genus, and thus the Carcharocles genus arose. Where the genus transition occurs depends on which paleontologist you ask. For instance, one transitional form, O. aksuaticus is called C. askuaticus by some; others regard C. auriculatus to be O. auriculatus, and so forth. Regardless of which transitional form is officially called a Carcharocles is a moot point. The point is that it is clear the Megatooth shark lineage (Carcharocles) was born from the Otodus lineage.

Notice, nothing was said about the Great White Shark, Carcharodon Carcharias. That's because the Megalodon is NOT related to the Great White Shark. Their evolutionary lines are very different. To learn about Great White shark origins and evolution, click here to go to the Great White Shark Gallery page.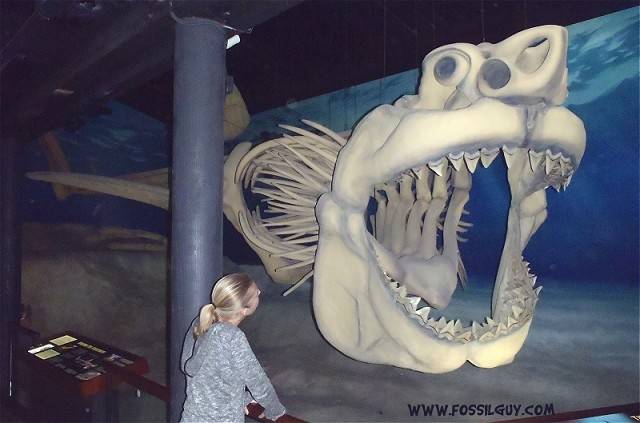 This is a reconstructed megalodon skeleton from
the
Calvert Marine Museum
, Solomons, Maryland.
This megalodon is 35 feet in length.
Over time the Megatooth shark went through slight morphological changes. The teeth became more regularly serrated, the Otodus cusps got smaller, the crown got broader, and the overall size increased. Paleontologists assigned each slight tooth change of the Megatooth shark to a new Carcharocles species. The Megatooth shark reached its high mark as C. megalodon, a shark of monstrous proportions. The megalodon shark became extinct during the Pliocene and left no next of kin; the megalodon became too large and too specialized for its own good. It is a dead-end link on the tree of life.


A very rough chronology of Megatooth species, leading to the megalodon is shown on the following table:

| Rough Time Period | Shark Name |
| --- | --- |
| Paleocene | O. obliquus |
| Early Eocene | O. mugodzharicus |
| Early Eocene | C. aksuaticus |
| Middle Eocene | C. auriculatus |
| Late Eocene/Oligocene | C. angustidens |
| Late Oligocene/Miocene | C. subauriculatus |
| Miocene/Pliocene | C. megalodon |
It's important to note that each species is the Megatooth shark, with a slight change in tooth form over different periods of time. As a result, there are many teeth that are a cross between two species. For example, in the early Miocene, C. subauriculatus have large cusps, where by late Miocene the cusps are very small. Some paleontologists may further subdivide the many C. species, but it's important to remember all of the species are the same shark evolving over time. So don't worry if you find a tooth with very small cusps, and can't tell if it's a juvenile megalodon or a subauriculatus; it's a Megatooth shark, leave it at that!

For more information: click here to read a great article by Lutz Andres about megalodon evolution.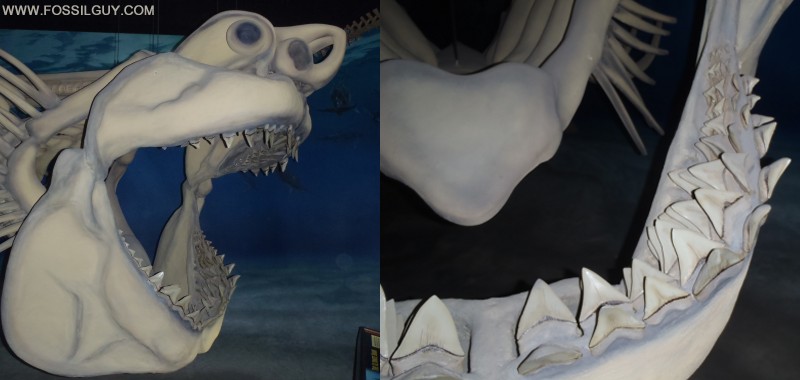 These images shows a closeup of the tooth rows of a megalodon shark. Like all sharks,
the teeth are continually replaced by newer teeth waiting in rows behind the front teeth.
---
Size of the Megalodon shark, Behavior, and Extinction of Megalodon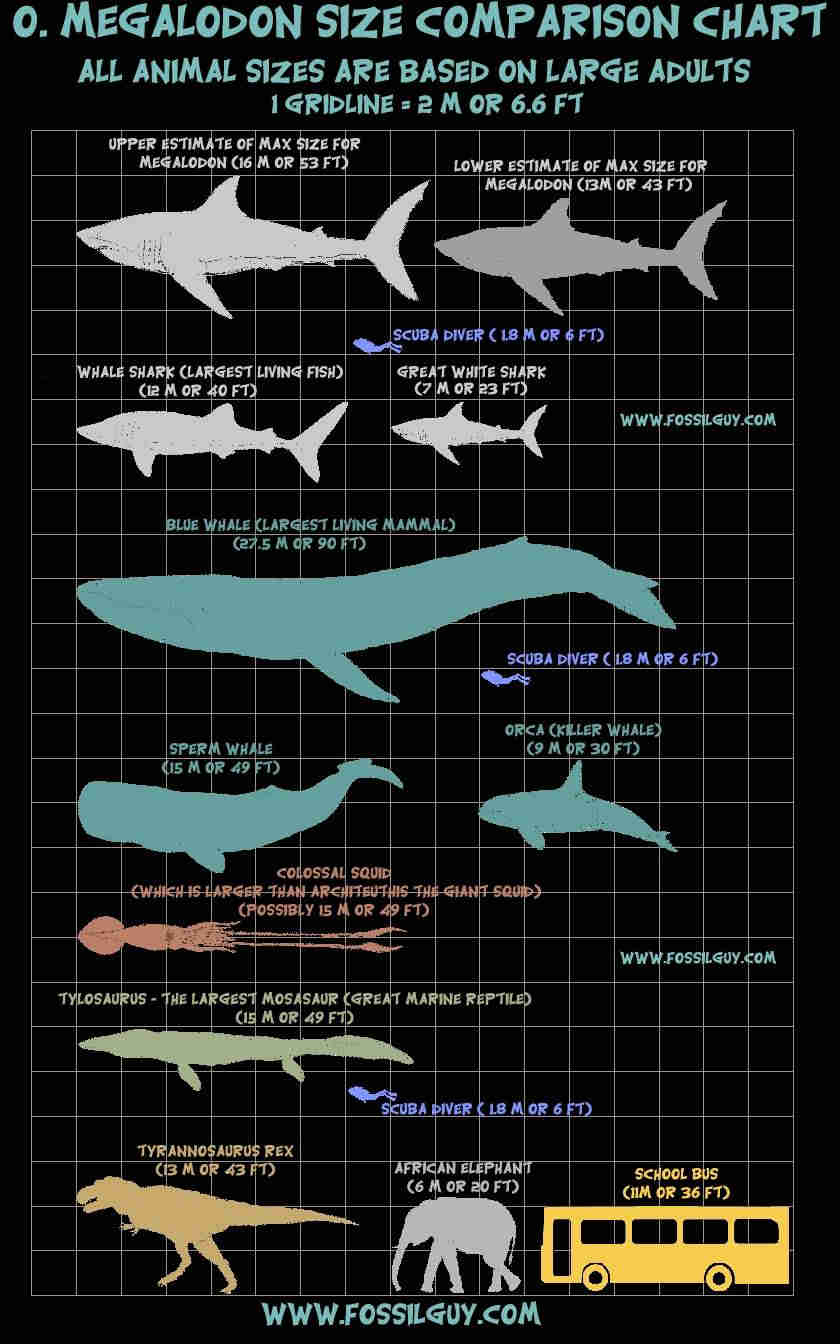 Megalodon vs other animals:
Megalodon size comparison to other animals.
Click on the image for the full sized version.
The megatooth shark was clearly a top predator of its time. So, how big did a megalodon get? Some Megalodon shark teeth found have over a 7 inch slant height. Fossil teeth are more commonly between 3 and 5 inches. With that said, no one is sure what the body of the megalodon shark looked like. Therefore it is difficult to say how big the megalodon shark could get.

Years ago, lengths of 100 feet were speculated. Today, this length has been vastly shortened. Using tooth and jaw reconstructions from associated fossils, paleontologists have calculated possible size estimates. Some estimates (Pimiento & Balk 2015) give a megalodon a maximum average length of around 59 feet (18 m), while other estimates are a little higher, such as 66 feet (20.2 m) (Gottfried et al. 1996). The average size of a megalodon was around 33 feet (10 m). Regardless of the exact size, it was an impressive animal! According to Gottfried, the weight of a huge 56 foot megalodon would have been around 65 tons (59 metric tons)!

For a more complete discussion on Megalodon Size, complete with current research, and methods of how size is determined, go to the Megalodon Body Size page of this website.

Here are some size comparisons of a large 48 foot adult megalodon shark with teeth around 6 inches in slant height:

Great White Shark: A megalodon was probaby around three times larger than a Great White Shark, which a length of 20+ feet is rare.

Whale Shark:A megalodon was probably slightly larger than a Whale Shark, which can reach lengths around 41 ft.

Blue Whale:A megalodon was probably about half the size of a Blue Whale, which can reach lengths of around 94 ft.


If you have a fossil megalodon tooth in your collection, click here to get a rough estimate of the size of the megalodon shark your megalodon tooth came from.
---
Megalodon Diet and Bite Force - What did Megalodons Eat?

Megalodon fossil shark tooth found associated
with a cetacean (whale / dolphin) vertebra.
Evidence suggests the obvious; this prehistoric shark ate whales and other cetacea for breakfast! It's fossils are almost always found in areas associated with fossil whale bone. Some of these fossil whale bones of the Miocene and Pliocene show bite marks from megalodon teeth. An example of megalodon predation evidence is shown in the images below.

In 2008, S. Wroe et al. did computer modeling of the Great White shark and C. Megalodon bite force based on jaw reconstructions. They found the megalodon to have a maximum bite force of around 182,000 Newtons (41,000 lbs). This is the largest bite force of any animal EVER! This high bite force verifies megalodon could have easily crunched up large whales. For comparison T-Rex has been calculated to have a maximum bite force around 57,000 Newtons (13,000 lbs).
To view either bite force article, scroll to the bottom of the page to the references section for links.

This image shows two views of fossil cetotherium (whale) vertebra. The left one is intact, while the
right one has been bitten in half by a C. megalodon shark. Notice the large gouge marks where it has been
bitten in half. The quality of this vertebra indicates it was probably swallowed.
---
How did the megalodon shark become extinct?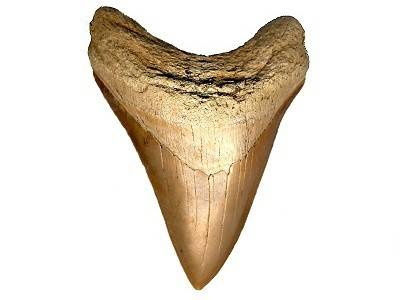 4 1/16" Fossil Megalodon Shark Tooth from South Carolina
Yes, C. Megalodon is extinct! It is not living in the deep oceans, nor did it evolve into something else, like some pseudo-documentary and pseudo-science type tv programs say. There is absolutely no credible evidence that megalodon exists today. There is overwhelming evidence that megalodon is extinct. For further information on why megalodon is extinct, go to the "Is Megalodon Alive Article"

We know Megalodon sharks died out around 2.6 million years ago. However, the exact reasons for its extinction though may never be fully understood. Megalodon extinction is probably due to a number of reasons (discussed below).

One reason that would have contributed to Megalodons extinction is at the end of the Pliocene, cetacean (whale and porpoise) diversity dramatically dropped. Many genera became extinct. Since cetacea was Megalodons primary food source, if the food source declines, it would be expected that Megalodon populations would also decline.

Another reason is that Megalodon was too specialized.
Being the biggest predator of the time has its disadvantages. History shows the big top predators are usually the first to go during times of extreme environmental change. By the end of the Pliocene, the Isthmus of Panama closed, which changed global ocean currents. Whales began to migrate into arctic regions, cold places where megalodons could not go. Also during this time period, Orcas, the Killer Whales, appeared on the scene. These large marine mammals that hunted in packs competed with the megalodons. If there are two top predators vying for the same food supply, one is going to lose, and we all know it wasn't the Orcas. It appears that a number of these factors contributed to the demise of the Megatooth shark. Millions of years of evolution had made the megatooth shark too large and too specialized to adapt to its changing environment.

Many people think a megalodon would also compete with Great White sharks in the Pliocene. This isn't the case. Due to the distinct size differences, Great Whites would have hunted smaller prey; i.e. Seals. Seals would have only whetted a megalodon's appetite. Megalodons would have had to prey on larger food; i.e Whales. Therefore, the megalodons and Great Whites would not have competed with each other.

If you want to read more about Great Whites and their own origins, go to the Great White Shark Gallery on this page.
How do we know megalodon went extinct around 2.6 million years ago?
Paleontologists knew the megalodon became extinct near the end of the Pliocene Epoch, which was around 2.6 million years ago because the megalodon fossils are not found in formations past that date.

A research team has recently done a quantitative analysis of the fossils to verify this date. In 2014, Catalina Pimiento and Christopher Clements analyzed the ages of megalodon fossils from literature and scientific collections. They then used a mathematical technique called Optimal Linear Estimation to infer the extinction date. The date the model came up with was 2.6 million years (Pimiento and Clements, 2014). The article on PLUS ONE can be viewed online here

The extinction date of 2.6 million years for the megalodon has now been verified both qualitatively and quantitatively.
Recommended Books and Video about the Megalodon Shark:
The following book: Megalodon: Hunting the Hunter
is an impressive book about megalodons. This informative book is easy to understand, filled with interesting facts and has many high quality images. It's a must for any "Meg" fan!
---
MEG: A Novel of Deep Terror
A FICTIONAL NOVEL by Steve Alten, first published in 1997.
This is not a REAL science book about megalodons. This is a FICTIONAL NOVEL about a megalodon shark terrorizing the California coast and the adventures of the main character Jonas Taylor. "Meg: A Novel fo Deep Terror" and its sequals are fast and entertaining reads. The reason why I have it listed here is the movie based on this novel is set to be released in 2017. Kind of like Jurrassic Park, I like to read the fictional novel first, and then see the movie!
---
The National Geographic DVD: Prehistoric Predators: Monster Shark
is the only Video I've found that actually has real facts about the Megalodon. It is not one of those garabage "mocumentaries" of recent. National Geographic does a great job at presenting everything about the Megalodon, including it's paleoecology, extinction, and relationship to the Great White.

If you are looking for a real megalodon documentary, this is it.
---
Where to Find Megalodon Teeth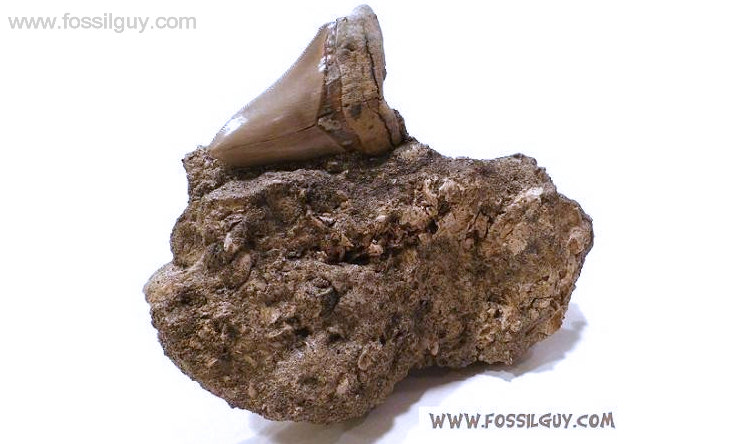 Large Fossil Tooth of a Megatooth Shark Carcharocles Subauriculatus
in original Limestone Matrix - From Aurora, North Carolina
Megalodons are sharks, which mean they are made of cartilage. Cartilage is much softer than bone. Because of this, most of the megalodon will not fossilize. On some occasions, vertebra will fossilize, and occasionally fragments of cartilage. However, since shark teeth are made of dentin, a very hard substance, megalodon teeth readily fossilize, and are common as fossils in many fossil bearing Miocene and Pliocene formations worldwide. Below are some notable locations where megalodon teeth are found. Two famous global places for megalodon teeth are:

Peru and Chile:The Pisco Formation contains very large and beautiful megalodon teeth. They are found on land in the desert regions, with many other shark and whale fossils.

New Caledonia:Megalodon teeth have been dredged from the deep slopes of a fringing reef around New Caledonia. These teeth have eroded out of their Miocene formation, and are heavily worn. These South Pacific Megalodon teeth can no longer be dredged. However, this location is mentioned here, because these New Caledonian teeth continue to stir up controversy from time to time. Manganese dioxide dating of the teeth in the late 50's indicated an age of 11,000 to 24,000 years. Which means megalodon must have survived extinction. However, this type of manganese dioxide dating is now considered obsolete and invalid. The teeth from this area are clearly Miocene in age.
North America Megalodon Shark Tooth Fossil Hunting Locations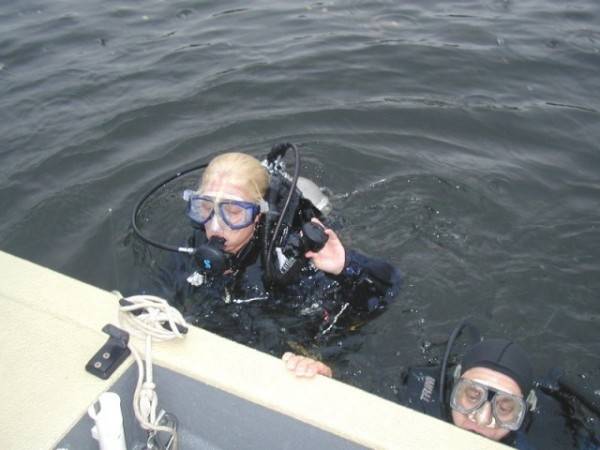 Megalodon Shark Tooth Diving in the
Blackwater Rivers of South Carolina
South Carolina has a few formations which contain Megalodon teeth. The main formation is the Hawthorne Formation.
A while back, one could surface hunt in areas being developed that exposed this formation. The big development boom is now over, and it is now difficult to find places to legally access. However, the famous Black water rivers in South Carolina, such as the Cooper River, continually wash out megalodon teeth from this formation. The best way to find megalodon teeth in South Carolina is to dive for them! This isn't normal diving, it's Blackwater diving! This means there are strong currents, almost zero visibility, and alligators. It can be dangerous, and there are occasionally fatalities, so it is not for the novice diver. If you think you are ready to Blackwater dive, there are lots of charters that go out.

To Dive for fossils in South Carolina, you must have a "Hobby Dive License" From the SCIAA. Before you book a charter, be sure to have one. You must also report your finds. The following link will take you to the Hobby SCIAA Dive License forms page: Hobby Dive License Forms.

If you think you are ready to Black Water dive, be sure to read about one of our Blackwater Dives! Click here for a Blackwater Dive Trip Report, it includes a video showing what black water diving is like.
Cooper River Dive Charters
These guys specialize in Black Water Diving.

Charleston Scuba
I've never chartered from them but have been to their shop and rented tanks from them.



Megalodon Shark Tooth Hunting at a land site in South Carolina.
It was raining and getting dark, but it payed off!




Maryland has the famous Calvert Cliffs, which is a large Miocene exposure that runs along the Chesapeake Bay. It's in fact one of the largest continually running Miocene Exposures in the world. It's an awesome place to fossil shark tooth hunt. One simply combs the beach, looking in the surf line.
Unfortunately, there are a few downfalls to this location for Megalodon teeth. First, the megalodon teeth are usually smaller than many other collecting locations. A 4" tooth is considered HUGE here. Secondly, access to most of the cliffs is private, and therefore illegal, and the public spots get hit HARD by fossil collectors. Despite this, it's a wonderful place to explore and fossil hunt at. For more information, go to the Calvert Cliff Site Page.
-Calvert Cliff Fossil Site-

North Carolina has the famous Pungo River and Yorktown Miocene and Pliocene Exposures. These exposures are however underground, and only pop out along some of the rivers. The PCS Phosphate mine in Aurora, NC use to allow collectors in to hunt these exposures. Now, due to safety reasons, fossil hunting has been restricted. However, the Aurora Fossil Museum near the mine has truckloads of the mine tailings to search through. One can still find a small megalodon tooth here. For more information, go to the Aurora Site Page.
-Aurora, North Carolina Fossil Site-

Florida has the Peace River Formation, which contains the Bone Valley Member. This streatches across central Florida. Famous places to look for megalodon teeth include the Peace River, and off the coast in the Gulf. The teeth here are usually smaller than normal. Again, a 4" tooth is HUGE for the Bone Valley area.
Florida also requires a permit to fossil hunt for vertebrates (exempt are shark teeth).
For more information go to the Venice Fossil Site Page.

-Venice Beach Florida Fossil Site-





---






The megalodon shark teeth are unmistakable. They are big, robust, and serrated. However, identifying a specific species is a bit more difficult. Generally, knowing the formation, and thus the time period the tooth was found in, helps tremendously.

For example, if the tooth was found in an Eocene formation, its probably C. auriculatus, or C. aksuaticus, depending on the serrations. If it was found in Oligocene deposits, it's probably C. angustidens. Miocene formations would most likely have C. subauriculatus or C. megalodon, depending on if there are cusps on adult teeth, and a Pliocene formation would have C. megalodon.

Generally speaking, each successor species has the following changes: smaller cusps (no cusps for adult C. megalodon), a broader tooth form, a larger size, and more regular serrations. Juvenile C. megalodon sometimes have cusps, and therefore look identical to C. subauriculatus. Also remember, depending on the exact age and formation, a tooth may look more like a transition between two species.

The only genus Carcharocles may look similar to is that of Carcharodon. Carcharodon carcharias, the Great White shark, may look similar to the Megatooth shark. There are, however, some straightforward differences. First, Great Whites only occur in Miocene and Pliocene deposits, so they can be found with C. subauriculatus teeth and C. megalodon teeth. However, compared to Megatooth shark teeth, Great Whites are much thinner and smaller with less robust roots. Also Great White teeth do not have a bourlette, whereas Megatooth sharks have a very wide and noticeable one. Finally, Great White teeth have very coarse and irregular serrations, compared with the regular serrations of the Megatooth sharks.


The following fossil shark tooth Identification diagrams show three of the megatooth species, Carhcarocles megalodon, C. subauriculatus, and C. angustidens.
On the fossil tooth identification images below, the lingual sides of the teeth are the side facing the tongue, and are usually shown as the "display" side. The labial side is the side facing the front of the mouth. Labial sides are usually the smoother sides.









---

















































---






---